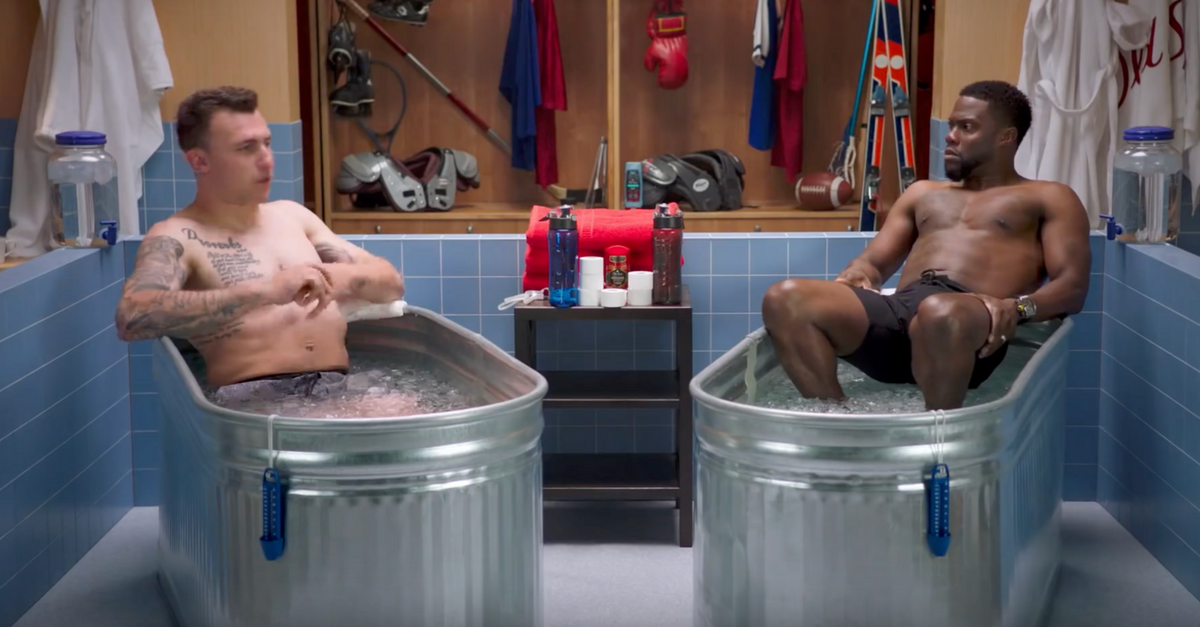 YouTube: LOL Network
Youtube: LOL Network
Quarterback Johnny Manziel was the toast of pop culture during my time in college. He was in songs, on TV — the "Money" hype was everywhere. The Texas A&M quarterback was flashy on the field and a rockstar off it. In 2012, Manziel became the first freshman to be a Heisman Trophy winner, and it solidified Johnny Football as a legend.
For two years, he climbed the ladders of society to the very top. Manziel left behind two of the best statistical seasons for a quarterback in SEC history, known as the nation's premier conference. Everything was going great, but then came the NFL, and the fall.
In two seasons with the Cleveland Browns, Manziel's dream world crumbled around him. His eight NFL starts concluded in the same number of passing touchdowns as interceptions: seven. Off the field issues and an unshakeable substance problem dragged Manziel out of the spotlight.
He was released by the Browns in March of 2016.
On an episode of comedian Kevin Hart's interview show Cold as Balls, Manziel joined the little guy as the two sat in ice baths and talked all things Johnny Manziel.
Aside from a fart joke and the hilarious relationship between Kevin Hart and the ice guys, Manziel actually takes down the veil and talks candidly about his time in college.
"Things changed after that Alabama game," Manziel said. "I used to walk out, and a couple people would come up. But after that game, every person that had flown from Texas to Alabama to see that game, every single person was around our bus. Class starting being different — Started having to get a golf cart driven to class and stuff like that."
Manziel's Heisman moment of 2012 came when he went took the Alabama Crimson Tide's No. 1 defense for 345 total yards on 24-for-31 passing and knocked off Nick Saban's team in Tuscaloosa 29-24 late in the season.
The current CFL quarterback talked about how he became enveloped in fame, meeting celebrities, and admitted to becoming "the guy who had to party to play good."
Then, "Money" Manziel was selected 22nd overall in the NFL Draft by the Cleveland Browns.
"At the time, all my boys, everyone in my corner was telling me 'You don't want to go to Cleveland, like f*** that. F*** that.' I was more optimistic about it. I looked at the players they had, I was cool with it."

Manziel continued, "Once I landed and went to Berea, Ohio for the first time, I was like, 'Can I go back to college?'"
The 26-year-old cited the location, the loneliness and the cold for his initial negativity towards the city. Pair that with his baptism into the demanding world of being a professional. It takes an all-in mentality, especially if you're the quarterback of an NFL team.
This entire interview told me one thing: Manziel learned something. He's humbled, having been relegated to the Canadian Football League with the Montreal Alouettes.
"I don't expect people to look at my story and feel bad for me. A lot of what I did was self-inflicted, so I am at a point now where I can look back, and I can reflect and realize that I was one way, that was wrong. What can I do moving forward because I can't change how I was, and that's all I can do. And try and stack enough good days together, and stack enough things together, to get back to where I want to be."
The Parable of the Prodigal Son goes like this — a wealthy father's youngest of two sons asks his father for his share of the inheritance, and he sets off for a distant country. While there, he spends everything his father gave him by living wildly, so the prodigal son returns home where his father accepts him with open arms. The oldest son asks his father why he did such a thing, accepting the partying, prodigal son back without any anger.
?My son," the father replied, "you are always with me, and everything I have is yours. But we had to celebrate and be glad, because this brother of yours was dead and is alive again; he was lost and is found."
Now, I'm not saying Johnny Manziel is exactly like the prodigal son, yet, but I'll always root for a comeback story.