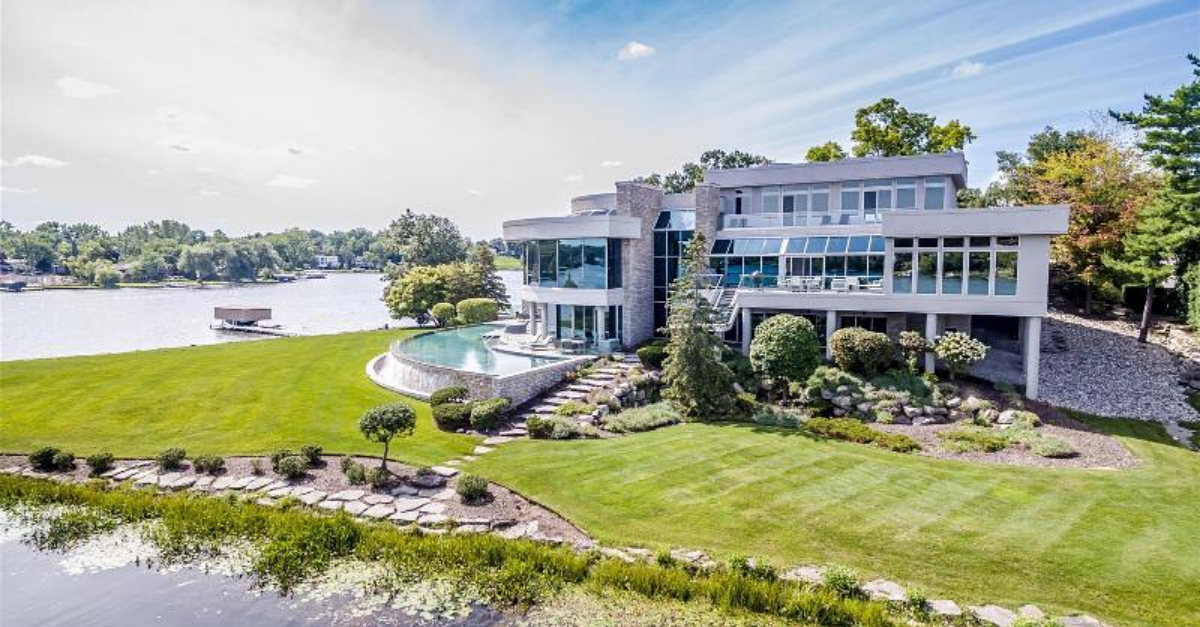 Max Broock Realtors
No, Detroit Lions quarterback Matthew Stafford is not planning on leaving Michigan. At least, that's what his wife Kelly said on her Instagram account when the couple's beautiful home in Bloomfield Hills, Michigan, went up for sale.
"No speculation needed," said Kelly Stafford, whose recovery after brain surgery was awe-inspiring. "We're about to have our fourth child, and I personally do not want to live on a lake or have a pool with four children under the age of a little over three."
The Staffords are Michigan royalty. Since being the first overall pick of the 2009 NFL Draft out of the University of Georgia, Matthew Stafford became one of the NFL's most prolific passers ever. In 2019, he became the fastest QB in history to reach 40,000 career passing yards, needing 147 games to do it, and he owns the single-season record for attempts with 727.
In my opinion, Stafford is most under-appreciated quarterback of this era. (He threw for 5,038 yards and 41 touchdowns in 2011 and did NOT make the Pro Bowl.)
Stafford, recovering from lingering back injuries this offseason, is the subject of trade rumors entering his 12th season, but he says his focus is on leading the Lions and remaining in Detroit. While the rumors are only that, you'd have to wonder: If Detroit was trading their franchise player, why wouldn't they have drafted a QB with the No. 3 overall pick in the 2020 NFL Draft? (They selected Ohio State cornerback Jeffrey Okudah, a day-one starter.)
Still, when the Staffords' beautiful home in Bloomfield Hills, Michigan, was listed for sale with the cool asking price of $6.5 million, speculation that the family was planning an exit strategy ran wild.
Matthew Stafford House for Sale
The five-bedroom mansion at 1867 Long Point Drive is incredible. With seven bathrooms and five fireplaces (yes, FIVE), it's a paradise overlooking Upper Long Lake. The 7,720 square-foot home includes private gated entry, a limestone exterior, floor-to-ceiling windows, coffee bar, glass elevator to all three floors, sauna & steam rooms, and a 625-bottle, temperature controlled wine cellar.
The coolest part? This mansion includes the largest infinity pool in the state of Michigan, according to the listing by Jeff Barker from Max Broock Realtors.
Still not satisfied? The indoor half basketball court's floor is the original hardwood used in the old Pontiac Silverdome where the NBA's Detroit Pistons played for nearly four decades.
Check out more photos of this gorgeous home here.
RELATED: See Inside Shaquille O'Neal's $22 Million Florida Home
The Bloomfield Township home was first built in 1980 and last sold in September 2013 for $3.5 million, according to the listing on Redfin.
Much like Barry Sanders' legacy in the 1990s, Stafford is hardly the reason for Detroit's decades of incompetence. It would be a complete franchise overhaul (albeit a very Lions-style move) for them to dump Stafford right now, so don't put too much stock into the trade rumors.
This is a family-focused matter as Matthew and Kelly prepare for their fourth child due later this summer. The family already includes twins Sawyer and Chandler, as well as Hunter.
The $6.5 million price tag is more than I can fathom, but for an NFL star with career earnings north of $210 million, it's just another day in the life of a transcendent quarterback talent.
The Staffords also own homes in Atlanta, Georgia, and Newport Coast, California. I think they'll be just fine.