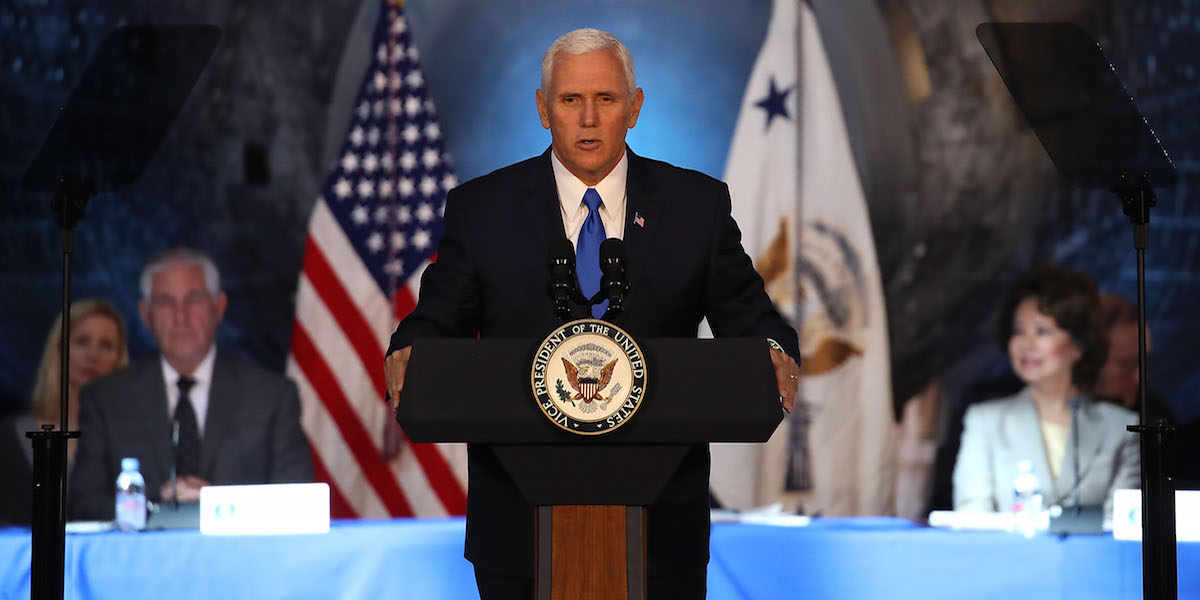 Mark Wilson/Getty Images
CHANTILLY, VA - OCTOBER 05: The Space Shuttle Discovery is the back drop as Vice President Mike Pence speaks during the inaugural meeting of the National Space Council on "Leading the Next Frontier" at the National Air and Space Museum, Steven F. Udvar-Hazy Center, October 5, 2017 in Chantilly, Virginia. Originally established in 1958, this is the first meeting of the newly reestablished council in 20 years. (Photo by Mark Wilson/Getty Images)
Free agent quarterback Colin Kaepernick's mother, Teresa, tweeted a critical response to Vice President Mike Pence's decision to leave Sunday's game between the Indianapolis Colts and San Francisco 49ers following the 49ers' protest of the national anthem.
Twenty-three 49ers players decided to take a knee during the pregame national anthem ceremony — a protest started by Kaepernick last season — which led to Pence's early exit from the game.
President Donald Trump tweeted that he asked Pence to leave the stadium if any players kneeled in advance and said he was "proud" of him and his wife Karen.
Here are Pence's comments on the reason he left the game:
"I left today's Colts game because President Trump and I will not dignify any event that disrespects our soldiers, our Flag, or our National Anthem. At a time when so many Americans are inspiring our nation with their courage, resolve, and resilience, now, more than ever, we should rally around our Flag and everything that unites us. While everyone is entitled to their own opinions, I don't think it's too much to ask NFL players to respect the Flag and our National Anthem. I stand with President Trump, I stand with our soldiers, and I will always stand for our Flag and our National Anthem."
Pence's decision comes two weeks after President Trump's controversial comments at an event in Alabama in which he said that the NFL owners' response to the protests during the anthem should be to "get that son of a bitch off the field, you're fired!"
NFL players responded the following Sunday by protesting in record numbers, with several teams linking arms during the anthem at a minimum. A few teams chose to not even take the field during the usual pregame anthem ceremony.