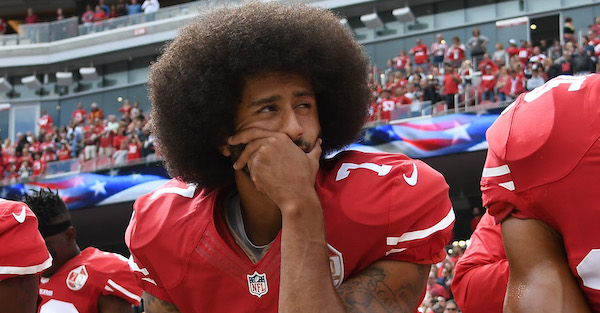 Thearon W. Henderson/Getty Images
SANTA CLARA, CA - OCTOBER 02: Colin Kaepernick #7 of the San Francisco 49ers kneels on the sideline during the anthem prior to the game against the Dallas Cowboys at Levi's Stadium on October 2, 2016 in Santa Clara, California. (Photo by Thearon W. Henderson/Getty Images)
In response to national anthem protests, one bar in Missouri placed Colin Kaepernick and Marshawn Lynch's jerseys as doormats. If that wasn't bad enough, the arrangement has fans infuriated:
Lynch Kaepernick may have been just a coincidence, but it doesn't excuse the message. Here's what owner Jason Burle said, per The Root:
?It?s not a race thing,? Burle told KOMU-TV. ?A lot of people want to twist it around to be a race thing.
?We pulled them out of the box, taped them down. There was no ill intent,? he added. ?If someone thinks that I mean personal harm to someone, they don?t know me.?
Burle served six years in the Air Force and reportedly told KOMU-TV that he takes it personal since the bar was started to honor veterans. At the same time, he also recognized he fought for Kaepernick and Co.'s right to protest.
?The same thing that gives them that right gives me the right to place these out here," he said.
He has since rearranged the jerseys to read Kaepernick Lynch.
Plenty of athletes have followed Kaepernick with national anthem protests since President Donald Trump's explosive comments:
?Wouldn?t you love one of these NFL owners? when someone disrespects our flag say, ?Get that son of a bitch off the field, right now, out, he?s fired.?
In turn, NFL, NBA and MLB athletes have responded with either comments pushing back against the president or reactionary statements such as kneelingor staying in the locker room.