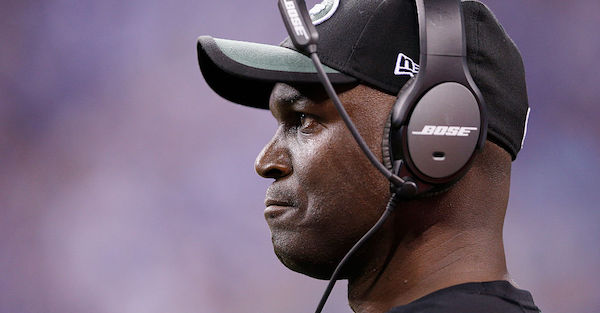 Joe Robbins/Getty Images
INDIANAPOLIS, IN - SEPTEMBER 21: Head coach Todd Bowles of the New York Jets looks on against the Indianapolis Colts in the second quarter at Lucas Oil Stadium on September 21, 2015 in Indianapolis, Indiana. (Photo by Joe Robbins/Getty Images)
New York Jets coach Todd Bowles has perhaps the worst roster in the NFL entering 2017, and it all starts with the team's quarterback situation.
On Tuesday, Bowles compared young quarterbacks Christian Hackenberg and Bryce Petty to kindergarten students.
Related: Once thought to be a top-5 pick, this potential starting QB has been horrendous in practice
Bowles was discussing the presence of veteran QB Josh McCown, and he was asked how the 38-year-old journeyman factored into the team's plans for 2017.
"Even when you go to kindergarten, somebody's got to be the teacher," Bowles said according to the New York Post. "You're not going to have everyone young. You're going to have the majority of the team young. You're going to have some guys that have played some years."
Bowles wouldn't say who the leader is among the three quarterbacks, and he isn't sure when the team will even name a starter.
According to Bowles, Hackenberg has "made some progress" during OTAs, though the former second round pick is still an erratic passer.
The preseason games will likely determine who the starter will be, but whoever gets the job won't have much talent surrounding him. The two top receivers from last year's team—Brandon Marshall and Eric Decker—are no longer on the roster, and the team is lacking in talent on both sides of the ball.
In other words, you can expect to see the Jets with a very high draft pick again at the 2018 NFL Draft.
(h/t New York Post)