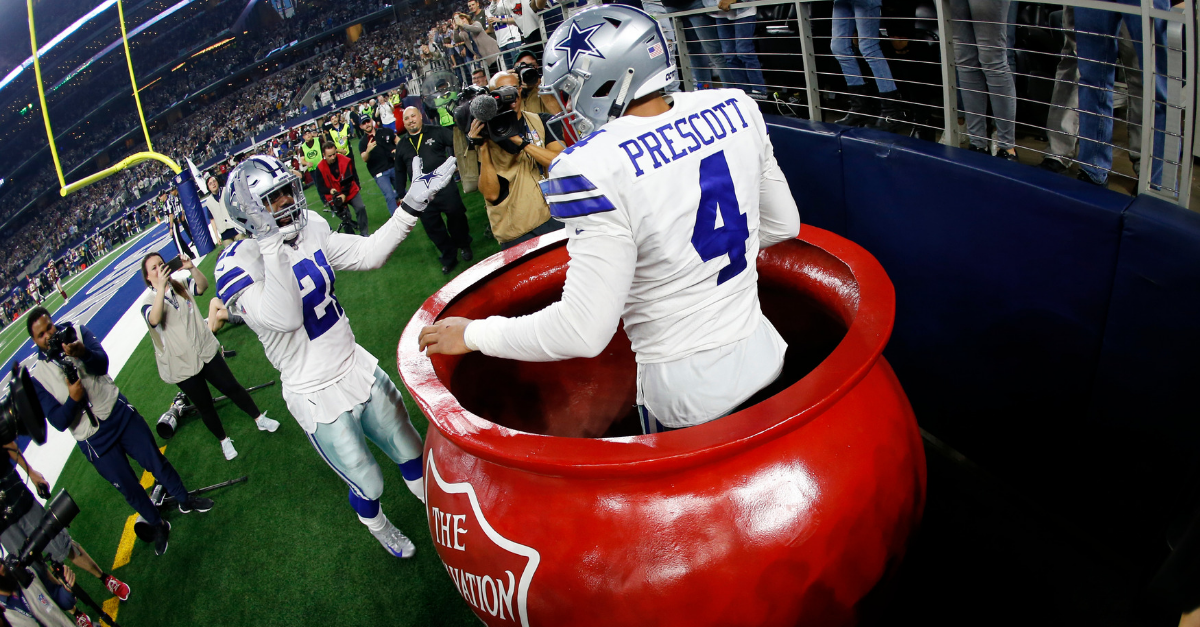 AP Photo/Ron Jenkins
Who doesn't love a perfect pairing? Peanut butter and jelly. Batman and Robin. Rum and coke. Romeo and Juliet. Willie Nelson and Julio Iglesias. Some things blend so seamlessly that you can't even imagine one without the other. But one of the greatest ever is easily Thanksgiving and football, and I can't freaking wait.
Stuffing your face throughout the day is all about pacing. Although doubling up on creamed possum right out of the gate sounds smart, you need to make sure you're prepared for plate number two. After that, plate three is only filled with your favorites. Obviously, you need to work a nap in there. Look out! Here come's another scoop of mashed potatoes, two pieces of pie, four cookies, then you unbutton your pants and pass out for 10 hours.
All the while, your family crowds around asking about your life choices, and the NFL runs on the television.
Prepare your Thanksgiving Day traditions, and keep an eye out for three tasty matchups when Week 13 of the NFL schedule kicks off on Thursday afternoon.
NFL Games on Thanksgiving Day
Chicago Bears vs. Detroit Lions
Kickoff Time: 12:30 ET on Fox
The Skinny: Although a staple on Thanksgiving Day, Detroit (3-7-1) is struggling. Matthew Stafford's back is failing him, and backup Jeff Driskel might miss the game with a hamstring issue. The Lions are 47-30-2 all-time on turkey day, but this isn't shaping up to be the most memorable.
On the flip side, Chicago (5-6) pairs the NFL's fourth-best defense with the league's fifth-worst offense ? The Bears have scored 188 points and allowed 188 points. Head coach Matt Nagy and quarterback Mitchell Trubisky have a slight advantage here, but nothing is guaranteed in this division.
This NFC North matchup between two rivals won't decide a division winner, and neither team is in the playoff hunt, but at least Barry Sanders will be there.
Buffalo Bills vs. Dallas Cowboys
Kickoff Time: 4:30 ET on CBS
The Skinny: Dallas (6-5) leads the Philadelphia Eagles by one game in the NFC East, but the Cowboys need a win to keep the focus off Jason Garrett's job security. Owner Jerry Jones sounds uncertain about Big D's future leader, but despite their record, the Cowboys are really good. Quarterback Dak Prescott and running back Ezekiel Elliott lead the way for an offense averaging 26.8 points per game (6th in NFL). Not to mention, Dallas is 31-19-1 on Thanksgiving Day, including last year's home game win over the Washington Redskins.
Buffalo (8-3) would take control of a Wild Card spot in the AFC Playoffs with a win. Aided by the NFL's fifth-ranked rushing offense, quarterback Josh Allen leads the team with seven rushing touchdowns, plus 15 more through the air. Whispers of the Super Bowl echo through New York, and this would be a huge statement for head coach Sean McDermott. This will be the Bills first Thanksgiving Day game since 1994.
New Orleans Saints vs. Atlanta Falcons
Kickoff Time: 8:20 ET on NBC
The Skinny: New Orleans (9-2) can clinch its third-straight NFC South division title in Thursday's night cap. While you're enjoying some pie, keep an eye out for Hall-of-Fame quarterback Drew Brees to pick apart an Atlanta defense that has only 18 sacks all season (30th in NFL). The Saints were embarrassed at home by the Falcons back on November 10, so this is a perfect revenge game for Sean Payton's team.
Atlanta (3-8) stinks on defense. The team's pass defense ranks near the bottom of the NFL, despite an offense that ranks near the top. One of Atlanta's lone bright spots is wide receiver Julio Jones, who is 50 yards shy of his sixth-straight 1,000-yard season. However, Jones is listed as questionable with a shoulder injury. The Falcons need this game to be a shootout, but it feels like a New Orleans blowout waiting to happen in prime time.
NFL Thanksgiving games are always a huge part of the holiday traditions, so brine that turkey, whip those potatoes and wake me up for the Cowboys game.
Happy Thanksgiving, y'all.