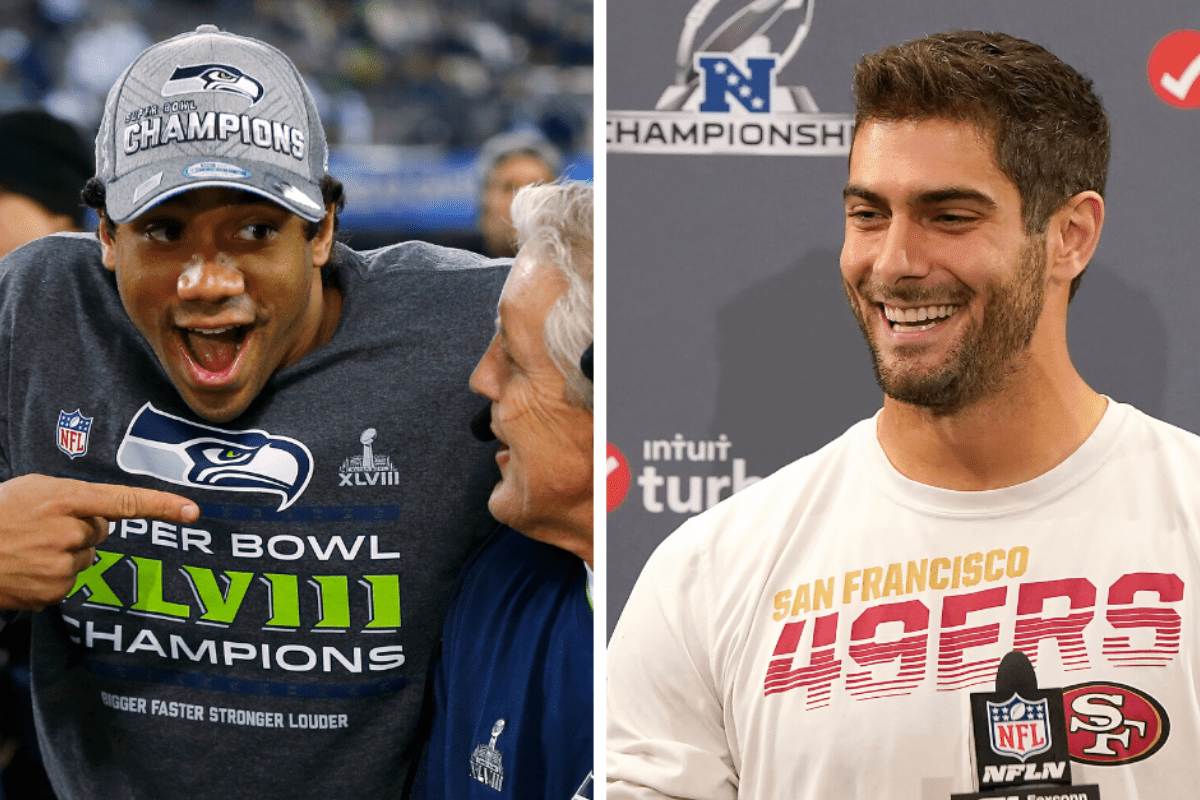 AP Photo/Paul Sancya (left), Tony Avelar (right)
The National Football League's offseason is a black hole between the Super Bowl and the premiere of HBO's "Hard Knocks" during training camp. Add into the mix a heaping helping of coronavirus pandemic, and we are looking at a chasm Evel Knievel couldn't jump over.
Football fans will crave anything about the game during this time. There's just something about pigeons covering kickoffs and 300-pound linemen returning them that the NBA and MLB can't live up to during the summer months. So, what did NFL-crazed minds do during the summer of 2020? They gave NFL quarterbacks from Tom Brady to Cam Newton complete and total makeovers, apparently.
Twitter user @notkdk3 is a self-proclaimed "Mad Internet Genius," according to his Twitter bio. I first stumbled across his work, unexpectedly, when a thread of "Nick Saban As Different Colored Sunsets" appeared on my timeline.
I'm only sharing the first one, and if you have an absurd eye for comedy like me, the rest are worth checking out.
But that's not why we're here today. The internet erupted on June 18, 2020, when KD dropped his greatest creation: NFL quarterbacks as women.
The results, as you can expect, are nothing short of genius. Taking every NFL team from the NFC South to the AFC North, KD turned record-setting passers, multi-time Super Bowl champions, perennial Pro Bowl selections, rising rookies and even retired QBs like Peyton Manning and Tony Romo into their female counterparts.
Some pull it off tremendously. Others should never, ever consider getting this makeover. (Check out Sam Darnold.)
NFL Quarterbacks As Women
I have so many thoughts:
1. Drew Brees (now retired from the New Orleans Saints) looks like "Karen" who calls the cops on kids running a lemonade stand on her block without a permit, then launches into a baseless diatribe about how everyone should stand for the national anthem. Oh wait, he already did that pre-makeover.
2. That's not Dak Prescott (Dallas Cowboys). That's Selena Gomez, and I won't be convinced otherwise.
3. Jimmy Garoppolo (San Francisco 49ers) is not only the NFL's best looking man, he's by far its best looking woman.
4. Why does Matthew Stafford (Los Angeles Rams) look strikingly similar to a young Sigourney Weaver?
5. I really think Tua Tagovailoa (Miami Dolphins) should commit to this look full time. That Hawaiian skin is glowing under that hair.
6. Ben Roethlisberger (Pittsburgh Steelers) is the aunt who insists on making her world-famous strawberry pretzel salad dessert for every holiday dinner.
7. Joe Burrow (Cincinnati Bengals) reminds me of the co-worker who always complains that the microwave is dirty. Just shut up and eat your lunch, Joe-Ann.

This post was originally published on June 22, 2020, but these photoshops are too great not to be seen again.
Related Videos