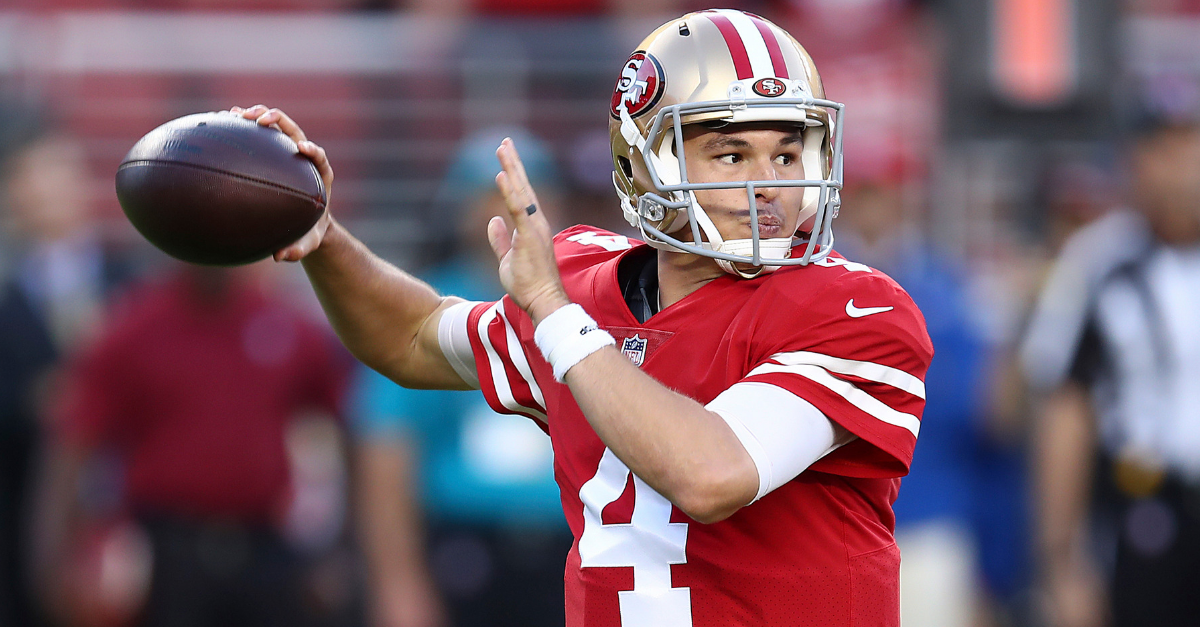 AP Photo/Ben Margot
After a San Francisco 49ers cheerleader took a knee during the national anthem, something very new in the never-predictable NFL, another first happened Thursday night that had virtually everyone asking the same question during the game: Who in the hell is Nick Mullens?
Well, he?s a 6-foot-1 quarterback born in Hoover, Alabama. He went to college at Southern Miss and wasn?t picked in the 2017 NFL Draft. Oh, and he just posted the highest passer rating for a player making his NFL debut since 1990 in a big 34-3 win over the Oakland Raiders at Levi?s Stadium in Santa Clara, California.
With Jimmy Garoppolo out for the season with a torn ACL and C.J. Beathard battling a wrist injury, Mullens dazzled in his first-career start, completing 16 of 22 passes for 262 yards with three touchdowns and zero interceptions.
RELATED: Who Gets the No. 1 Overall Pick in the 2019 NFL Draft?
Impressed? You should be.
According to the NFL, only three players in the Super Bowl era threw for 250-plus yards with three touchdowns and zero interceptions in their debuts. Fran Tarkenton, Jim Kelly and Nick Mullens.
Additionally, Mullens? passer rating of 151.9 was the highest pass rating in a debut, eighth-highest rating this season, and San Francisco?s best outing since Alex Smith posted 157.1 back in October 2012.
"You never know until you see someone. He didn't surprise us in terms of, the game's not too big for Nick. He's very poised. He is always locked in. The guys, they respect him. He earned a lot of respect in the preseason, them watching him play. Both years, last year and this year. The way he handles himself in practice each week. He didn't really know for sure whether he was going to start today, until today, and just the way he handled the two days of long walkthroughs and stuff.

"He's a machine in there and I was happy for him.? ? San Francisco 49ers head coach Kyle Shanahan
Still, the performance surprised everyone else and had everyone frantically typing into Google, ?Who is Nick Mullens?? and posting to social media trying to find out more.
Well, Mullens is far from some undrafted free agent slouch with a lucky game on Thursday Night Football. He actually holds every Southern Mississippi passing record in Golden Eagles school history once held by Hall of Fame quarterback Brett Favre, and by a rather large margin.
The 49ers quarterback and former practice squad signal caller just had the performance of a lifetime, too.
At some point, however, someone, probably in a random bar trivia game, is going to ask what the final ?Battle of the Bay? was like.
The answer will always and forever start with one name: Nick Mullens.