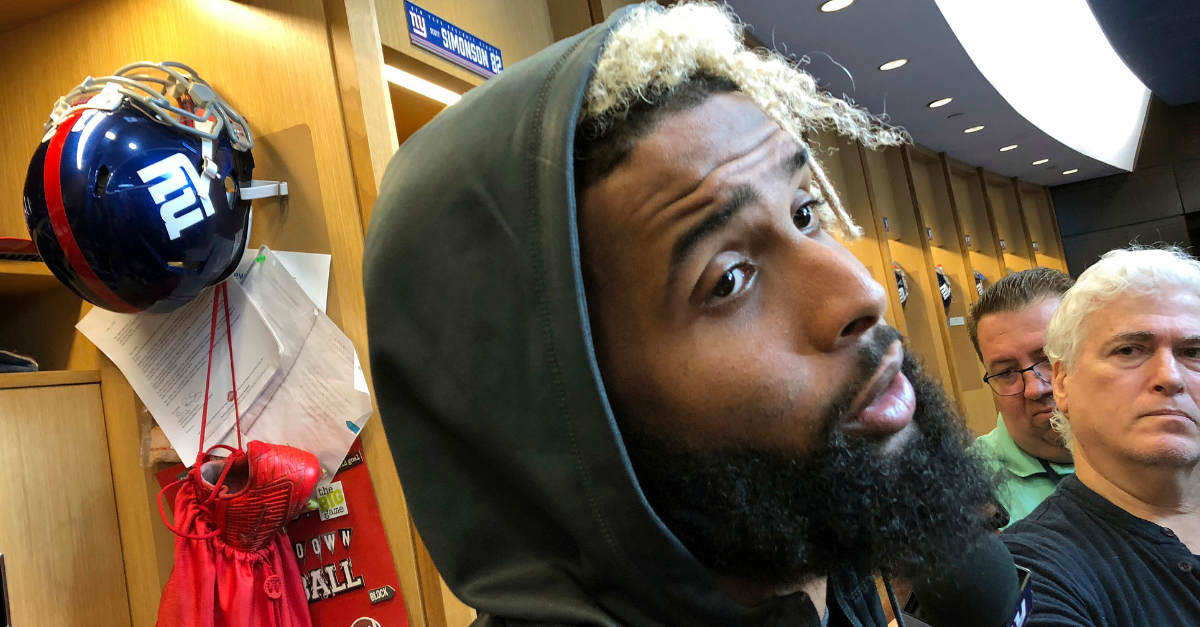 AP Photo/Tom Canavan
AP Photo/Tom Canavan
The New York Giants are tumbling deeper down the rabbit hole with every loss this season. After losing at home 34-13 to the Philadelphia Eagles, the Giants prepare to face the high-scoring Atlanta Falcons, also desperate for a win, in prime-time on Monday Night Football.
While there are a ton of questions surrounding the Giants and head coach Pat Shurmur, none are more pressing than the clear issues troubling All-Pro wide receiver Odell Beckham Jr. During a post-practice interview, the fifth-year pro at least addressed one of those questions with one of the weirdest responses you'll ever hear.
The former LSU Tigers standout has had a history of cramping during games. He made an unexpected exit to the locker room for an early halftime during that Thursday night loss against Philadelphia, which was initially seen as the receiver abandoning his offense that was still on the field. In fact, he had left early to get an I.V. for cramping issues he was having again.
So, why does Odell Beckham Jr., the $95 million professional athlete cramp so much? According to him, he doesn't like the single most essential thing all human beings need to survive: water.
"I really don't like water. I'm trying. I really just don't like it. You know when you get that stomach feeling it's all slushy. I'm trying to stay hydrated, but sometimes I just got to get an IV." — Odell Beckham Jr.
RELATED: Odell Beckham Jr.'s Reaction to Seeing His Twin is Priceless
The Giants star, a tyrant of the sidelines whose outbursts are regularly coddled as "passion," has a history of pouting and destroying everything in his path. From cooling fans to kicking nets, no inanimate object is safe.
Maybe Odell's hatred for that always painful, "slushy" drinking water would explain why he decided to thump this water cooler back in 2015?
Beckham is off to decent start by most players standards through six games, ranking in the top ten among NFL wide receivers in catches (45) and receiving yards (506), but has only managed one touchdown grab so far in 2018 after having an insane start to his career, catching 35 in his first three seasons.
While quarterback Eli Manning is being penned as the scapegoat for their offensive woes, and drafting running back Saquon Barkley rather than a young quarterback is being questioned, the Giants wide receiver has more to worry about than his cramping issues and hatred of life's most essential gift.
This one's for you, OBJ.
Five Facts You Need to Know About Water
1. About 70-percent of the human body is made of water
2. A human can safely drink about three gallons of water per day
3. There are about 326 million cubic miles of water on Earth
4. By the time you feel "thirsty," you've already lost about one-percent of you body's water
5. If you're a NFL football player, drink water so you don't cramp…