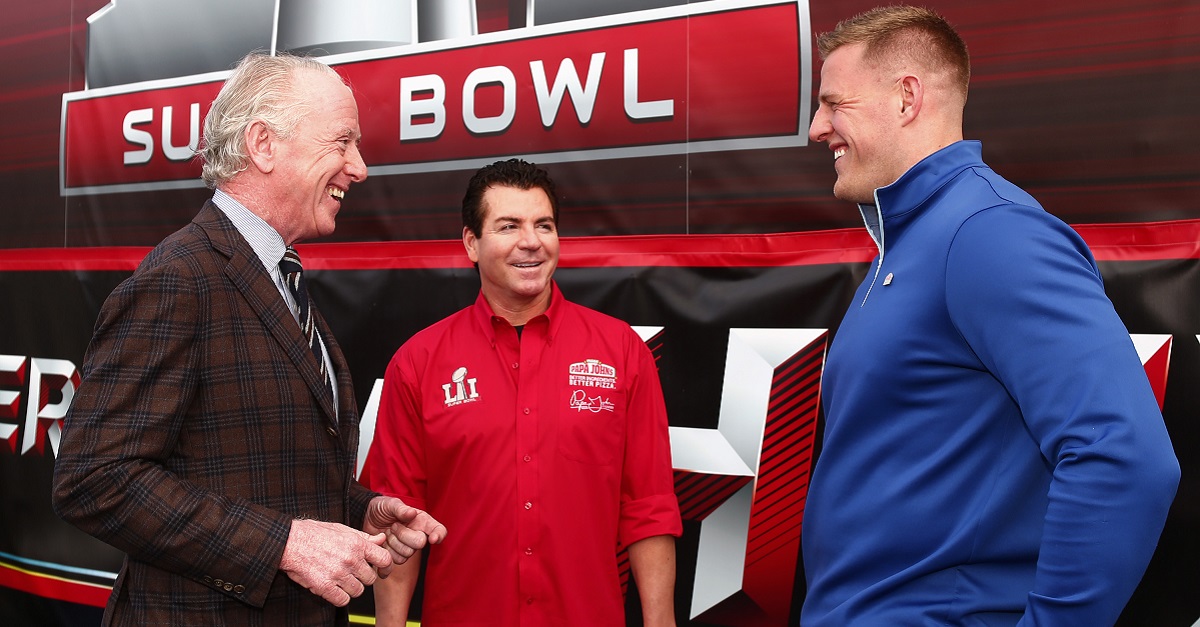 Jack Dempsey/AP Images
IMAGE DISTRIBUTED FOR PAPA JOHN'S - Papa John's founder, chairman and CEO John Schnatter talks with Archie Manning and JJ Watt on Super Bowl 51 Radio Row, Thursday, Feb. 2, 2017, in Houston. (Photo by Jack Dempsey/Invision for Papa John's/AP Images)
The Papa John's saga with the NFL and the national anthem protests is not quite over as company founder John Schantter is now stepping down from his role as CEO.
Schnatter publicly criticized the NFL for its handling of the national anthem protests and his comments reportedly cost him $70 million in one day. He eventually apologized, but the damage had been done.
Chief Operating Officer Steve Ritchie, who will take over for Schnatter, declined to say if the comments are what led to the move. Schantter will still serve as the Chairman of the board for the company.
Dallas Cowboys owner Jerry Jones came to the defense of Schnatter, calling him "one of the great Americans" in this country. However, it should be noted that Jones also has a huge stake in the company as he's a joint owner for 120 stores. Other advertisers have apparently threatened to pull their advertising as well, but none have taken as drastic a move as Papa John's has right now.
The company was forced to release a statement after Schnatter's comment as they said their intention was not to be divisive and that they do support protesting of inequality while also honoring the American flag.