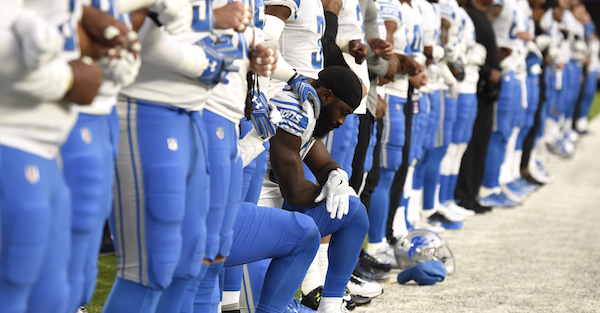 Hannah Foslien/Getty Images
MINNEAPOLIS, MN - OCTOBER 1: Steve Longa #54 of the Detroit Lions takes a knee with teammate Jalen Reeves-Maybin during the national anthem before the game against the Minnesota Vikings on October 1, 2017 at U.S. Bank Stadium in Minneapolis, Minnesota. (Photo by Hannah Foslien/Getty Images)
It appears that more companies are threatening to pull advertising due to the ongoing protests in the NFL.
NBC Universal's head of advertising Linda Yaccarino spoke at a conference on Friday, where she detailed that some advertisers were expressing concern over the continued coverage of the protests by NFL players.
?There is a list of advertisers that have made themselves very clear: ?If you continue to cover the political coverage of the issue, we will not be part of the NFL,'? Yaccarino said, via Deadline and Business Insider.
NBC has strong ties to the NFL, with their airing of Sunday Night Football consistently being among NBC's top winners in ratings. That is not the only thing at stake here, however, as NBC will also be broadcasting Super Bowl 52 at the end of this season. Advertising for the Super Bowl includes some of the most lucrative deals in television marketing, and brands putting pressure on NBC just a few months prior to the Super Bowl could prove to be an aggressive strategy.
Yaccarino's comments also come after Papa John's CEO John Schnatter said on a quarterly earnings call this week that the NFL protests were affecting his company's business. Papa John's is the leading pizza partner with the NFL, with the company also having popular deals set up with the majority of NFL teams. Schnatter's comments were seen as controversial, as the company suffered a further drop after the earning call.
The protests started a year and a half ago, when then San Francisco quarterback Colin Kaepernick took a knee as a form of protest of racial inequalities. However, more NFL players have started to protest this season, with those protests involving more of a political statement against President Donald Trump and NFL ownership instead of what Kaepernick originally started last year.