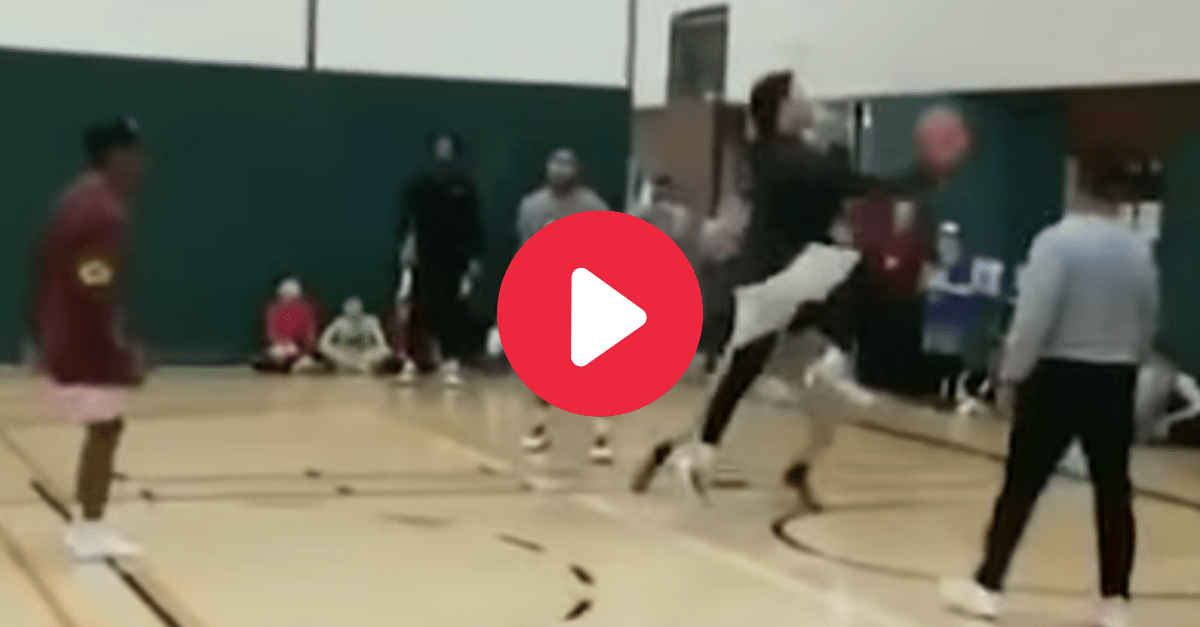 Screenshot from Twitter
To say Kansas City Chiefs quarterback Patrick Mahomes had a great NFL season last year would be the understatement of a lifetime. It would be nearly impossible to find any football player in NFL history with a better opening act. What?s scary is the star signal caller is just getting warmed up.
From throwing 90-yard bombs during pregame warmups to tossing no-look passes on the run during key moments, the 6-foot-3, 230-pound Mahomes dazzled all last season and shattered both franchise and league record books in the process. That?s why he was named the NFL?s Most Valuable Player in a landslide over New Orleans Saints quarterback Drew Brees.
But what if someone told you Mahomes? talents extend well past the football field? Could he actually be good at other sports like basketball? The answer is yes, and thanks to Faiz Jiwani (@Faiz_Jiwaini), there is proof that Mahomes? athletic ability is truly out of this world during a local pickup basketball game last February.
Patrick Mahomes Basketball Highlights
RELATED: Just Patrick Mahomes Casually Throwing a 90-Yard Bomb
It simply wasn?t fair what Patrick Mahomees did to those poor defenders.
First, Mahomes took a hard dribble to the right before crossing over and driving left toward the middle of the floor. Then, when another defender came over to help, he faked everyone out before using a spin move on the original defender and finishing with a smooth scoop lay-up. There was nothing anyone could do to stop him.
Mahomes, the NFL MVP who tossed over 5,000 yards and 50 touchdowns in 2018 before the Chiefs lost to the New England Patriots in the AFC Championship and falling one game short of Super Bowl LIII, has been doing this for years.
Patrick Mahomes High School Basketball
At Whitehouse High School in Texas, Mahomes, the son of former MLB pitcher Pat Mahomes, was a phenomenal three-sport athlete in football, baseball and basketball. He compiled over 5,000 total yards and 65 touchdowns and even threw a no-hitter with 16 strikeouts during his senior year.
When it came down to it, Mahomes chose to play football for the Texas Tech Red Raiders instead of taking his talents to Major League Baseball, where he was selected in the 37th round of the 2014 MLB Draft by the Detroit Tigers.
After taking college football by storm in three seasons, Mahomes was taken No. 10 overall in the 2017 NFL Draft by the Chiefs and the rest is history.
Oh, Mahomes, the 2019 Pro Bowl MVP, is also pretty good at golf, too.
Patrick Mahomes' career on the basketball court is officially over, though. After the offseason viral video made its way to the front office, Chiefs general manager Brett Veach told the WHB radio station that the franchise quarterback will not be playing anymore after talking to Mahomes' agent.
Needless to say, his dream of becoming Los Angeles Lakers superstar LeBron James are officially over.
That hasn't been a bad thing, though. Even without basketball, Mahomes guided head coach Andy Reid and the Chiefs to Super Bowl LIV against the San Francisco 49ers.
Throwing touchdown passes to Tyreek Hill and Travis Kelce will just have to do.
However, no matter how good you are at any sport, especially as a basketball player, just know there?s a good chance Patrick Mahomes would school you.
This post was originally published on February 5, 2019.