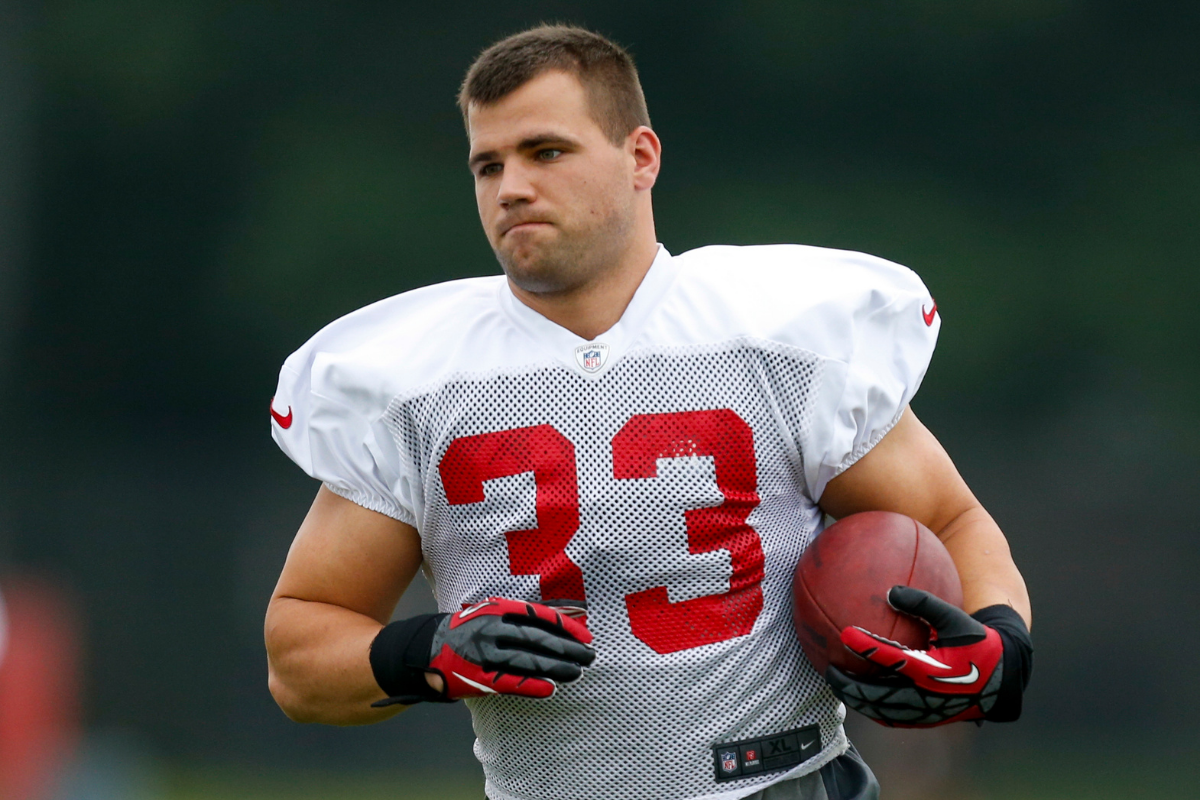 AP Photo/Mike Carlson
For a brief moment in the early 2010s, Peyton Hillis was the talk of the NFL.
After a 2010 season that saw the running back rush for 1,177 yards and 11 touchdowns, he earned a spot on the cover of Madden NFL 12, beating out more likely choices Jamaal Charles, Aaron Rodgers, and Michael Vick.
Going from relative obscurity to being named a cover athlete is one of the most bizarre football stories in recent memory, but what is Hillis up to now?
Peyton Hillis at the University of Arkansas
After a solid senior year at Conway High School in Arkansas, Hillis committed to play his college football in-state for the Razorbacks.
Though he was a running back by nature, he transitioned into a fullback role in his four years with the team. The Arkansas backfield was crowded with Darren McFadden and Felix Jones ahead of Hillis on the depth chart, so he had to adapt.
Hillis was solid in his senior year, rushing for 347 yards and accumulating another 884 through the air. He declared for the NFL Draft, but getting taken by a team was not a guarantee.
Peyton Hillis in the NFL
RELATED: What Happened to JaMarcus Russell and Where is He Now?
The Denver Broncos took a chance on Peyton Hillis, drafting him in the seventh round.
He didn't carry the ball often, but he showed potential in his rookie season, especially as a fullback. After two years with Denver, he was traded to the Cleveland Browns for former first-round pick Brady Quinn.
Hillis did well in the preseason with Cleveland and earned the starting running back job. He became a premier rusher in the AFC nearly overnight.
Unfortunately, the Madden Curse comes for all. Aside from a 94-yard performance against the Indianapolis Colts, his 2011 was full of hamstring injuries and disappointment.
He became a free agent after the year and was stuck signing one-year contracts for the rest of his career. After largely unimportant stints with the Kansas City Chiefs, Tampa Bay Buccaneers, and New York Giants, Hillis retired in 2015.
In a chat with Bleacher Report's Brad Gagnon, Hillis alluded to the mental health issues he experienced during his playing career.
Peyton Hillis Now
Today, Hillis remains in touch with football, but in a different role.
Since 2015, he has volunteered as a coach at Siloam Springs High School in his home state of Arkansas.
Interestingly, Hillis tweeted about coming out of retirement this offseason, though the COVID-19 protocols have made tryouts hard to find, especially for someone who hadn't played in years. While we're sure the tweet was tongue-in-cheek, don't expect a new contract anytime soon.
Peyton Hillis has quite an interesting legacy. He never came close to an MVP, never reached the playoffs or appeared in a Super Bowl, and won't ever be considered for the Hall of Fame.
However, he was able to grace the cover of a video game, which is something that many prominent players won't ever get the chance to do.