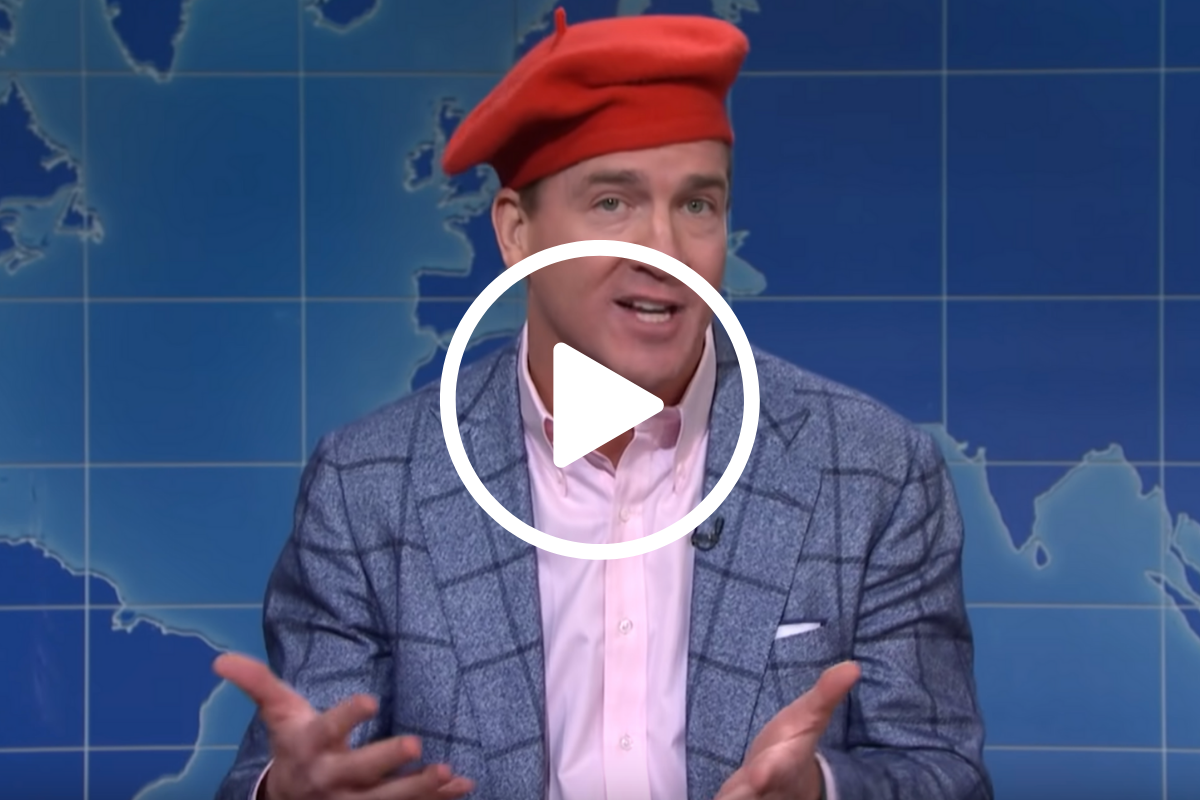 Screenshot from YouTube
The Manningcast was an unexpected delight this past football season. Many fans, myself included, traded the commentary of "Monday Night Football" announcers Steve Levy, Brian Griese and Louis Riddick for kicking it with Peyton and Eli Manning.
It's just like listening to your favorite podcast. Your best friends do all the talking and you attentively listen without saying a word as all good friends do. You're kept around because you have all the right vibes.
Anyway, the Manningcast was the latest display in Peyton and Eli showcasing their personalities. In Eli's case, we learned he's a goofy dude who flips double birds and doesn't take himself too seriously. For Peyton, the Hall of Fame quarterback can talk to anyone while dissecting a game. And, as we've known for years, he has a great sense of humor.
Peyton has most prominently showed off his comedic chops on "Saturday Night Live." From pelting kids for United Way to spoofing the movie "300", Manning has proven he can roll with the punches and has precise timing.
The legendary signal caller last hosted "SNL" in 2007. However, he returned to New York City's studio 8H in 2022 and shared his passionate fandom for a Netflix romcom.
Peyton Manning Gushes Over "Emily in Paris" on SNL
RELATED: Peyton Manning Cusses Out, Pelts Kids in Classic SNL Skit
The Divisional Round of this year's NFL Playoffs was one for the ages. The four games were decided by a total of 15 points. Three of those victories came from walk-off field goals, and the last was arguably the greatest quarterback duel of all time.
Who better to talk about the crazy weekend of football than Peyton Manning? Surely nobody, thought "Weekend Update" anchors Colin Jost and Michael Che. So, Manning made a surprise cameo on the January 29th episode hosted by Willem Dafoe.
Jost was thrilled to talk about the games with the gridiron legend, but Manning only had the Netflix show "Emily in Paris" on his mind. Instead of watching the games, Manning binged the show's second season and became a huge fan in the process.
The former Indianapolis Colts and Denver Broncos QB was swept away by the show's romance, adventure, culture, fresh take on feminism (finally) and a culinary tapestry so rich it can only be described as food porn. Who can blame him?
Jost quickly learned it was a waste of time to try to talk about football with Manning because it's "Emily in Paris" all day every day. Talking about Xs and Os? "Emily in Paris." His thoughts on Tom Brady's potential retirement? He would retire if he were Brady because that frees up more time to watch "Emily in Paris." His favorite girl's name in his favorite European city? Katie in Berlin. Just kidding. "Emily in Paris."
Manning ended the segment by putting on a beret and talking about how watching football would've been the safe thing that everyone expected him to do. But, he learned from his new best friend Emily to always follow his passions and be true to himself. You go, Peyton.
Peyton Manning's surprise appearance on SNL made the night and reminded us how colorful a personality he is off the field. He'll have a busy offseason speculating about "Emily in Paris" season 3.
Related Videos