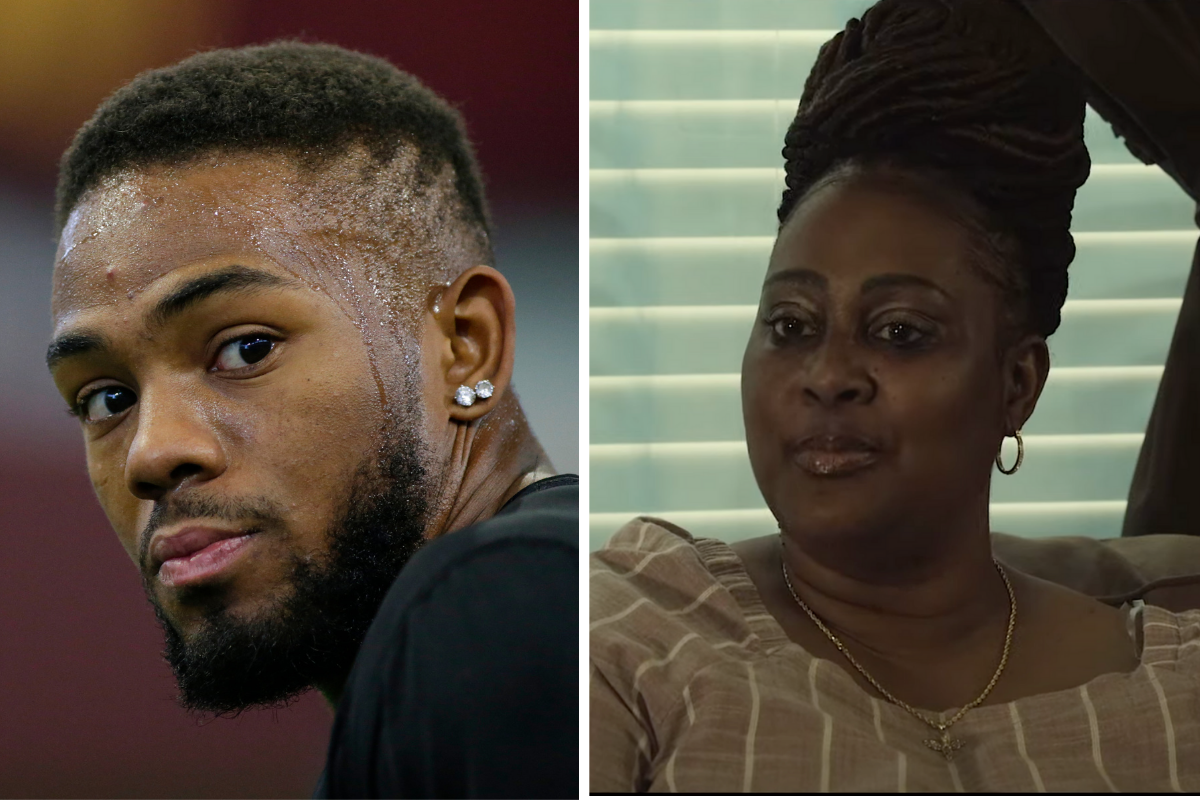 AP Photo/Andy Clayton- King (left), Screenshot from YouTube (right)
Former Minnesota Golden Gophers wide receiver Rashod Bateman was one of many players who opted out of the 2020 college football season during to the coronavirus pandemic.
Despite missing part of last year, Bateman is still a top prospect ahead of the 2021 NFL Draft.
No matter where or when Bateman ends up getting selected, no one will be prouder of the star pass catcher than his mother, LaShonda Cromer.
Who is Rashod Bateman's Mom?
RELATED: Antoine Winfield Jr. Plays Just Like His All-Pro Father
Rashod Bateman was born in Tifton, Georgia, some 200 miles away from Atlanta, and was raised by his single-mother, LaShonda Cromer, as well as his godparents.
His mother is an athlete in her own right, having played basketball in high school before becoming a teacher, and later a mother to Bateman and his two siblings.
In addition to Shonda, Bateman credits a lot of his upbringing to his late uncle Anthony Bateman. While talking with Aaron Lavinsky of the Star Tribune, Bateman referred to his uncle as a father figure.
Anthony Bateman passed away in 2019 during Rashod's sophomore season, and his mother, as well as Minnesota's coaching staff and football players, acted as the family who helped him overcome the loss of someone so important.
As one would expect, Bateman's mother is his biggest fan, frequently rocking Minnesota gear on her social media photos. LaShonda even took a shot at Penn State on Twitter back in 2019 ahead of one of her son's games.
Despite plans to enter the NFL, Bateman has already declared he wants to return to Minnesota in the future to finish his degree, having drawn inspiration from his mother, who also managed to return to school and complete her degree.
Rashod Bateman's Football Career
Rashod Bateman was a star wide receiver for the Tift County High School football team. He was rated as a three-star recruit by ESPN and ultimately decided to take his talents to the University of Minnesota to play for head coach P.J. Fleck.
Bateman made an impact from the moment he stepped on campus in Minneapolis, racking up 51 receptions and 704 yards as a freshman, including six touchdowns.
He continued to improve as a sophomore, hauling in 60 catches for 1,219 yards and 11 touchdowns. He earned the Big Ten Receiver of the Year Award in 2019 and was a Third-Team All-American.
The decision to opt out of the 2020 season was a difficult one. Bateman would be stepping up as the No. 1 receiver at Minnesota had he decided to play after Tyler Johnson moved on to the NFL.
Bateman missed the first two games of the season before deciding to opt back in ahead of the team's clash with Michigan, much to the delight of Fleck and offensive coordinator Matt Simon. He returned for the final five games of his NCAA football career, recording 476 yards and a pair of touchdowns.
The next step for Bateman will be the 2021 NFL Draft, where the wide receiver is projected by various mock drafts to be a late first-round pick or an early second-rounder.
He impressed at his Pro Day, logging a 4.39 40-yard dash and excelling in positional drills. Bateman has been linked to wide receiver-needy teams such as the Baltimore Ravens, who could look to the former Gophers receiver in the back-end of the first round.