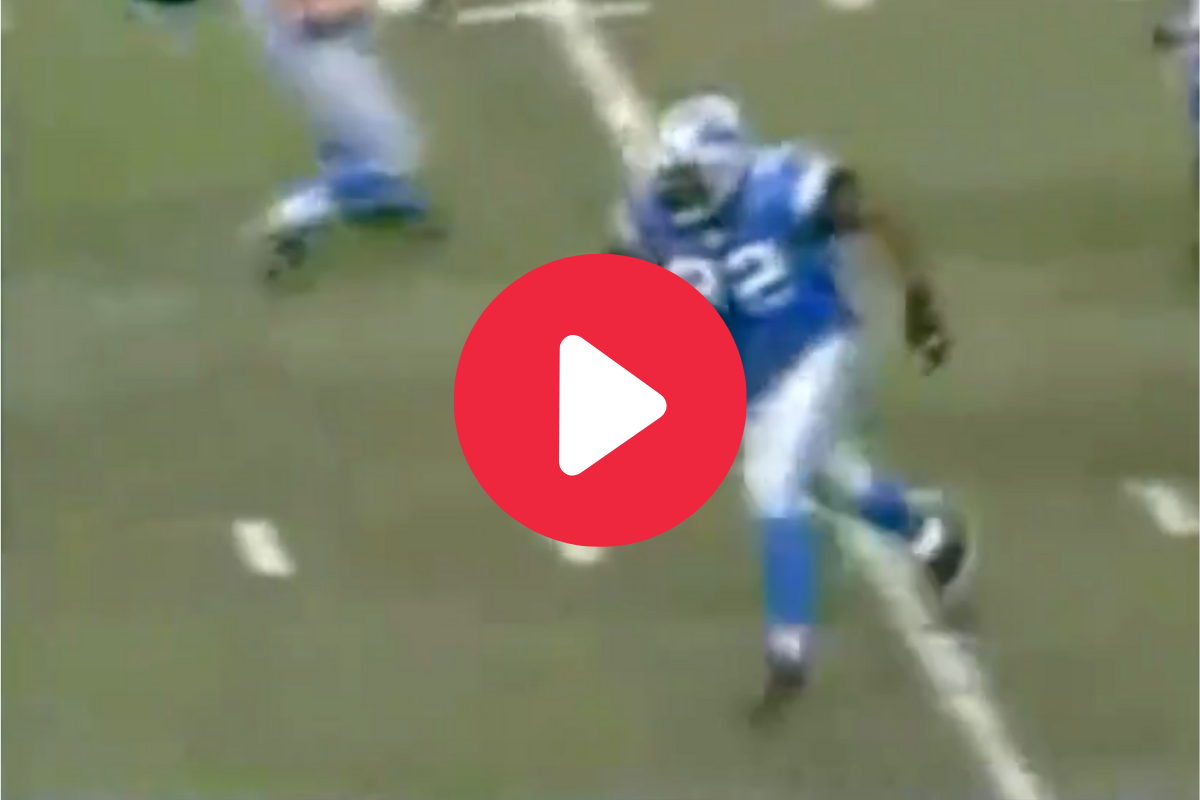 Screenshot from Twitter
Everyone loves a good fat guy touchdown. If you don't, well, that's a shame. Whether it's in college football or the NFL, these rare moments provide such great entertainment, and perhaps nobody did it better than former Detroit Lions defensive tackle Shaun Rogers.
On November 4, 2007, the Lions absolutely pummeled the Denver Broncos. And if a 30-0 score midway through the fourth quarter wasn't already bad enough, the 6-foot-4, 350-pound Rogers put the finishing touches on the blowout with the play of his life.
The entire world got a treat with a 66-yard interception and touchdown from one of the most unlikely players on the field that day in Detroit.
Shaun Rogers Interception & Touchdown
RELATED: The Heaviest "Fat Guy Touchdown" Grab in Playoff History Was Beautiful
Facing 3rd-and-5 inside their own territory, Broncos quarterback Patrick Ramsey took the shotgun snap, looking to make a play to keep the drive alive. Instead, he was surrounded by Lions players and threw the ball right at the hands of Shaun Rogers.
Rogers was off to the races and going for pick-six glory. And, man, he really went for it. All 350 pounds of him sprinted like no other down the left side of the field and was headed for the end zone.
The run wasn't a walk in the park, though. Rogers was almost tackled at the 15-yard line, but he pushed off the Broncos player like he was getting crumbs off his shirt. Then, in poetic fashion, he decided to cap off the amazing play with a swan dive into the end zone.
The play of the game. The play of Shaun Rogers' life. And that's saying something.
Rogers was a beast all day. He recorded four quarterback hits, 2.5 sacks, a pass break up and the interception return for a touchdown, according to ESPN.
DT Shaun Rogers NFL Career
A second round pick in the 2001 NFL Draft out of Texas, Shaun Rogers enjoyed a long career while playing for the Detroit Lions, Cleveland Browns, New Orleans Saints and New York Giants.
His last season with the Giants ended due to a blood clot in his left calf.
Rogers was a three-time Pro Bowl selection with over 500 tackles with 37.5 sacks and four forced fumbles. At times, he was completely dominant.
When it's all said and done, however, that interception and touchdown is the greatest play of his career, and the swan dive is the gift that keeps giving.
During the offseason and coronavirus pandemic and COVID-19 outbreak, this is the joyful content we need to remember.
This post was originally published on March 17, 2020.