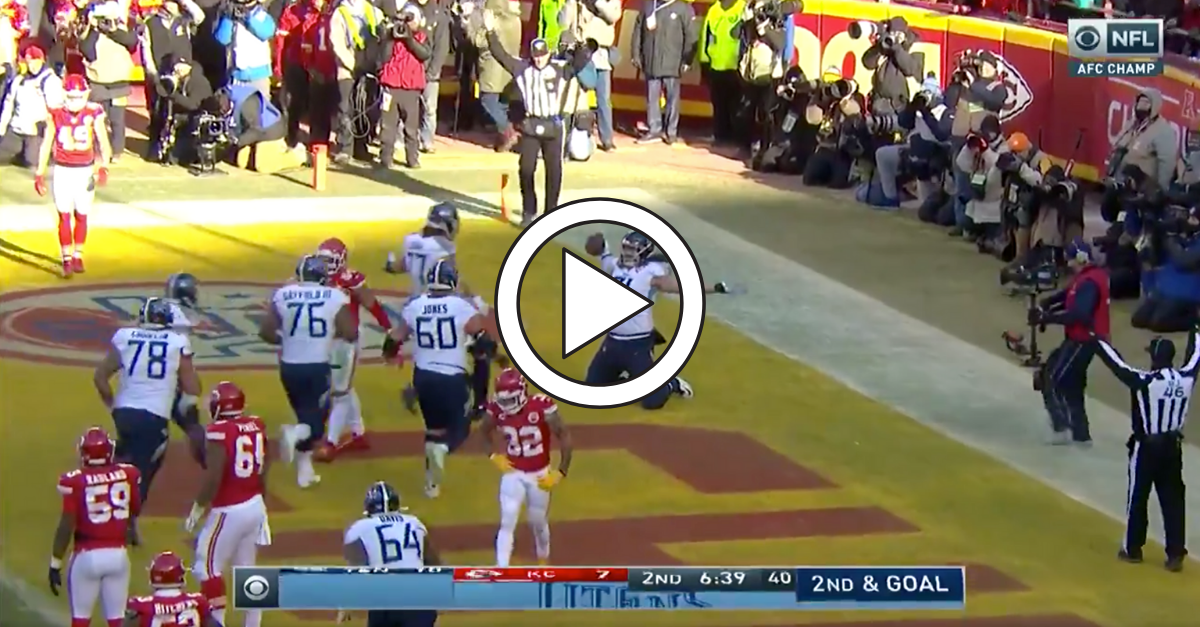 Screenshot from Twitter: NFL
There's nothing quite like the rush of a big man touchdown in the NFL, and by big man I absolutely mean fat guy. You know, it's the type of adrenaline boost you get when you watch 313-pound offensive tackle Dan Connolly nearly taking a kickoff return to the house.
William "Refrigerator" Perry may have been the originator of the fat guy touchdown, but he doesn't hold the NFL records that really matter in our hearts. Those belong to the portly Dontari Poe, the 346-pound defensive lineman who holds the NFL records for heaviest player to score a rushing touchdown as well as heaviest player to pass for a touchdown.
In the AFC Championship game between the Tennessee Titans and Kansas City Chiefs on Sunday, the NFL gods blessed us with not just a fat guy touchdown, but a record-setting fat guy touchdown.
Titans offensive lineman Dennis Kelly — who stands 6-foot-8 and weighs 321 pounds — hauled in a 1-yard touchdown pass in the second quarter from quarterback Ryan Tannehill, making him the heaviest player in NFL history to catch a touchdown pass in the postseason. CBS confirmed the very important record.
Titans' Dennis Kelly Catches Touchdown
Kelly reported as an eligible receiver on the play, but most everyone in Arrowhead Stadium was expecting the Titans to hand the ball to the bulldozing Derrick Henry at the goal line. Instead, Kelly faked a block and Tannehill flipped it to the offensive tackle in the end zone.
Kelly's touchdown gave the Titans a 17-10 lead with under seven minutes left in the first half. The Chiefs responded with touchdowns from Tyreek Hill and quarterback Patrick Mahomes prior to halftime and wound up winning the game, 35-24, to advance to the Super Bowl against the San Francisco 49ers.
It's not the first time Kelly has scored a touchdown in his seven-year NFL career. Kelly caught a touchdown pass from Tannehill earlier this season against the Jacksonville Jaguars.
The trick plays shouldn't surprise anyone taking a look at the Titans sideline. Head coach Mike Vrabel reeled in a touchdown catch in the Super Bowl on multiple occasions as a linebacker with the New England Patriots.
According to NFL Research, Kelly also became the only offensive lineman since 2000 to score two receiving touchdowns in one season. He's the third player to weigh more than 300 pounds over that span to do so, joining Hall-of-Fame defensive tackle Warren Sapp and Ravens defensive lineman Patrick Ricard.
As many noted on Twitter, Kelly now has as many touchdown receptions (2) as wide receiver Dorial Green-Beckham since the Philadelphia Eagles and Titans swapped the two players in 2016.
Other Fat Guy Touchdowns in the NFL Playoffs
William Perry, 1-yard TD run in Super Bowl XX: Jan. 26, 1986
Nate Solder, 16-yard TD pass in AFC Championship: Jan. 18, 2016
Mike Vrabel, 1-yard TD pass in Super Bowl XXXVIII: Feb. 1, 2004
Gary Gilliam, 19-yard TD pass in NFC Championship: Jan. 18, 2015