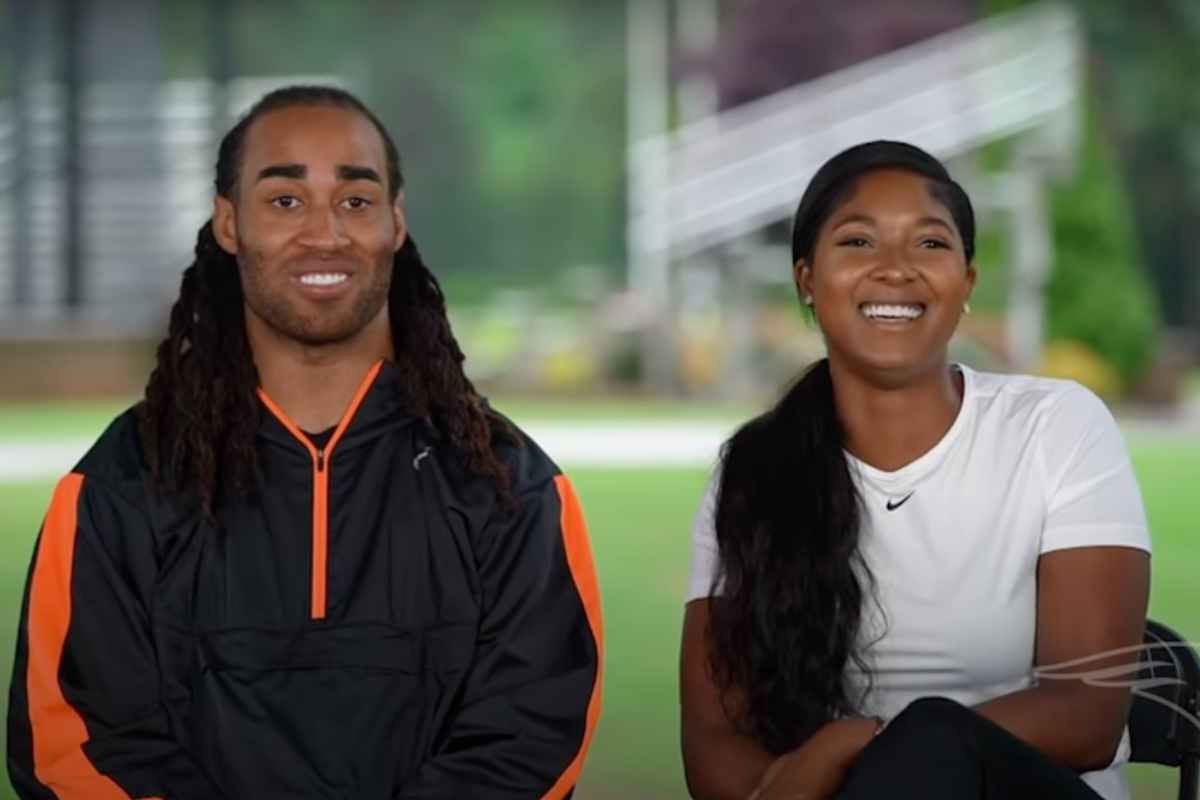 Screenshot from YouTube
Stephon Gilmore must have good genes. He has a rare combination of athleticism, humility and intelligence. The Super Bowl-winning defensive back thanks parents Linda and Steve Gilmore for raising him the right way. He gave them three grandchildren to continue those genes.
Stephon Gilmore and his wife Gabrielle have three young children running around their house. It makes sense: both parents are experienced runners themselves. If the kids have even half their parents' energy, they're going to be a handful. But former NCAA Champion and Junior Olympian Gabrielle Gilmore can handle it.
If she drops the ball, New England Patriots cornerback Stephon Gilmore can cover her. How did the track star and the football player form a family? Surely, it was more than just good genes.
Stephon Gilmore's Wife Gabrielle Glenn
View this post on Instagram
RELATED: Who is Bill Belichick?s Longtime Girlfriend?
Stephon Gilmore met Gabrielle Glenn when they were both student-athletes at the University of South Carolina. Gilmore stole the show on the football field but was a formidable sprinter on his high school track and field team. Perhaps it was this love of running that brought Gabrielle and Gilmore together.
Gabrielle Alise Glenn is a former collegiate track and field star from Charlotte, North Carolina. She competed in many track disciplines at Providence High School, from 55-meter sprints to 400-meter relays.
She chose the University of South Carolina over USC and Georgia, becoming an NCAA Outdoor All-American in two relays her freshman year. Later that season, her Junior Olympics 4×100 relay team won gold, setting a record for the calendar year. Glenn competed in indoor and outdoor track and field competitions, a surely exhausting schedule. Her collegiate career ended after the 2011 season. By the time she donned a cap and gown, Glenn had won several NCAA Outdoor Championships and the adoration of her future husband.
Stephon Gilmore married Gabrielle Gilmore in the summer of 2014. One year later, they welcomed their first son, Sebastian Gilmore. Stephon was with the Bills at the time, but his contract was up in 2017. He signed a new, far-more lucrative contract with the Super Bowl-contending New England Patriots in May of that year, the same day Gabrielle welcomed their second child. They named their daughter Gisele, presumably in honor of Tom Brady's supermodel wife.
View this post on Instagram
The couple welcomed a third child just recently, though Gael Gilmore's birthdate is unknown to the Internet. Perhaps that's for the best. Gabrielle Gilmore traded in track cleats for baby shoes, and she's doing it with style.
Stephon Gilmore's wife Gabrielle is active on Twitter, usually refuting haters, COVID-19 rumors and other similar nonsense. She swats Internet insults like Stephon swats weak passes. No wonder the cornerback and the track star fell in love.
Stephon's NFL Career
Stephon Stiles Gilmore was born in Rock Hill, South Carolina. An athlete from birth, he excelled at South Pointe High School in football, basketball and track. Stephon played both sides of the ball at quarterback and cornerback while sharing the football field with future South Carolina teammate Jadaveon Clowney.
Gilmore was a four-star recruit when he chose the in-state South Carolina Gamecocks (coached by Steve Spurrier) over Clemson, Florida and Florida State University. He started cornerback all three years in Columbia, helping the Gamecocks to a 27-13 record after his All-American freshman season. Gilmore played well in wins against Ole Miss, Alabama and Georgia during his three years at The Other USC, capping it all off with a Capital One Bowl victory over Nebraska. For his final performance, Gilmore recorded four solo tackles and one interception. Gilmore chose to enter the National Football League in 2012.
The Buffalo Bills selected Stephon Gilmore 10th overall in the first round of the 2012 NFL Draft. In a class featuring RGIII and Andrew Luck, Gilmore has had the most successful career.
Gilmore established a reputation for blanketing AFC wide receivers during his five seasons in Buffalo. The American professional football player signed a five-year, $65 million deal with the New England Patriots in 2017, plus an $18 million signing bonus.
Gilmore was an immediate starter. He helped lead the Patriots to a rare Super Bowl loss when the Pats were upset by a Nick Foles and his flock of Philadelphia Eagles. Gilmore and the Pats defense avenged their Super Bowl LII loss by winning Super Bowl LIII, defeating the Los Angeles Rams. The Super Bowl-winning season also marked Gilmore's first All-Pro nod and his second Pro Bowl team. He was named the AP NFL Defensive Player of the Year in 2019.
The pandemic was troublesome for Cam Newton, J.C. Jackson, Stephon Gilmore, Bill Belichick and just about everyone else in the world. Cam and Stephon tested positive for coronavirus during the 2020 season and had to miss several games. ESPN's Adam Schefter reported the pair spread the 'Rona over wine, though the Gilmores have refuted those claims. The Patriots' poor record reflected the loss of their stars, just as the Packers' winning record reflected the presence of Aaron Rodgers.
Entering the last of his five-year deal with New England in 2021, Gilmore is holding out for a new contract. He's skipped minicamp and plans to continue his absence until they can reach a deal. It's unclear if Gilmore will stay in New England, take a contract in New York or join a new contender like the Kansas City Chiefs.
If anyone deserves a new contract, it's Gilmore. With a growing family and beautiful wife, it's time for the Super Bowl champion to get paid.