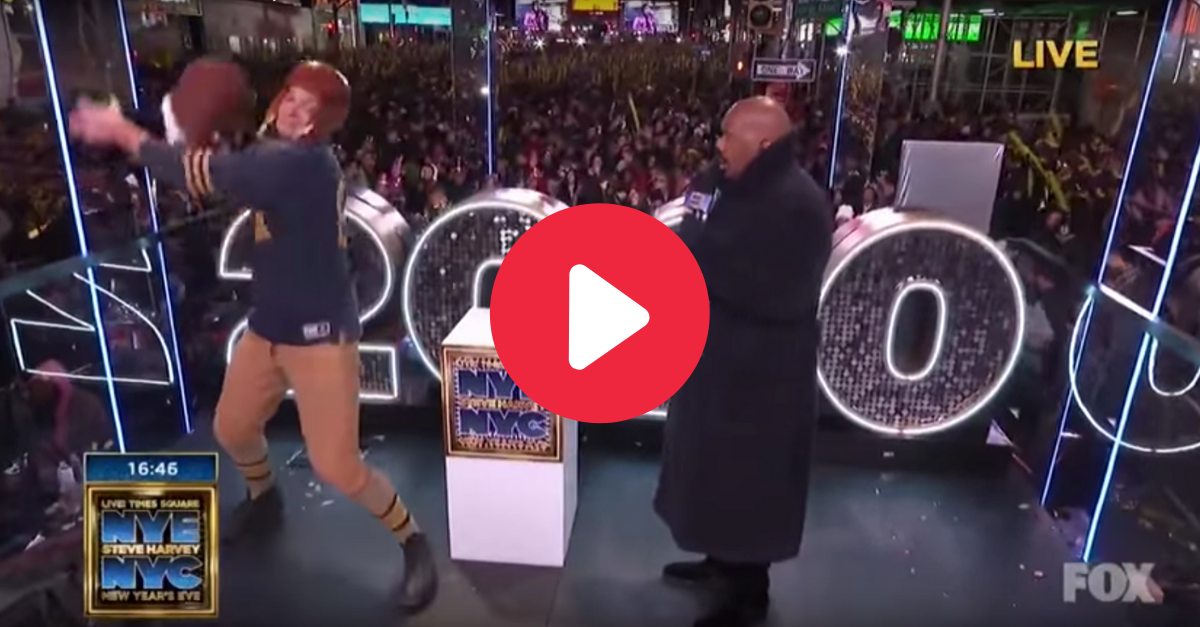 Screenshot from YouTube
It was New Year's Eve in Times Square, and as some of us poured champagne cocktails and dressed like the Roaring Twenties were back again, iconic television personality Steve Harvey was busy entertaining the masses alongside co-hosts Rob Gronkowski and Maria Menounos on FOX's New Year's Eve broadcast live from New York City.
Viewers took in musical performances from acts like The Chainsmokers, Florida Georgia Line, Backstreet Boys, The Killers and even saw a "pathetic" world record attempt by the Village People for the most people doing the Y.M.C.A. dance. (Naturally, Gronk led this with his usual exuberance.) Roman Reigns defeated Dolph Ziggler in a live WWE match, Gordon Ramsey showed up, and everyone happily welcomed 2020 with open arms.
Everything went well on Tuesday night, except for a Gronk moment that gets better every time you see it.
Like he did after 80 touchdowns in his regular season NFL career, Gronk hoisted up a New Year's Eve gift given to Steve Harvey ? an incredible sculpture head made entirely of Legos ? and spiked it into the ground before dancing over the chaos with a childlike wonder like only Gronk can.
With the ring of 1,000 Legos, the former New England Patriots tight end reminded everyone watching from home that no party holds a candle to a Gronk party.
Rob Gronkowski Spikes Lego Bust of Steve Harvey
RELATED: Rob Gronkowski's Net Worth: How Gronk Made (And Saved) a Fortune
"I don't want to work with him no more. Why is he here? Why are you here? What is wrong with you?! You're mentally imbalanced," the Family Feud host pleaded to Gronk, who was wearing an old school leather helmet and throwback football uniform. "You know how hard it is to get them brown Legos?!"
Despite Harvey's perfect reaction to seeing his face smashed to bits, the three-time Super Bowl champion didn't show much remorse for his Gronk spike in an Instagram post the following day that read, "Sorry but had to do it!!"
Ain't no party like a Gronk party 'cause anything can actually happen at a Gronk party.