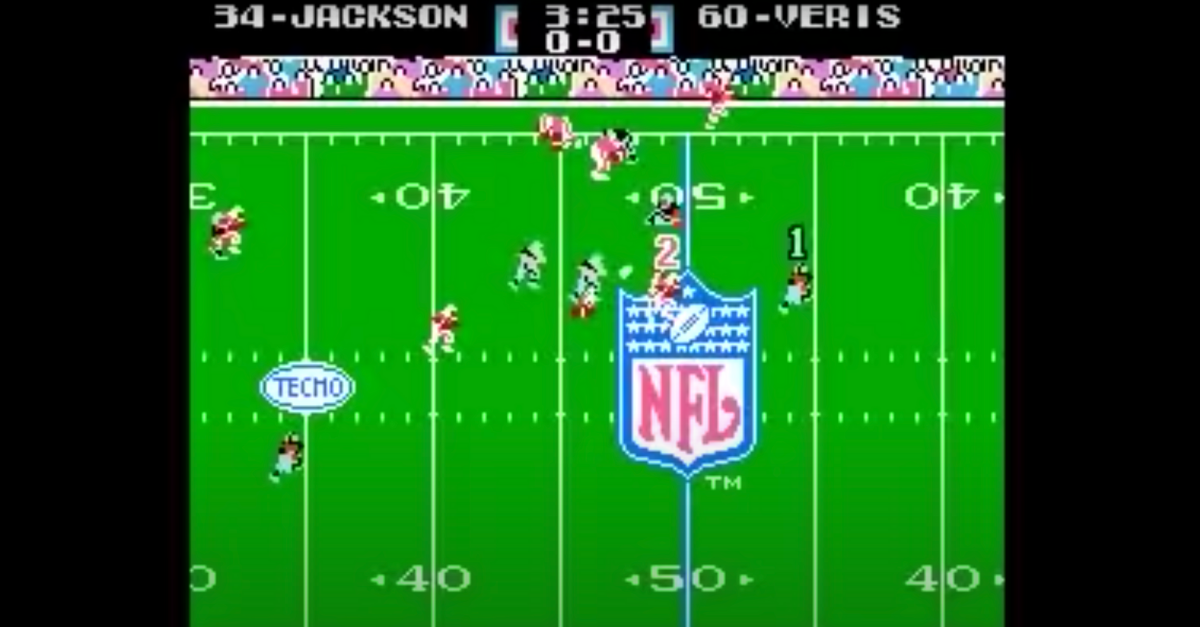 Screenshot from YouTube
Some things in life are just unfair. Watching it rain after you just washed your car is unfair. Missing out on the job you wanted is unfair. Another person winning the lottery is unfair. However, perhaps nothing pales in comparison to playing against Bo Jackson, especially in Tecmo Super Bowl.
In real life, Jackson is the greatest athlete to ever live. Whether it was playing college football for the Auburn Tigers, in the NFL with the Los Angeles Raiders or in the MLB, there wasn?t anything the superstar couldn?t do.
After the original Tecmo Bowl came out for the Nintendo Entertainment System (NES), Tecmo Super Bowl arrived to take the sports video game to the next level. Many believe it?s the greatest sports game of all time and Jackson was a big reason why.
Bo Jackson in Tecmo Super Bowl
RELATED: These ?Bo Knows? Commercials Still Rock After 30 Years
When Tecmo Super Bowl acquired an NFL license in 1991, everyone got to run offensive plays with actual names of NFL players instead of fictional characters. Running back Barry Sanders, linebacker Lawrence Taylor, wide receiver Jerry Rice, and quarterback Joe Montana were some of the best players in the game.
Then, of course, there was Los Angeles Raiders running back Bo Jackson.
Running plays with ?Tecmo Bo? was a touchdown waiting to happen. There wasn?t anything outside of your power going out that was going to stop the video game character from finding the end zone.
Nobody from the AFC or NFC could stop him. Not the New York Giants, San Francisco 49ers, Kansas City Chiefs, Dallas Cowboys, Seattle Seahawks, Chicago Bears, Indianapolis Colts, Cleveland Browns, Denver Broncos, Miami Dolphins, Tampa Bay Buccaneers New England Patriots or Minnesota Vikings. Nobody.
The playbook was simple: Hand the ball off to Bo Jackson. Then it?s up to you whether you want to score on a straight run down the sideline or zig zag for a few hours just for fun.
Jackson?s character and the game are iconic. Anyone who remembers the old Nintendo knows how amazing it was. A 2017 Kia Sorento commercial even brought it back to life with Jackson and former linebacker Brian Bosworth.
Say what you want about Madden. Talk all you want about bringing back NCAA Football. There is only one Tecmo Super Bowl and there is only one Bo Jackson.
If you have an NES, you might as well fire it up during the coronavirus pandemic and COVID-19 outbreak to relive the glory days and the legendary sports video game that sparked so many great and horrible memories.