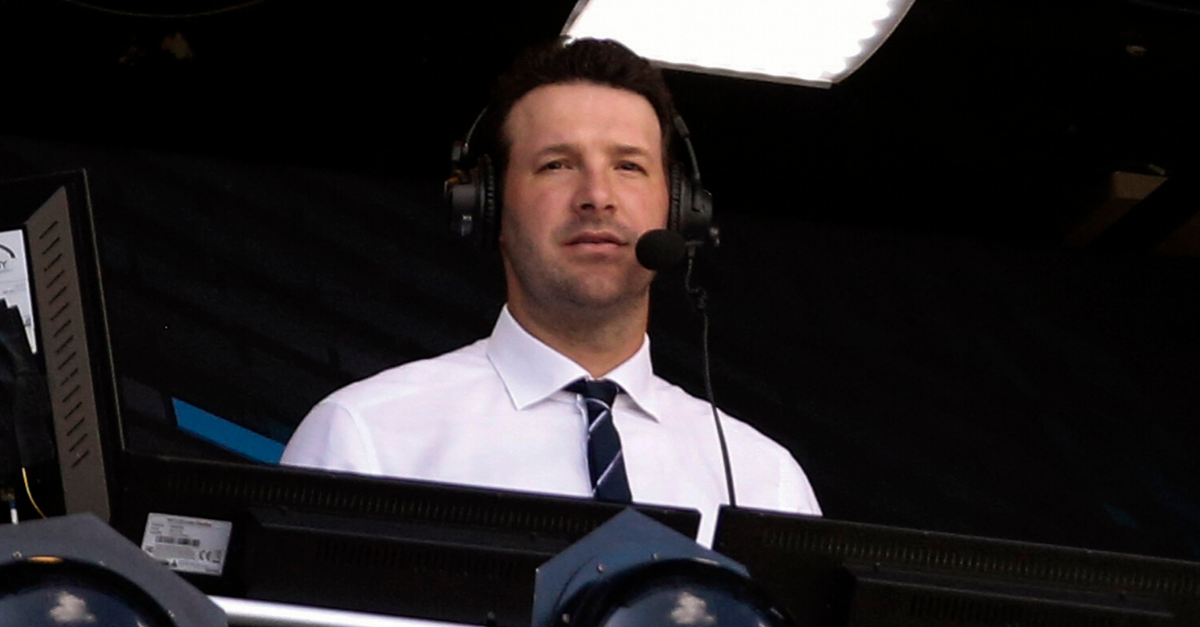 AP Photo/Mike Roemer, File
Tony Romo was known for mediocrity during his football playing days despite being the Dallas Cowboys' all-time leader in passing yards and touchdowns. Much of that can be attributed to the measly two playoff wins he led the team to over his 13-year career.
Since retiring on the gridiron and joining the broadcast booth for CBS, though, the former Dallas Cowboys quarterback has become one of the most well-respected and beloved broadcasters in the sport. He's been praised for his ability to predict plays before they happen and has brought an energy and enthusiasm to calling important NFL games.
As his rookie broadcast contract with CBS expired at the end of this past season, Romo was rumored to become the highest-paid sportscaster in sports history. Michael McCarthy of Front Office Sports initially reported in January that ESPN is preparing to make Romo an offer for the 2020 season and beyond that would fetch him between $10 and $14 million per year.
Sporting News first reported Romo was seeking at least $10 million per year in a new deal after the current season.
Then, on February 12, Outkick the Coverage's Clay Travis reported Romo could make $15 to $20 million annually by either CBS or ESPN.
Tony Romo Signs Record-Setting TV Contract
UPDATE (March 2, 2020): Romo was looking for a record-setting contract, and he got it.
Andrew Marchand of the New York Post broke the news that Romo signed a long-term deal with CBS to stay in the booth alongside Jim Nantz. Romo's reported long-term deal is expected to be at least five years and will pay him around $17 million per year.
All told, it's expected that Romo's contract will pay him over $100 million for the life of the deal.
---
Tony Romo's CBS Salary Was $4 Million
Romo has been with CBS since 2017 and earned $4 million annually, according to Marchand. His annual salary now rises to a level higher than most head coaches in the NFL.
The highest-paid coach is currently New England Patriots head coach Bill Belichick ($12.5 million), while Oakland Raiders' Jon Gruden ($10 million), Seattle Seahawks' Pete Carroll ($9 million) and New Orleans Saints' Sean Payton ($9 million) trail not far behind.
Incredibly, the 39-year-old NFL analyst will earn more up in the booth than he did while playing. The former quarterback's highest base salary was $8.5 million before bonuses, according to OverTheCap.com.
CBS first reeled in Romo by putting him in their top booth next to longtime sportscaster Jim Nantz, and they weren't going to let ESPN match what they were willing to pay. Romo figured to be the biggest TV free agent since John Madden, who at one point earned $8 million a year and worked for CBS, ABC, Fox and NBC during his career, and he earned it.
ESPN has shown it hasn't been afraid to shell out top dollar for top talent. It gave Stephen A. Smith $8 million per year in 2019 and John Gruden more than $6 million per year to call Monday Night Football. Currently, Booger McFarland serves as ESPN's lead color analyst alongside Joe Tessitore.
Romo probably wouldn't have ended up at any other network given his asking price. NBC wouldn't break up Al Michaels and Cris Collinsworth, and Fox Sports already has a good thing going with Joe Buck and Troy Aikman as its lead color analyst.
Tony Romo's Ability to Predict Plays
The transition from taking snaps to calling them has been seamless for Romo. The TV analyst at times has morphed from CBS Sports announcer to wizarding fortune teller, like the way he effortlessly told us everything that was going to happen in the 2019 AFC Championship Game between the New England Patriots and Kansas City Chiefs.
That skill can be good and bad, and fans expressed disapproval for his spoilers during Super Bowl LIII between the Patriots and Los Angeles Rams in Atlanta. Still, no one else in the industry can do what he does.
Romo is absolutely getting paid for being the best at what he does. I wonder if Cowboys fans saw that coming.
This post was originally published on January 13, 2020. It was updated to reflect the news of Romo's record-setting new contract.