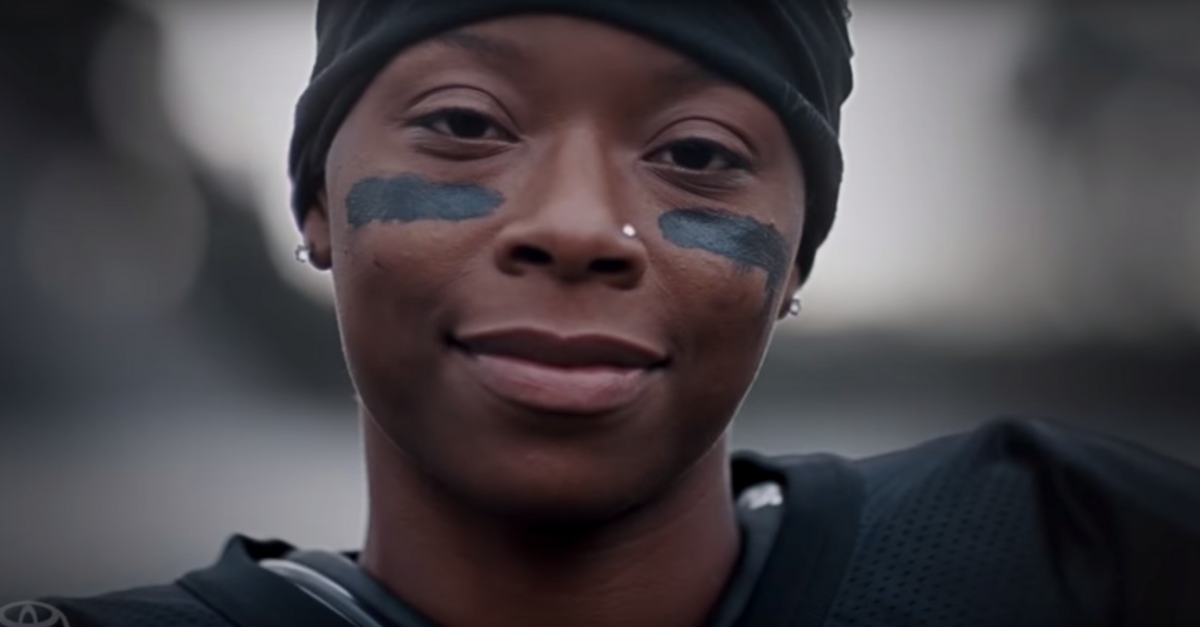 YouTube: Toyota USA
YouTube: Toyota USA
With Super Bowl LIII creeping closer, the first of a few iconic commercials are starting to surface. You'll see Budweiser's famous Clydesdales make their return as well as an appearance from none other than 'The Dude' from the film The Big Lebowski. One more Super Bowl ad that's been released comes from Toyota, and they are showcasing one football player's story that is "shattering perceptions."
Toni Harris plays football for the East Los Angeles College Huskies, a community college in Monterey Park, California. She plays defensive back for the Huskies and was named the Homecoming Queen in high school. Yeah, SHE is on the verge of being one of the few non-kickers to play college football as a woman, but her sights are set even higher to the next level.
Listed at 5-foot-5 and 135 pounds, Antoinette Harris has her sights set on one goal: becoming the first female NFL player in history.
"I first developed an interest in football when I was about four ? between four and six years old," Harris told CBS. "People around me, they weren't too fond of me playing football. They said that I could get hurt a lot easier playing with guys."
The Detroit native, who played for Redford Union High School in Michigan, collected three tackles as a free safety and in kickoff coverage during her sophomore season with ELAC after missing much of the 2017 year due to health issues. She announced on Twitter that she'd been offered a scholarship to Bethany College, an NAIA level school in Kansas back in January 2018.
RELATED: Meet the First Female Broadcasting Duo to Call NFL Games
According to her Twitter account, this is one of four scholarship offers to four-year programs at the Division I level she's received. Harris would join the likes of Shelby Osborne, who was a defensive back for Campbellsville University in Kentucky, and Katie Hnida, who was the first woman to ever play Division I football as a kicker for the New Mexico Lobos, as one of the few women to ever play college football.
However, Harris would be only the second woman to receive a college football scholarship joining Becca Longo, who was signed a letter of intent in April 2017 to play both football and women's basketball for Division II Adams State in Colorado.
"I love to prove people wrong… I was kicked off a team when I was younger because I was a girl. But once I got older and into high school, I mean, it still was hard but I just tried to pave my way through no matter what anybody said. It's my dream and I'm gonna protect it at any cost."

? Antoinette "Toni" Harris, via CBS News
In line with Toyota's RAV4 Hybrid launch, the company is featuring Harris' journey and dream to play in the National Football League in their upcoming Super Bowl commercial, which will air on February 3. For those who love spoilers, here is Toyota's Super Bowl ad in its entirety.
"Being a role model, it's an honor, but it's also a privilege because not every day everybody can stand up and be a role model for other people," Harris said. "And it's kind of hard. It's a lot of pressure, but I mean, I'm just paving the way for the next little girl that's gonna come along and be a role model as well."
It takes a special kind of person and talent to play in the NFL. For any person to say that Toni Harris lacks the passion and tenacity it takes to pursue your dream at all costs, well, they probably gave up on their dream. Harris isn't just pursuing this publicly for attention. She's proving that anything can be done if you work for it, believe in it, and protect it against everyone who doubts you.
Editor's Note: First published on January 29, 2019