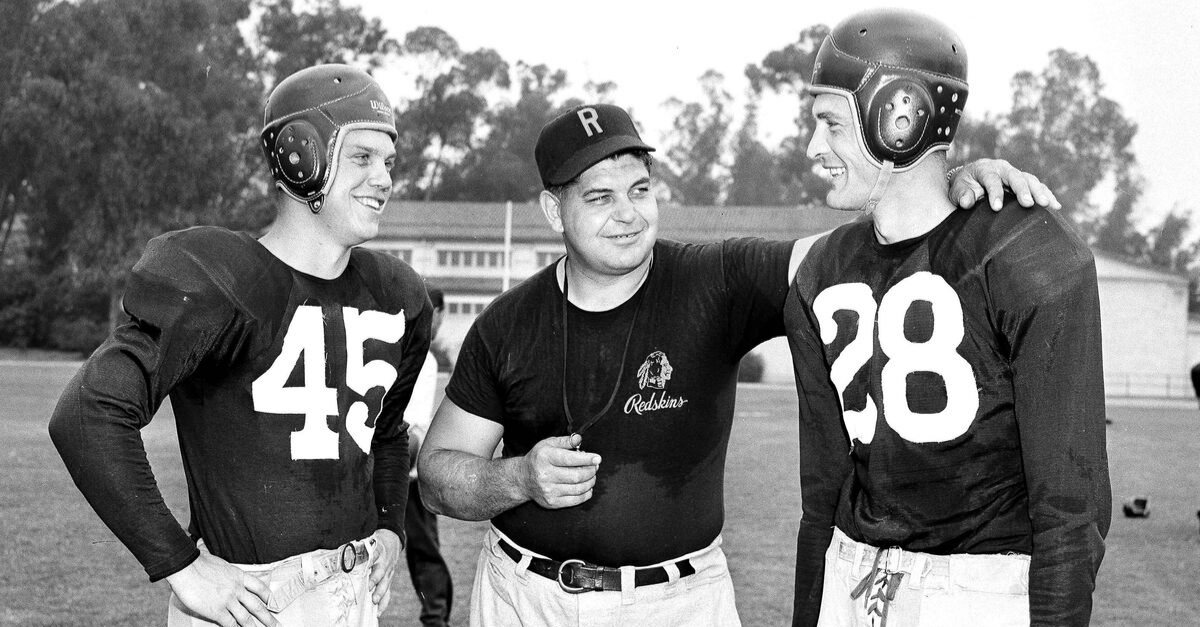 AP Photo/Ed Widdis
Weird injuries can happen anywhere, at any time. Professional athletes aren't immune to them. Despite having chiseled bodies and the capability for intense focus, sometimes an accident is unavoidable and causes players to miss weeks, months, years or even end their careers.
Nate Burleson once broke his arm trying to save a pizza from sliding off his car seat and was sidelined for two months. DeAngelo Hall tore his Achilles in another pizza-related mishap. Detroit Tigers pitcher Joel Zumaya injured his wrist playing too much of the video game Guitar Hero and couldn't pitch in the 2006 American League Championship Series.
Even on the field, these strange injuries can take place at the oddest times. No one can forget Gus Frerotte's dumb celebratory head butt or Kendrys Morales' ankle injury upon celebrating his walk-off grand slam.
Then there was Turk Edwards.
Turk Edwards Career
Albert Glen "Turk" Edwards was a big guy. No, large. Maybe wide is the better adjective. The 6-foot-2, 255-pound offensive tackle dominated on the gridiron. After graduating from Washington's Clarkston High School in 1928, he became an All-American at Washington State.
Edwards played for the Cougars in Pullman from 1929-31 and helped them to a 9-0 record in 1930. His play, which included a blocked punt return for a touchdown, helped Washington State earn an invitation to the Rose Bowl on New Year's Day.
Of course, Edwards was highly sought after by National Football League teams. Back then, there were only 10 NFL franchises in the league, which was only in its 12th season. Three professional football teams offered Edwards contracts: the Boston Braves, the New York Giants and the Portsmouth Spartans.
A savvy businessman, Edwards chose the highest bid — $1,500 for 10 games — and became a Boston Brave. The Braves, if you're wondering, eventually became the Boston Redskins and moved to Washington, D.C. in 1937 and became the Washington Redskins.
For nine seasons, Edwards was a star left tackle for the franchise who signed him. He won All-NFL honors from every major media outlet every single year of his career. In his All-Pro 1936 season, while playing as both an offensive and defensive lineman, he blocked a punt, blocked a place kick, recovered two fumbles and made tackles in the NFL's Eastern Division Championship Game versus the Giants, which the 'Skins won, 14-0.
Edwards' days blocking for Redskins legendary quarterback Sammy Baugh were numbered, though. A freak accident caught him by surprise in 1940, which was ultimately his final season in the NFL.
Turk Edwards Coin Toss Injury
Turk Edwards had bad knees. Apparently, it didn't take much for one of those knees to, well, give out.
Everything seemed normal when the Redskins captain made his way out to the middle of the field for the pregame coin toss. He met with New York Giants captain and former teammate Mel Hein, who he coincidentally played alongside at Washington State.
After the coin-tossing ceremony, Edwards turned to head back for the sideline and his cleat got stuck in the turf. His knee popped and gave way and he never played another down of football.
Whatever the coin toss resulted in was obviously not good luck.
Edwards at least made his way back to the sideline eventually. He worked as an assistant coach for the Redskins from 1941-45 and then became the head coach from 1946-48. After spending his entire career in American football with the Braves/Redskins — 17 seasons — he retired.
He operated a sporting goods store in Seattle and in 1961 moved to Kelso, Washington, where he worked in the Cowlitz County assessor's office. He died from an illness in 1973 at the age of 65, but he was posthumously inducted in the College Football Hall of Fame in 1975.
Turk Edwards didn't let the injured knee get in the way of his enshrinement in Canton, Ohio. He was inducted in the Pro Football Hall of Fame in 1969 and given recognition among the greatest Redskins and greatest football players of all time.
The guy who introduced him at the ceremony? None other than fellow Hall-of-Famer, former teammate and the one who witnessed Edwards' career-ending injury firsthand: Mel Hein.