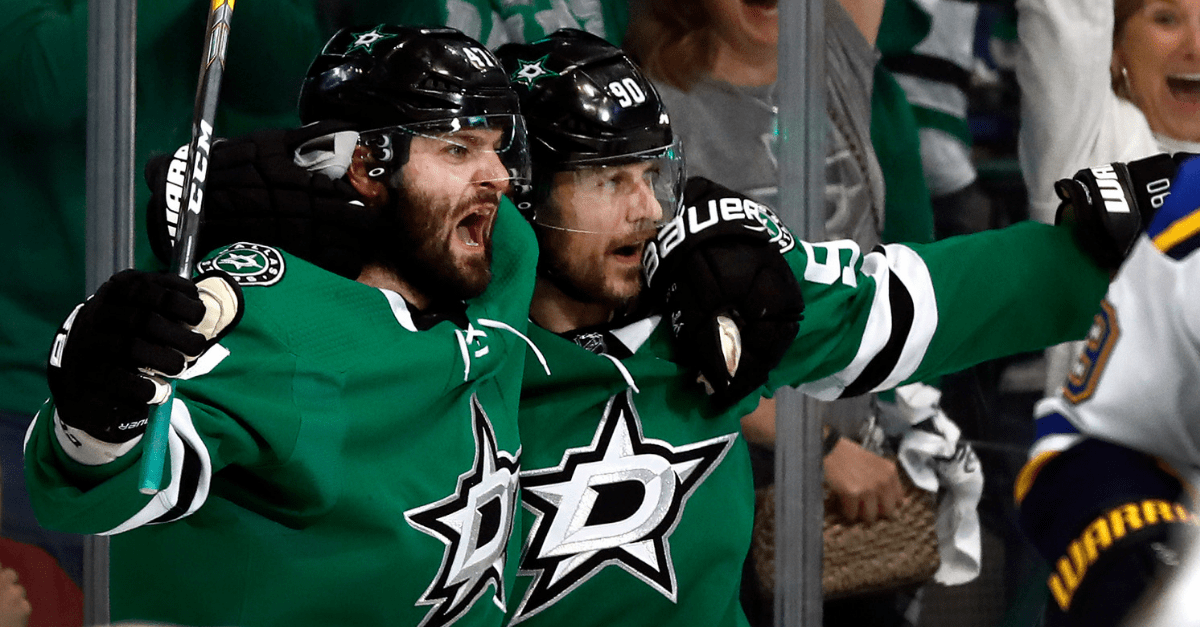 AP Photo/Tony Gutierrez
As thunderstorms rolled through the Dallas area, there was seemingly only two options to watch the critical NHL playoff hockey game: get inside American Airlines Center or find a covered place to see the action. One man had a completely different idea.
Instead of getting a ticket or finding the nearest bar to watch the Dallas Stars take down the St. Louis Blues to even the series, one man took out his lawn chair, held an umbrella, and took in Game 4 from the big screen just outside the arena during the storm. To call this dedication doesn't really do it justice. This is actually pretty unbelievable.
Ask any fan of any team you know. There are very few that would actually do this by themselves. That's why the Stars organization wanted to find the man to reward him for his fandom during the Western Conference second round series on Wednesday night.
"This is what being a fan is all about," the team's Twitter page said. "We want to give this Stars fan outside AAC in the rain tickets to Game 6. Let's locate this dedicated fan! If you know him, let us know!
RELATED: NHL Player Scores Goal with His Face, Gives Incredible Toothless Interview
Luckily, the search didn't take too long. With the help of WFAA reporter Alex Rozier, the Dallas Stars fan has been found.
The dedicated fan who weathered the storm earlier this week is named Dave. He is from Fort Worth, Texas and clearly loves himself some Stars hockey. He will now be inside the AAC for the next home game ,when the playoff series returns to Dallas on Sunday afternoon.
"I can't believe it," he told WFAA.
Watching a playoff game by yourself in the rain? That's some legendary stuff, and the Dallas Stars now know their fans have their backs as they try to make a run for the Stanley Cup.