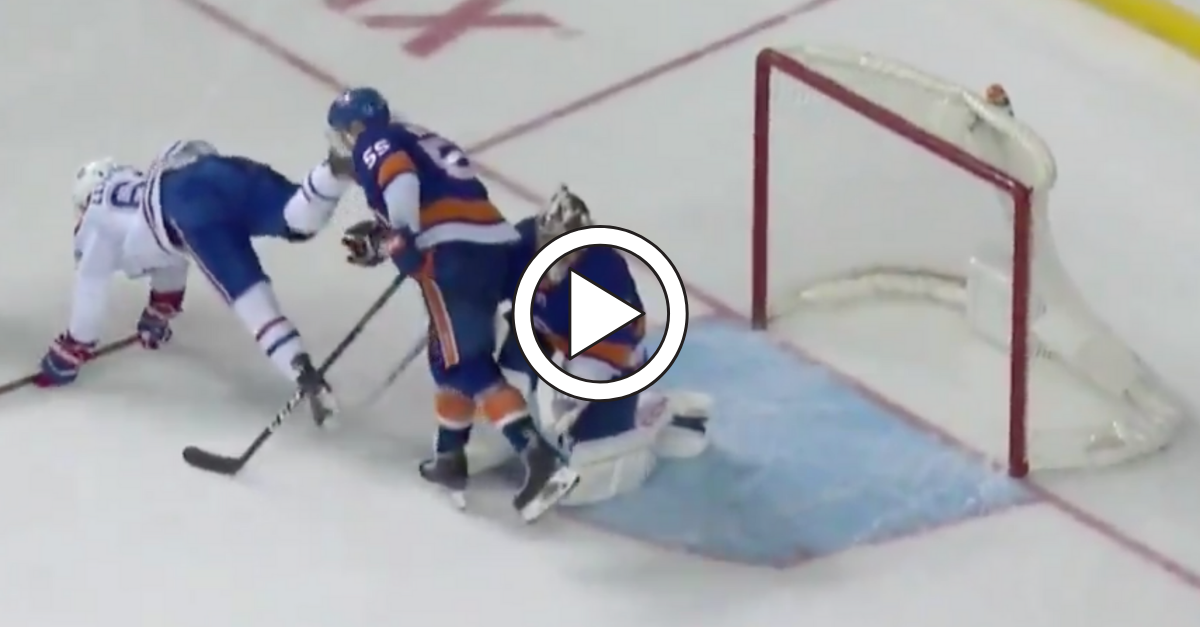 Screenshot from Twitter
Oftentimes in sports, there are moments that make every fan cringe. We don?t want to look at all, but can?t help but watch at the same time. What happened to New York Islanders defenseman Johnny Boychuk is a perfect example.
Midway through the third period, Boychuk got tangled up with Montreal Canadiens wing Artturi Lehkonen in front of the Islanders? net. Lehoken went down to the ice and his skate went flying up near Boychuk?s face. The result of the fall is one of the scariest things imaginable for any hockey player.
Boychuk was hit in the face by the skate. The 13-year-old NHL veteran laid on the ice for a brief moment, kicking his legs in pain, before rushing off the ice and into the locker room in Brooklyn.
Johnny Boychuk Injury
RELATED: Alex Ovechkin Savagely Knocked Out Rookie with 1 Devastating Punch
To say this was a scary moment doesn?t do it just. Getting hit in the face is one thing, and definitely painful. But to take a sharp ice skate blade to the face? That?s a different level of pain and Boychuk skating off the ice Tuesday night proves he is one tough dude.
?No update on Johnny Boychuk. It?s pretty scary obviously around the facial/eye area. He?s being evaluated,? Isles head coach Barry Trotz said after the game. The Canadiens won, 6-2.
Unfortunately, this isn?t the first time it?s happened this season. There have been two other major skate-related injuries in the last month.
Islanders forward Casey Cizikas suffered a lower body injury when he got cut on his leg against the Philadelphia Flyers and was ruled out for nearly a month.
Detroit Red Wings forward Brendan Perlini also took a shake to the face against the Buffalo Sabres.
Only time will tell how long Islanders? Johnny Boychuk will be out. Losing a second straight game doesn?t help a team trying to stay in the playoffs, either.
At the time of the injury, the Islanders trailed the Washington Capitals, Philadelphia Flyers and Pittsburgh Penguins in the Metropolitan Division. They were also the top Wild Card spot in the Eastern Conference ahead of the Columbus Blue Jackets, Carolina Hurricanes, and New York Rangers.
For a moment, though, the standings don?t matter. The health of Boychuk is more important.