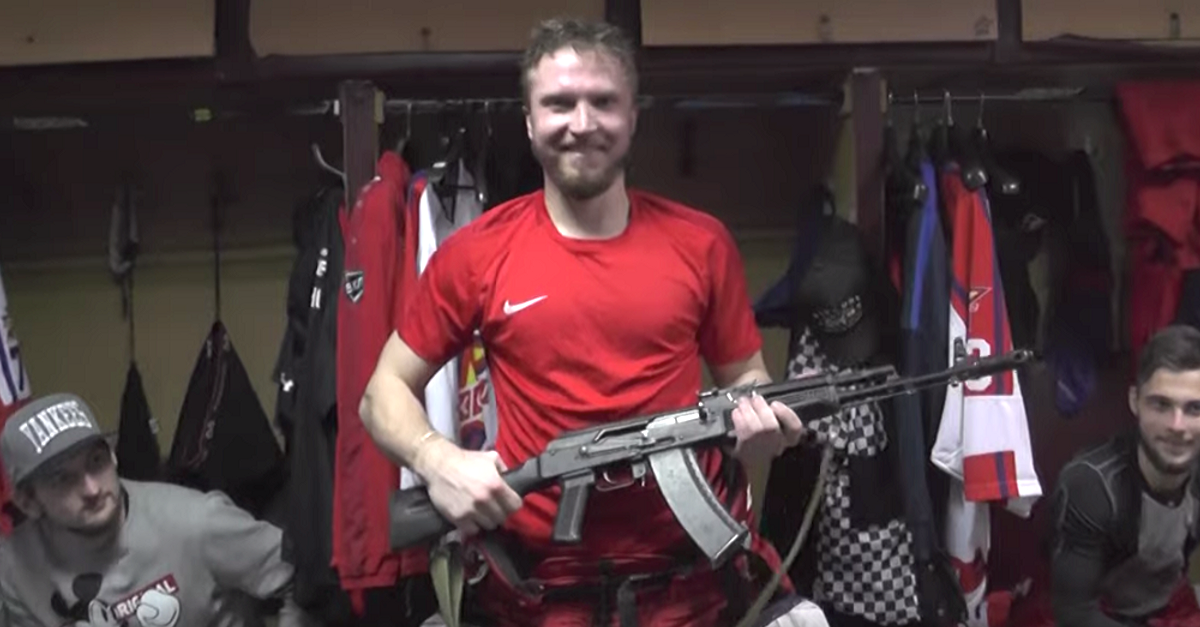 Screenshot from YouTube: Izhstal Izhevsk
Hockey players are different breeds, man. They play games despite frozen discs clapping them in the mouth and knocking their teeth out. Even the fans sit in the rain for playoff games. I don't get it, and frankly, I never will. Hockey looks like high-speed chaos to me, but to others, it's beautiful poetry.
So what happens when you mix chaos, poetry and a little bit of Russian? You get the weirdest hockey story of the summer.
Izhstal Izhevsk is a Russian hockey team that plays in the VHL, which is a professional hockey league under the KHL ? the latter is Russia's equivalent of the United States' NHL. After the team defeated Chelmet, 3-2, the team's player of the game was announced, which obviously requires a strange award to be given out.
Now, this isn't some kind of random, Russian idea. Hockey clubs give out hilariously random totems to the game's best player all the time. In the past, NHL teams have awarded everything from barber shop capes to a full-blown Abraham Lincoln hat and beard combo. But Izhstal Izhevsk? Nah. They took this tradition to completely different level.
The team rewarded Russian goalie Saveli Kononov with a damn AK-47.
Kononov stopped 36 of 38 shots he faced in the win, which I guess means he deserved a high-powered assault rifle? It's unclear whether or not this thing is a legitimate weapon and can be loaded. And while I don't speak of lick of Russian and have absolutely no idea what in the hell the team is saying in the locker room, I can tell you one thing.
These guys look like they could use a lesson on gun safety.
According to Pravda, a Russian news outlet, the players joked that if they go out and have a bad game, "they will shoot us."
Only in Russia, I guess.