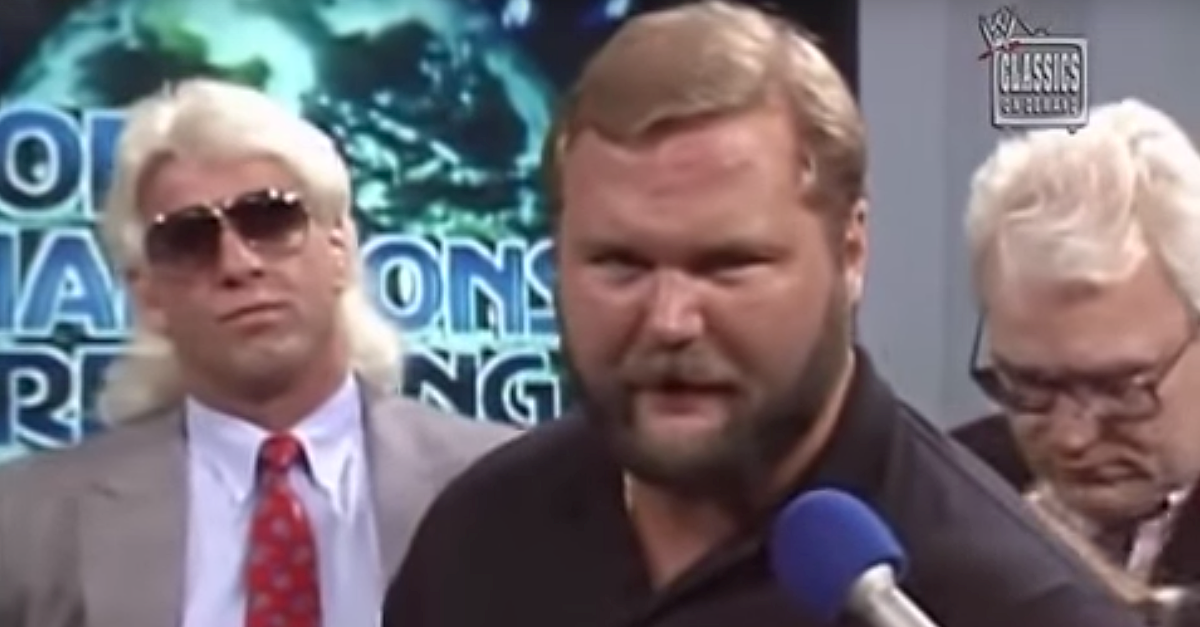 YouTube: The Best Wrestling Promos of All Time
In 2012, arguably the most prestigious faction in pro wrestling history ? The Four Horsemen ? was inducted into the WWE Hall of Fame. The version that was selected included Ric Flair, Arn Anderson, Tully Blanchard, Barry Windham, and JJ Dillon. Anderson, who was widely recognized as the backbone of the group, created the name during a promo in the NWA, referring the biblical account of the four horsemen of the apocalypse.
"Not since the four horsemen of the apocalypse have so few wreaked so much havoc on so many," Anderson said during an NWA show in the fall of 1985. Anderson has admitted in interviews that this reference was off the cuff, and was not originally intended to be a reference for a faction name. However, both the name and the villainous group stuck, and the rest was history.
After the demise of WCW in 2001, Anderson used his legendary pro wrestling career to fill the role as a backstage agent for the company. However, his time with the company has reportedly come to an end. According to Pro Wrestling Sheet, the WWE Hall of Famer has been let go from his role as an agent. PWInsider added that Anderson was not at the recent set of television tapings and was told by those questioning his whereabouts that he was off this week.
Although Arn's last match was in WCW on an episode of Thunder in 2000, the 60-year-old former four-time WCW World Television Champion did make some memorable in-ring appearances following his retirement. At WrestleMania 18 in 2002, Anderson made a surprise run-in during the match between Ric Flair and The Undertaker, assisting his former Four Horsemen stablemate.
RELATED: Roman Reigns? Absence is Causing WWE Ratings to Decline, Vince McMahon Says
His most recent in-ring appearance was on November 25, 2017, as he was the guest enforcer during the match between Bobby Roode and Dolph Ziggler at Starrcade. Unfortunately, for Ziggler, he experienced what an Arn Anderson spinebuster feels like, as a result of a heated verbal exchange with The Enforcer.
Although it has not been confirmed as of why Anderson has been let go, rumors are circulating that the younger former wrestling stars who were recently hired as backstage agents could be an influence as the why the "old guard" could be making their way out.