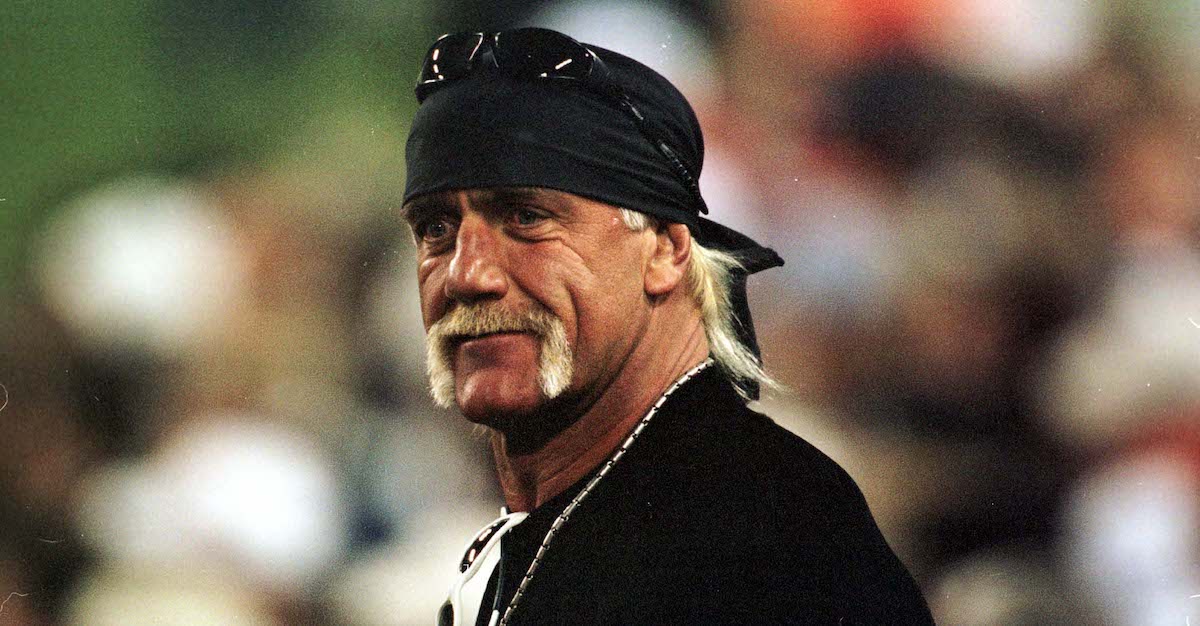 Andy Lyons/ALLSPORT
28 Jan 2001: Terry "Hulk" Hogan enjoys Super Bowl XXXV between the Baltimore Ravens and the New York Giants at Raymond James Stadium in Tampa, Florida. Mandatory Credit: Andy Lyons/ALLSPORT
Hulk Hogan is one of the greatest wrestlers of all-time.
He was a 12-time champion (six times WWE, six times World Championship) and had an in-ring career that spanned more than three decades from 1977 until 2012.
Above are five facts even some diehard fans of the Hulkster may not have known.
Aside from those five facts, Hogan has had quite the career.
Hulk Hogan appears in Rocky III
In the filming of Rocky III, back in 1982, Hogan played "Thunderlips," the "Ultimate Man" who wrestled Rocky (Sylvester Stallone), "the Ultimate Meatball"  or charity.
Stallone, in an Instagram post, noted what is was like to be on the ring with the 6'7″, 295-pound Hogan.
Stallone wasn't the only who felt Hogan's power, brother. Stallone says during the scene in which Hogan jumps into the crowd, three stuntmen were injured.
In case you've forgotten that great scene, here it is:
Hulk Hogan rises to fame, then turns on his fans
Later in Hogan's career, on July 7, 1996 at Bash at the Beach in Daytona Beach, Florida, Hulk Hogan turned his back on all the Hulkamaniacs and joined forces with Scott Hall and Kevin Nash to form the NWO in WCW.
It was one of the biggest surprises in wrestling history, as Hogan was the biggest babyface and draw in wrestling history, and still may be to this day. WCW still opted to turn him heel, form the NWO with The Outsiders and see if the Hulk "Hollywood" Hogan character could be just as big as the Real American character.
Hogan's actions prompted the thousands of fans in attendance to shower the trio with boos and trash as Hogan cut the promo hear around the world: he was trading red and yellow for black and white.
The NWO was obviously a huge success for WCW and dominated its programming years after the Bash at the Beach incident.
For Hogan, it might have been the biggest moment of his career, just for the risk alone, at turning the fan-favorite heel for a rising wrestling promotion.
Hulk Hogan had second thoughts about turning heel
According to WCW legend Eric Bischoff, the change from Good Guy to Bad Guy wasn't natural or easy right away for the Hulkster.
In an interview with Sports Illustrated, Bischoff revealed how "unsure" Hogan was about the change to his character, but also adding that he eventually figured it out and he ended up buying in and running with it.
Via WrestlingInc:
"Hulk got very comfortable in that heel role, but initially, it was very hard for him. He was so unsure how the fans would react after being so familiar seeing him as a babyface for so long. There was a big part of Hulk Hogan that loved being a heel, and once he connected to that character, and once the audience connected to that character, he thoroughly enjoyed it."
Hogan being "unsure" about turning heel at the time makes a lot of sense because even though his babyface character had gotten stale to a lot of wrestling fans, he was still a highly recognizable and popular figure because of that character. To move away from that was a huge risk, and it's something John Cena probably thinks about a lot, too because in wrestling there are no guarantees.
Still, the change obviously worked and Hogan went on to have an incredible run as one of the best heels the business has ever seen.
It all worked, though, and this moment and that faction will be remembered and talked about forever because it was just too sweet.
Hulk Hogan wiped clean from WWE history
Back in 2016, Hogan's history with the WWE had been wiped clean from the organization's website after an alleged racist rant emerged through leaked tapes.
Hogan has since publicly apologized for the rant as he's worked to mend fences in the WWE.
Hulk Hogan on the "next" Hulkster
Hogan has worked to rebuild his image, staying mainly out of the spotlight, working at his beach shop in Clearwater, Florida, and offering his thoughts on the business.
WWE's SummerSlam event was a wild, six-hour event that involved plenty of title changes and the main belts surprisingly being defended successfully.
Even though he didn't win the WWE Universal title, Braun Strowman came out of the event looking like a major star.
He didn't take the pin, dominated the match on all sides and threw Brock Lesnar around like a rag doll. That caused the legendary Hulk Hogan to toss out Strowman's name as the "next Hulkster."
Hogan's return has been teased for awhile. Could this be the way the Hulkster makes his triumphant return to the ring? We'll just have to wait and see.
Fanbuzz, your source for the latest WWE NEWS