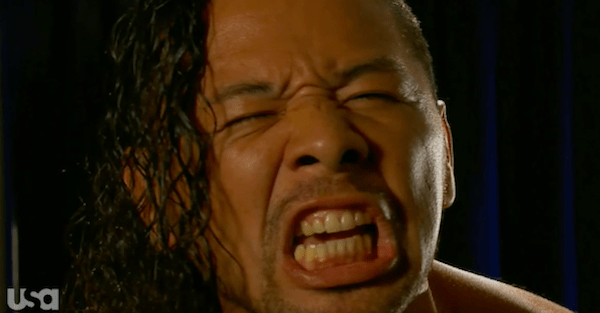 USA Network screenshot
WWE's build toward Jinder Mahal's title defense at Hell in a Cell took an awkward turn on Tuesday night, when the champion took to running down challenger Shinsuke Nakamura with racial overtones.
It was apparently an attempt for Mahal to get cheap laughs from the crowd only to cause the audience of being xenophobic and jingoistic.
The Washington Post broke down the segment where Mahal was scripted to talk about eating dolphins and cats, that he "rooks" the same and eventually calling him Mr. Miyagi. That led to a fan audibly yelling, "That's racist," and the crowd chanting, "That's too far."
WWE has since responded, per Washington Post's report:
?Just like many other TV shows or movies, WWE creates programming with fictional personalities that incorporates real world issues and sensitive subjects.

?As a producer of such TV shows, WWE Corporate is committed to embracing and celebrating individuals from all backgrounds as demonstrated by the diversity of our employees, performers and fans worldwide.?
Dave Meltzer of the Wrestling Observer discussed the segment as well, calling it "an embarrassing thing" and saying it was "really bad TV."
We'll see in the coming weeks if WWE continues with the racial tensions between Mahal and Nakamura, or if they go in a different direction following this unfortunate segment.
FanBuzz, your source for the latest WWE news.