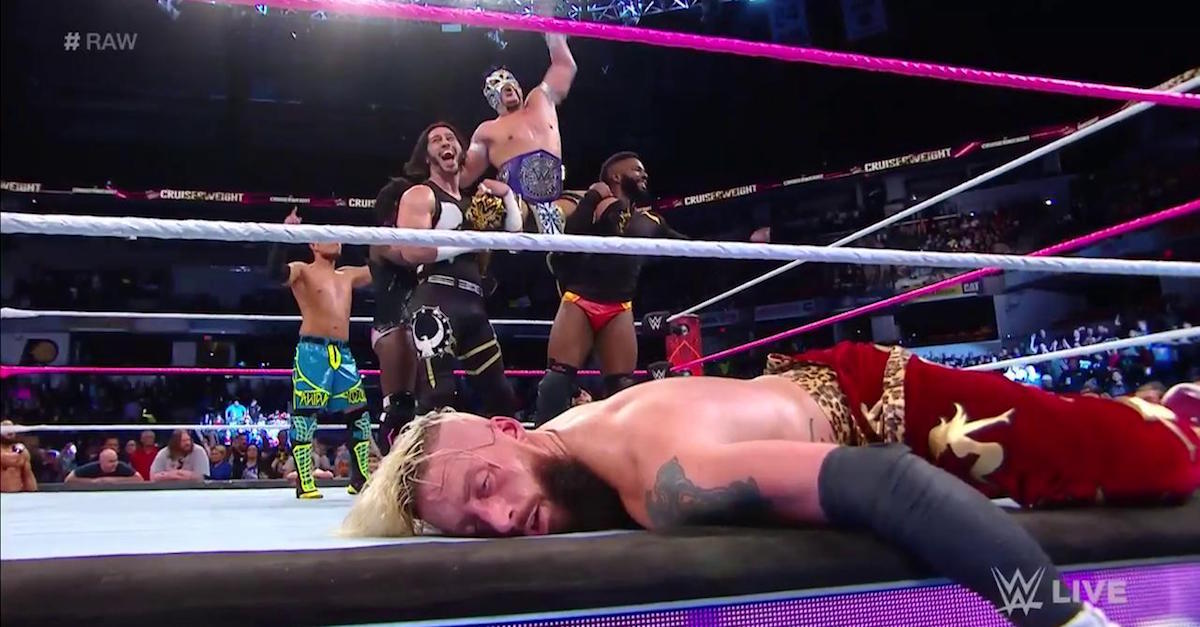 @WWE/Twitter
WWE Monday Night Raw broadcast live from Indianapolis, Indiana on the USA Network at 8 p.m. ET.
Miz TV with Cesaro, Sheamus and Curtis Axel….and some special guests.
Raw kicked off with the Intercontinental Champion, The Miz and the??annual?? Mizzie Awards.
Curtis Axel wins an award and then The Miz invites ?The Bar? out for winning an award for beating up Roman Reigns. Miz taunts Reigns and pokes fun at how the Shield?s time has passed. Roman Reigns comes out, Miz says that the rumors of a Shield reunion are just nothing but hype.
Right then and there, Dean Ambrose comes out and quickly followed by Seth Rollins, Shield reunion confirmed. Even a member of the WWE?s broadcasting team was excited.
After clearing the ring, The Miz was brought into the ring by Reigns and he along with Ambrose and Rollins hit the Miz with a triple powerbomb. The Shield is back and gets a huge pop from the crowd.
Later on, Kurt Angle makes it official. At TLC, it will be The Miz along with Sheamus and Cesaro against The Shield
Enzo Amore has beef with Kurt Angle
After signing a contract that states nobody can touch Enzo Amore, the cruiserweight champion calls the RAW GM out for "hustling" Enzo. After Kalisto takes down Enzo last week, he's granted with a title shot. After going off on Kurt, the RAW GM changes his mind and ends up facing off with Kalisto in a lumberjack match.
WWE Monday Night Raw Main Event: Kalisto def. Enzo Amore (via pinfall) to win Cruiserweight Championship
During the Cruiserweight Title match, Enzo's beef with the 205 Live roster is on full display as he taunts the lumberjacks who stand on the outside of the ring. Enzo and Kalisto fight it out and in typical lumberjack fashion, there is a break down outside of the ring and that's topped with one of the best moves of the night. Hitting a suplex on to all of the guys fighting outside of the ring.
Back in the ring, Enzo appears to get a pinfall but Mustafa Ali pulls Enzo out of the ring and those two start fighting.
As Enzo, clearly dazed goes back into the ring it's Kalisto who gets the chance to hit the always thrilling Salida Del Sol and gets the pinfall becoming the new Cruiserweight Champ. The era of Enzo is over.
Braun Strowman def. Matt Hardy (via pinfall)
Braun Strowman enters the ring and my hope is that it's to destroy some lowly jobber but no, it's Matt Hardy and I'm freaking out because while I'm an unashamed Matt Hardy mark, I don't wanna see the broken one die.
After coming back from the break, Matt Hardy gains some true momentum, hitting Strowman with a twist of fate and almost getting to two on a three-count. After choke slam and a running powerslam, Strowman gets the pinfall.
After the match, Braun carries Matt out of the ring and is met at the top of the stage by The Shield and they're wearing shirts because it's WWE and MEEERRRRRRCH!!
And how do you get revenge on a bully? You put him though a table of course!
Oh. And shortly before RAW went off air, a match was announced for next week's show live from Portland, OR.
"Sister Abigail" is no way Bray Wyatt, nope. Not at all.
Ever since Bray Wyatt debuted in 2012, we've heard about "Sister Abigail", well five years later. We see her and it is no way Bray Wyatt in drag. Nope. Not at all. Ugh. This is just all a waste. More than his PPV losses.
Emma wins Fatal 5-Way to job out-I mean face Asuka at TLC
After what started out as a shouting match to see who would face Asuka at TLC, Kurt Angle puts Emma, Dana Brooke, Alicia Fox, Bayley and Sasha Banks in a match to see who would face the empress of tomorrow. After Dana Brooke and Bayley were eliminated it came down to Sasha, Alicia Fox and Emma. After getting Foxy to tap out, Sasha Banks is rolled up by Emma who gets the quick pin and wins the match.
Emma is perfect for this because do you really think they're gonna book Asuka to lose her first main roster match?!? Why build Sasha or Bayley vs. Asuka for TLC when you can easily do that for Survivor Series, Royal Rumble or wait for it…..WrestleMania.
Monday Night Raw Best of the Rest
Jason Jordan def. Karl Anderson (via pinfall)
Elias def. Apollo Crews (via pinfall)
Mickie James cuts an stellar promo on Alexa Bliss who puts together a career montage of Mickie being old. Mickie responds by calling Alexa "biscuit butt" and of course the crowd responds with a chant of…."biscuit butt".
Brian Kendrick and Jack Gallagher def. Cedric Alexander and Mustafa Ali (via pinfall)
WWE Monday Night Raw results leading up to TLC
FanBuzz, your source for the latest WWE news.