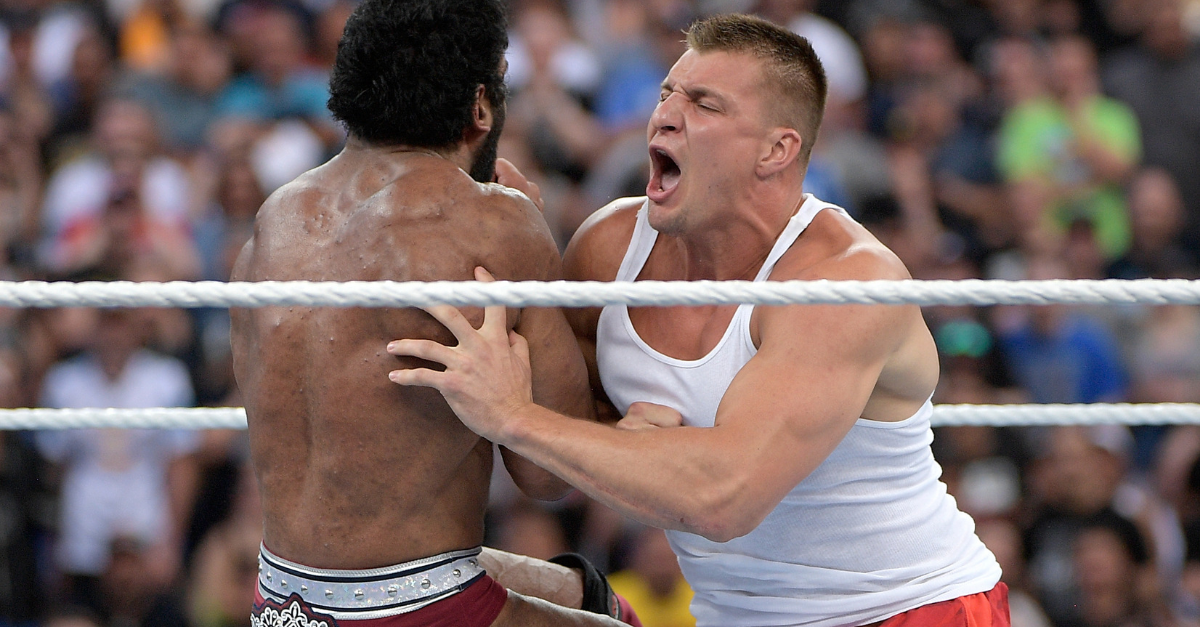 Phelan M. Ebenhack/AP Images for WWE
Phelan M. Ebenhack/AP Images for WWE
Since debuting in the NFL in 2010, tight end Rob Gronkowski has been a Hall of Fame-caliber threat for the New England Patriots. On top of breaking the single-season record for touchdowns by a tight end, Gronk has been a major factor of the Patriots making five Super Bowl appearances during his nine years with the team. In fact, the 29-year-old has been a major contribution to the team reaching Super Bowl LIII against the Los Angeles Rams.
Despite nine years in the NFL, there have been rumors swirling that his time in the league could be reaching an end. As far as where he goes next, Gronk has hinted a career in the WWE, as shown by his appearance at WrestleMania 33 in Orlando, Florida, as he helped Mojo Rawley win the Andre the Giant Battle Royal by lasting eliminating Jinder Mahal. Following this appearance, Rawley jokingly told TMZ that it is not a matter of it, but when he will be a member of the WWE roster.
Although many feel that Gronk would be a good fit following his departure from the NFL, latest reports appear to be stating otherwise regarding his WWE future. According to the NFL Network's Ian Rapoport, Gronk retiring this season does seem to be more strongly considered. However, a move to the WWE is unlikely.
"As #Patriots TE Rob Gronkowski mulls retirement this offseason, it doesn't sound like the WWE is in his future. Perhaps movies, though. … This is very important news."

? Ian Rappaport, via Twitter
RELATED: Is Ronda Rousey Having Second Thoughts About Her Pro Wrestling Career?
Just last month, WWE star John Cena spoke with NBC Sports about Gronk possibly joining the company. Cena stated, "I think he?d be a great WWE superstar. I really do. I think he?s got this unbelievable energy and infectious electricity about him." Cena added that Gronk removing his pads for a WWE career would be "so natural," and that he would "feel right at home" during this transition.
Gronk's move into a full-time pro wrestling second career might seem out of reach, but with an All-Pro career winding down and massive personality behind him, a sudden addition to the WWE main roster down the road might not be out of the question.