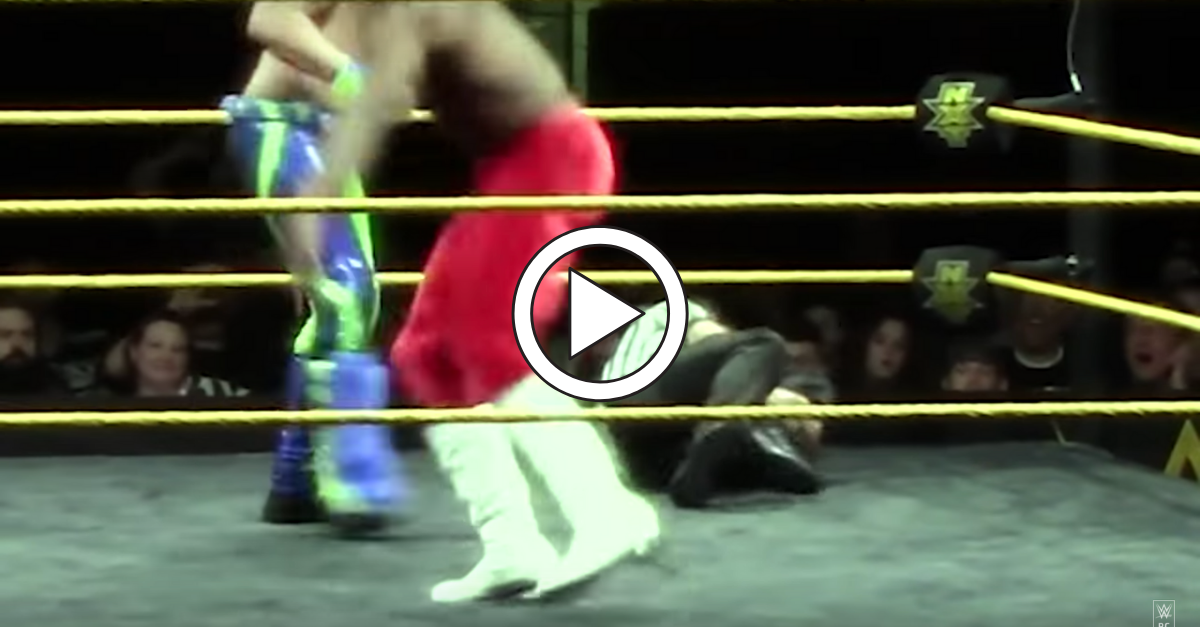 Screenshot from YouTube
WWE NXT referee Tom Castor never saw it coming. Nobody did. He entered the ring that night expecting to continue doing what he loved and what he?s always dreamed about. In a split second, however, everything changed and his career was put on hold for months to come.
At an NXT Live Event in Omaha, Nebraska back in April 2019, Castor was officiating a match between superstars Tyler Breeze and Velveteen Dream. All seemed rather normal, until something freaky happened.
As Breeze was getting ready to deliver a superkick, the Velveteen Dream got out of the way. So Castor did all he could to avoid it. Unfortunately, you could hear Caston?s leg break as he ducked, like someone snapped their finger insanely loud, and everyone knew it.
The house show battle went on, though, and being the complete badass he is, Castor even counted the pinfall.
Everyone knew wrestlers were tough. Castor took that to the extreme.
(WARNING: This video includes graphic content)
Tom Castor?s Injury
Yikes. That?s all anyone can really say. Castor broke his ankle during that main event and was sidelined indefinitely.
People on social media, including fellow WWE referee Drake Wuertz, poured out well wishes to Castor throughout the United States hoping he would make a speedy recovery.
Then, exactly 10 months later, he was cleared returned.
Tom Castor Returns to WWE NXT Ring
To say it was an emotional time for Tom Castor was an understatement. It was a hard road back to work, but he did it. WWE made a tribute video highlighting the moment and shared in on March 30.
?Wow. Thank you to Cornell Gunter and all the amazing people who worked on putting this piece together. It was an emotional day and I couldn?t have dreamed of a better return than this. But this return didn?t come with me just doing work alone. Thank you to my ref squad, to my coaches at the Performance Center, all the WWE/NXT talent, all my family and all my friends for the support and encouragement over those ten months. HUGE thank you to one of the most important people we are blessed to have at the PC, thank you Tara Halaby for never giving up on me, for pushing me beyond what I thought was possible and for putting back together. Lastly, thank you Sharon for being my everything thru all of this! I?m back and I love wrestling!!!?
Being in the ring is where Tom Castor belongs, and it was amazing to see him back doing what he loves during this time of uncertainty with the coronavirus pandemic.