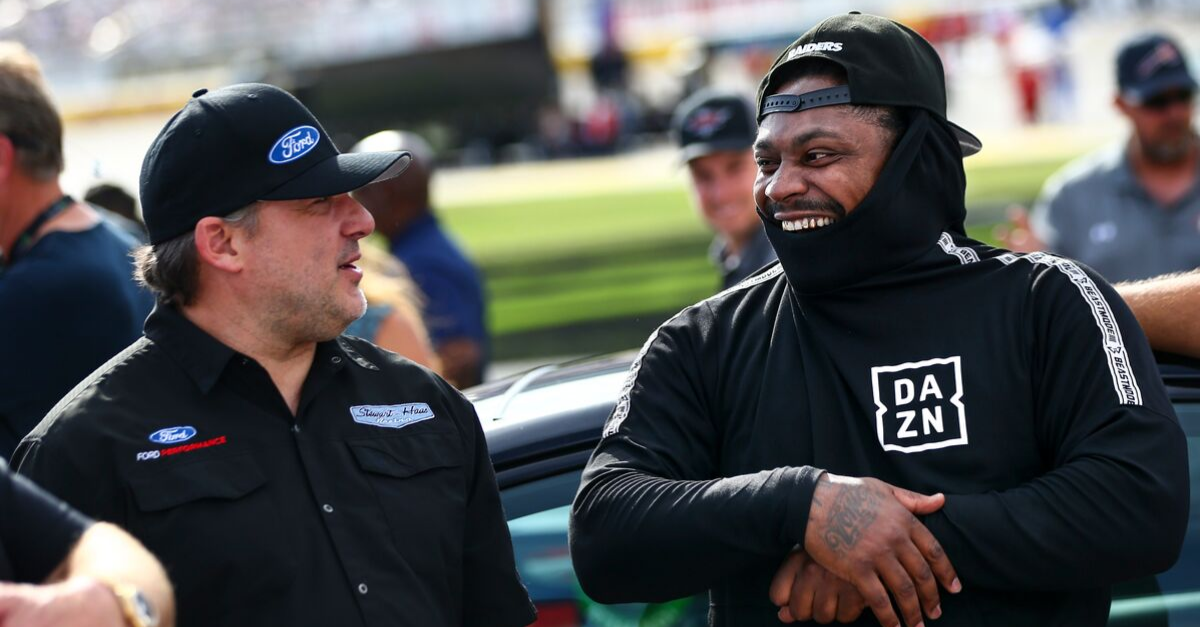 AP Photo/Chase Stevens
Former NFL running back Marshawn Lynch is one funny dude. Whether it was taking a golf cart joy ride in college or his hilarious interviews, there are so many examples of what makes him a living legend. He might not have been the greatest player in NFL history, but, man, he?s always been entertaining on and off the field.
That definitely has continued since he hung up his football cleats at the end of last season.
For Sunday?s NASCAR playoff race at Las Vegas Motor Speedway? the South Point 400 won by Martin Truex Jr. ? the former Buffalo Bills, Seattle Seahawks and Oakland Raiders running back drove the pace car, which is just hilarious to even think about.
Before the playoff opener, and driving the green flag, Mr. Beast Mode even gave a classic interview with Dale Earnhardt Jr. on NBC Sports.
RELATED: Kyle Busch Channels Marshawn Lynch Following Frustrating Las Vegas Loss
This likely didn?t provide the thrill of scoring touchdowns or winning the Super Bowl, but it was probably pretty cool to do it for the first time.
Driving this year?s pace car for the NASCAR Cup Series playoff is just one more bucket list thing Lynch, a five-time Pro Bowl selection, was able to cross off in the United States.
?The only thing that?s wrong with it, I think I only get to go 45 miles per hour. I was expecting to put the pedal to the metal and really drive this thing, but I only get to go 45.?
Lynch was definitely a little disappointed he couldn?t go fast, which he admitted to driving 180 miles per hour before somewhere, but this was the next best thing.
We wonder what he?s about to do next. It might be incredibly random, but that would certainly be fitting.