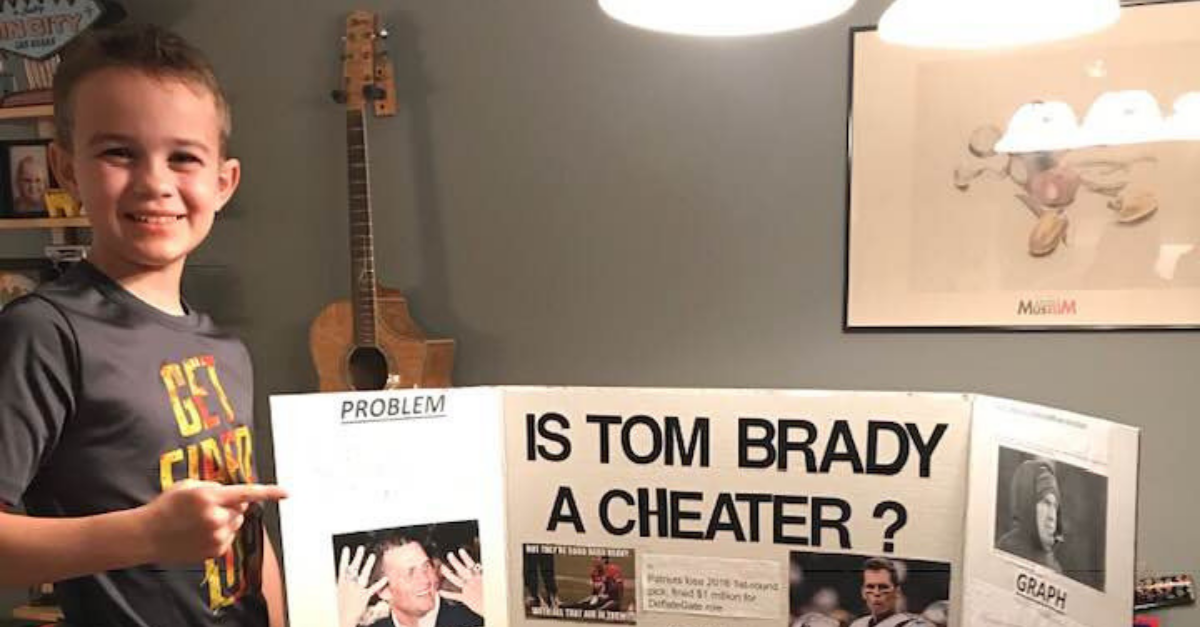 Facebook: Christopher Davis
Facebook: Christopher Davis
Did you ever enter your elementary school's Science Fair? Maybe you came up with one of those tornadoes in a soda bottle, or if you were like me, you went all out for the giant exploding volcano that pissed off your mom when it spilled all over the dining room table. There are a lot of ways for kids to steal the show at the Science Fair, but Ace Davis set out to prove one of the sports world's greatest mysteries ever.
Ace, who plays quarterback for his own football team in Lexington, Kentucky, conducted his Science Fair project on his least favorite football player ever: New England Patriots quarterback Tom Brady. The 10-year-old's hypothesis? He was going to catch the five-time Super Bowl winning quarterback red-handed for the cheater Ace Davis believes he really is.
Ace's experiment included determining how much of a competitive advantage Brady gets by using deflated footballs. For a refresher, remember that Brady was suspended four games in 2015, plus New England was fined $1 million and lost two draft picks for using deflated footballs in the AFC Championship Game — you know this as Deflategate. Ace hypothesized that footballs of different inflations would have different results, and he was right — The more deflated the ball, the farther it traveled.
On his science project poster, Ace highlighted his findings, plus pictures of Brady making weird faces and crying. Ace completed it with a picture of himself, over which was a green check mark, and a picture of Brady, which was topped with a red 'X'.
According to the Facebook post from his father Christopher Davis, Ace won his school Science Fair and is entering his project at the district level.
Is Tom Brady a Cheater?
RELATED: Why Should Every Fan Want Overtime in Super Bowl LIII? Free. Wings.
Yeah, this kid is out here doing the work every anti-Patriots fan has waited for. But why Brady? Why attack the NFL's greatest quarterback of all-time leading up to his ninth Super Bowl appearance?
"Because I hate Tom Brady. He's been accused of cheating before, I want him to be caught," Ace said in an interview with NFL Draft Diamonds. "Because it's funny and people are tired of watching him in the Super Bowl. And Julian Edelman takes steroids."
Boom. Roasted.
Ace may hate Tom Brady and the Patriots, so who would be his vote for the greatest quarterback to ever play the game? According to Ace, that'd be San Fransisco 49ers legend Joe Montana.
New England headed to Super Bowl LIII against the Los Angeles Rams with science working against them, and Ace even gave NFL Draft Diamonds his prediction for the Big Game by saying, "Julian Edelman pushes everyone around, Gronkowski gets shut down, Gurley runs for 2 touchdowns, Brady plays terrible — three interceptions, Rams win 30-14."
Sorry, Ace. New England won their sixth Super Bowl, 13-3.
Ace Davis went full Albert Einstein and was entered in the Kentucky State Science Fair with a remarkable scientific discovery that could change everyone's lives forever.
Was Tom Brady is proven to be a cheater? The Spygate believers and anti-Bill Belichick haters will have you believe he is. But when it comes down to it, he's simply one of the greatest NFL players ever, and not even a Millcreek Elementary School student can change that.
This post was originally published January 25, 2019.