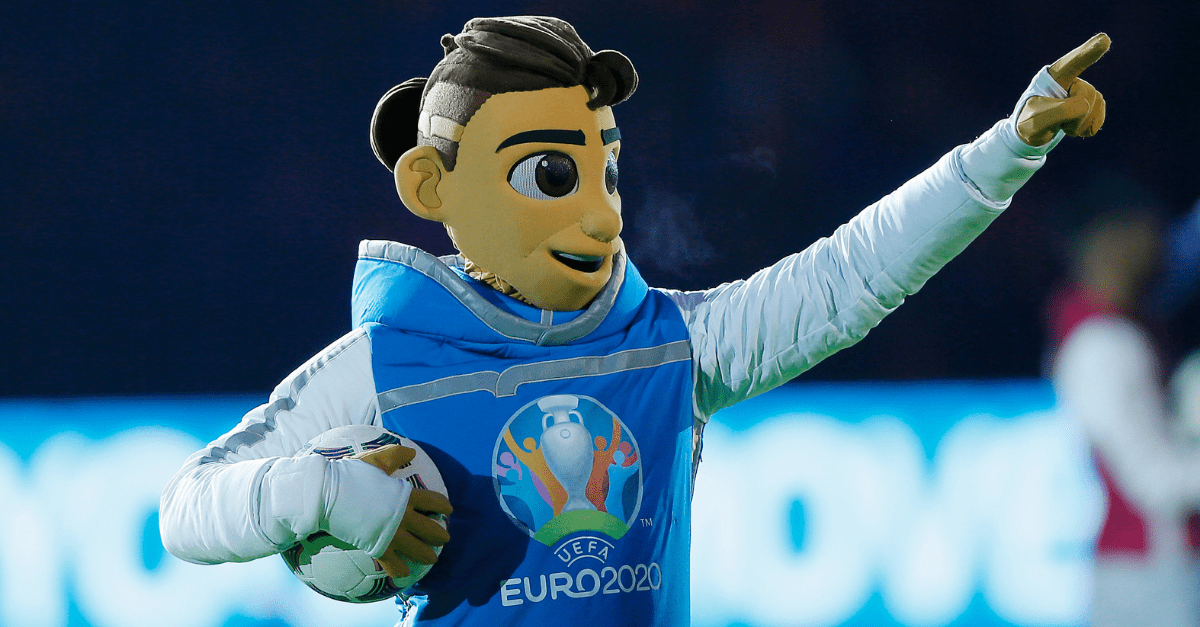 AP Photo/Peter Dejong
Mascot traditions are the lifeblood of every sports team. From the professional level down to colleges and high schools across the world, a mascot embodies the spirit of a team and connects that energy with an entire fanbase. There are sharks in Mississippi. You can see birds vaping in Miami. You might even run into whatever the hell the Philadelphia Flyers mascot is.
But nothing, and I mean nothing, can prepare you for what the UEFA Euro 2020 soccer tournament unveiled as the official mascot of its upcoming competition.
It's name is Skillzy (what?), a googly-eyed, capri-wearing, bad-haircut-having, oblong-man-thing that's here to haunt your dreams forever.
When the European soccer tournament unveiled its official mascot, they literally made a cartoon trying to convince us that this fake ass Cristiano Ronaldo character is supposed to be cool.
IT'S JUST A WEIRD LOOKING MAN-CHILD WITH A PONYTAIL.
RELATED: On National Mascot Day, Let's Celebrate 7 Crazy Mascot Traditions
Skillzy was presented in March aside two soccer freestylers ? Liv Cooke and Tobias Becs ? as if that would help fans realize watching a humanoid juggle a soccer ball alongside two normal people wearing the same sweatpants is actually cool.
And for the record, how in the hell did they expect the man wearing a second head to juggle a soccer ball? I mean, he's looking through those thatched eye holes that definitely don't fit the proportions of a real human.
"Being able to take the beauty of freestyling, street football and panna to football fans all over Europe is a really special opportunity," Cooke said, an English former World Champion herself. "Whether it's playing in the park or on the world stage, whether it is football or freestyling, it's about expressing yourself with the ball at your feet."
In all, 55 European teams will enter the tournament to be hosted by 12 nations ? Azerbaijan, Denmark, England, Germany, Hungary, Italy, Netherlands, Republic of Ireland, Romania, Russia, Scotland, and Spain ? which began with qualifiers in March 2019 until the final in March 2020.
For all of our sakes, and the sake of every child across Europe, Skillzy will miss every one of his flights and gets lost because this guy is going to deliver nightmares everywhere he goes.