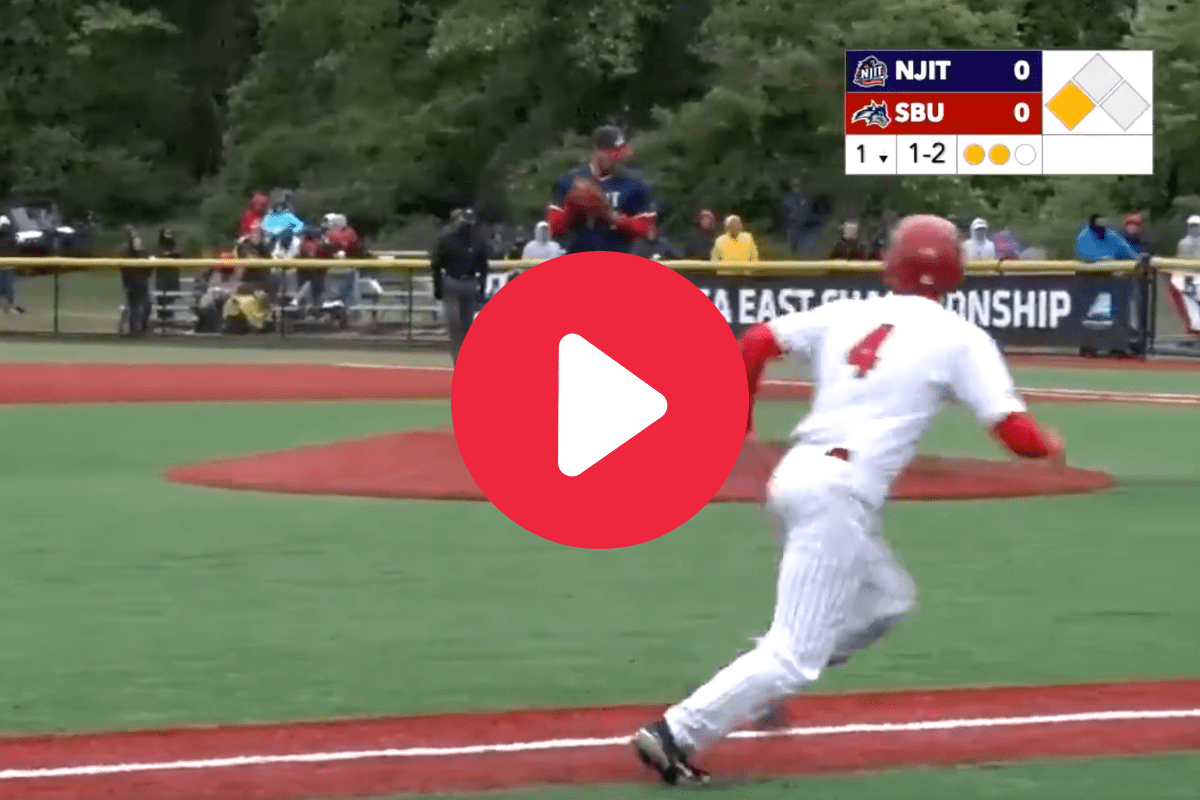 Screenshot from Twitter
Stealing home is one of the hardest things to do in baseball.
It takes the speed of Benny "The Jet" Rodriguez (and maybe a pair of PF Flyers) and a certain level of awareness on the baserunner's part. Plus, you have to catch the opposing team sleeping.
John Larocca, a speed demon for Stony Brook University baseball, checked off all those boxes in the first inning (talk about being aggressive!) when he stole home in the America East Conference Tournament championship game.
Runner Steals Home in Conference Championship Game
RELATED: College Baseball Teams Turn Rain Delay Into Jousting Match
Stony Brook's John Larocca wasted no time getting the Seawolves on the scoreboard against the New Jersey Institute of Technology (NJIT) Highlanders.
NJIT pitcher Jared Kacso took the sign from his catcher. He never even looked over at Larocca, who slowly crept down the third base line. Before Kacso even began his delivery, Johnny "The Jet" Larocca took off for home.
Kacso stepped off the rubber and fired home, where Larocca slid in safely and narrowly past the catcher's tag. The entire NJIT team couldn't believe it, and Larocca's teammates loved every minute of it.
The play not only provided a spark to Stony Brook's dugout, it made ESPN SportsCenter's Top 10 that day. Larocca's slide slotted in at No. 8.
Unfortunately, the steal of home didn't mean much due to a controversial series of events.
The Seawolves led 1-0 when the game was suspended and eventually canceled due to inclement weather. The two teams couldn't finish the game before the NCAA's deadline for conference championships on May 30 because the stadium they played in didn't have lights.
NJIT, despite losing 1-0 at the time of suspension, was awarded the automatic bid to the NCAA Tournament because it was the "lone unbeaten team in the field." The Highlanders advanced to the tournament despite not even technically winning the conference tournament.
Regardless, John Larocca gave us an incredible steal of home before all of that took place.