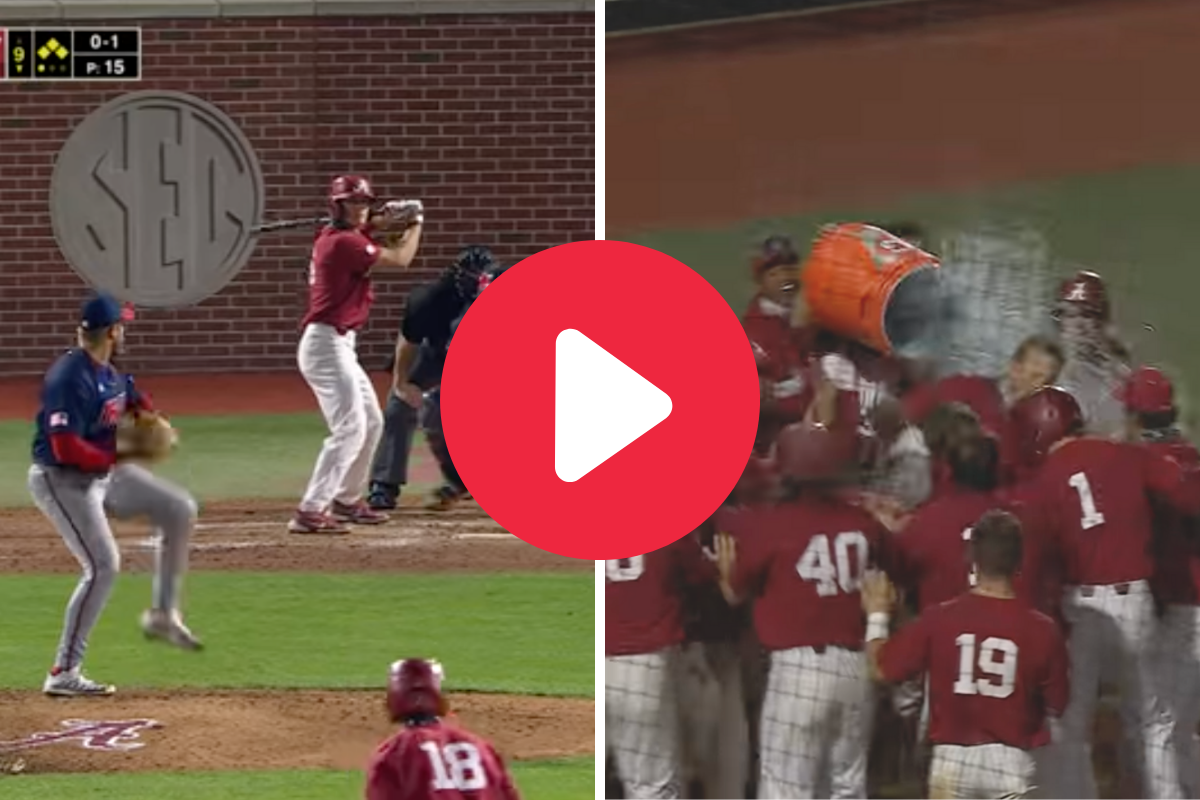 Screenshot from Facebook: University of Alabama Athletics
Owen Diodati is becoming a full-fledged star, and fans in Tuscaloosa will know his name soon if they don't already.
The sophomore slugging outfielder from Niagara Falls, Ontario, has professional athlete bloodlines: a grandfather who played in the NHL. He was a top draft prospect and turned down a chance to play for his childhood baseball team, the Toronto Blue Jays, to proudly wear the crimson and white.
Why? To make moments like the one that ended Alabama's game against South Alabama on Tuesday night.
Owen Diodati's Walk-Off Grand Slam
RELATED: Alabama Found Its Ace, And She May Be The Next Jennie Finch
The Crimson Tide were down 8-7 when the bottom of the ninth inning rolled around at Sewell-Thomas Stadium. They quickly loaded the bases using just one out when Diodati stepped to the plate.
Did he do it? Diodati did it.
The 6-foot-3 power hitter who was a freshman All-American last year clobbered a belt-high fastball into the right field seats and sent the fans in the stadium into a frenzy.
Diodati was mobbed by the entire Alabama baseball team and received a much-deserved gatorade shower at home plate after that emphatic game-ending home run. Alabama won, 11-8.
After the game, Diodati told SEC Network this Alabama team has a chance to be special. Through 13 games, they're 11-2 and are set to begin SEC play later this month.
"So far this season our record shows that we've played pretty well, but I think we're just scratching the surface of what this team can do," Diodati said.
Diodati finished the game 2-for-5 with two runs and four RBIs. Incredibly, he's a perfect 3-for-3 with the bases loaded this season. All three of those hits? Grand slams.
'Bama has plenty of talented players carrying the team. Zane Denton, Peyton Wilson, Chase Lee and Connor Prielipp.
Don't sleep on Owen Diodati, though.