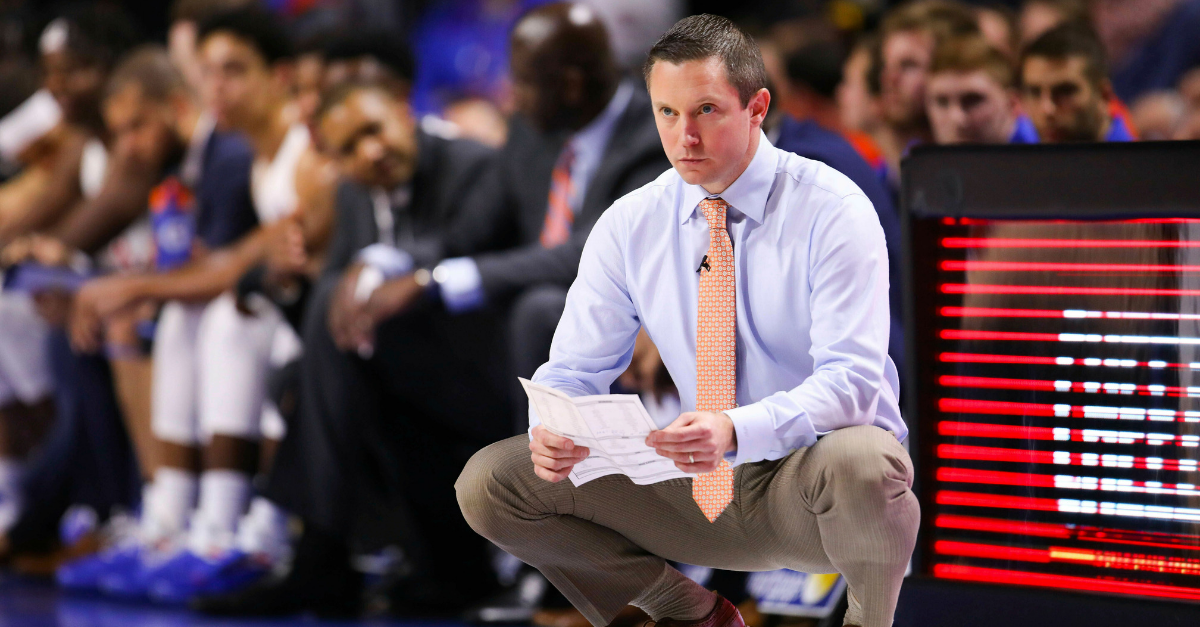 AP Photo/Matt Stamey, File
Rome wasn?t built in a day. Neither were any of the country?s current top college basketball programs. Search across the league and you?ll find that a good majority of the NCAA?s top head coaches struggled in some way before getting their program to where it is today.
Coach K didn?t make the NCAA Tournament his first three years at Duke. The Blue Devils were just 38-47 during that time. Villanova?s Jay Wright didn?t either. Tom Izzo needed two seasons at Michigan State before he reached the tournament. Michigan?s John Beilein sandwiched a tournament berth between two sub-.500 finishes in his first three seasons.
Why am I bringing this up? Because there is a good amount of Florida Gators fans that think head coach Mike White deserves to be fired. You know who you are. You?ve been saying it all season. You probably said it last season. You?re also wrong.
Read more: The Florida Gators Will Make the NCAA Tournament, and They're Dangerous
White, who came from Louisiana Tech after three seasons of 27 or more wins, is just made his third-straight NCAA Tournament in only his fourth year coaching at Florida. UF earned the 10-seed in West Region of the tournament this year, and that huge upset win over LSU in the Southeastern Conference tournament is a big reason why.
Over the last 10 years, the only other SEC teams to reach the tournament in three straight seasons? Kentucky, Tennessee, Texas A&M, Missouri and Vanderbilt. That makes six out of 14 conference schools.
Just curious, for those that want White gone, is that not good?
Let us then consider Billy Donovan?s first few years in Gainesville. The Gators went just 13-17 and 14-15 in 1996 and 1997. What followed that was pure magic: Nine straight NCAA Tournament appearances, including the back-to-back national championships in 2006 and 2007.
UF hired White because he fit the Donovan mold former athletic director Jeremy Foley created. Young, energetic and relatively inexperienced. Donovan spent just two seasons coaching at Marshall before Florida hired him. White manned LA Tech?s program for double that time. Donovan reached the Final Four in his fourth season at UF, while White the Elite Eight in his second season.
I get it. The expectations are high for White. Florida fans expect national championships. But the reality is that reaching that point takes time. It took Donovan 10 years to do it. Some of the so-called great coaches still don?t have any titles under their belts.
The Gators have some young promising players ? Andrew Nembhard and Noah Locke ? that will only get better with time. Plus White is bringing in three of the top 50 high school players in the country in Scottie Lewis, Tre Mann and Omar Payne. Maybe this is the recruiting class that propels Florida to the next level.
You also can?t ask for much more out of White off the court. Seeing the mess that LSU and head coach Will Wade are in right now makes it easy to appreciate White?s well-respected personality.
So take a step back and appreciate what you have, Gator fans. It could turn into something special.