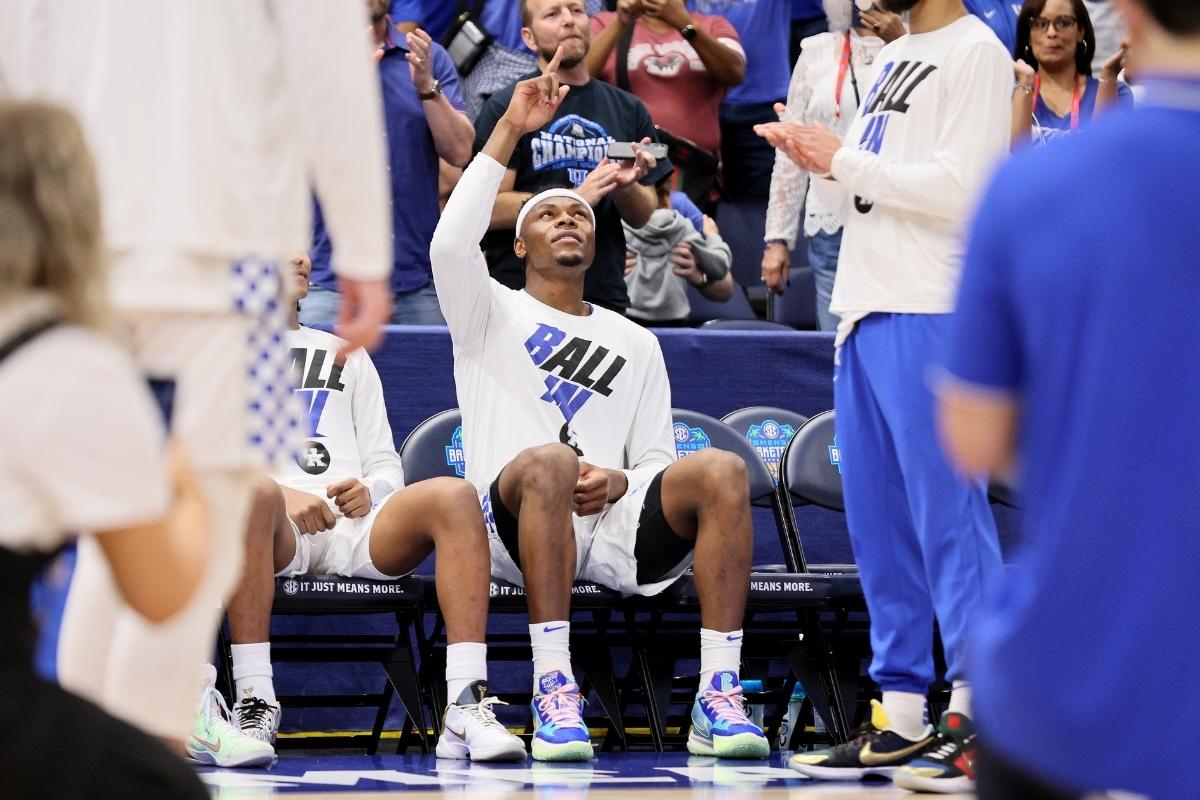 Photo by Andy Lyons/Getty Images
Oscar Tshiebwe is a double-double machine. The NCAA college basketball phenom can score and rebound with the best of them, which is why it isn't surprising that Kentucky is playing high-level basketball at the perfect time. The unanimous SEC Player of the Year can explode on both ends of the floor and shift momentum in the Wildcats' favor on any given night.
He didn't fail as a player at West Virginia, but it was clear that he wasn't making substantial strides as a player under Bob Huggins. Luckily for the Wildcats, John Calipari has given him an opportunity to play to his strengths in Lexington. Tshiebwe's junior season is over, but there's no denying that he's been a great fit in Calipari's system.
Oscar Tshiebwe Recruiting and Highlights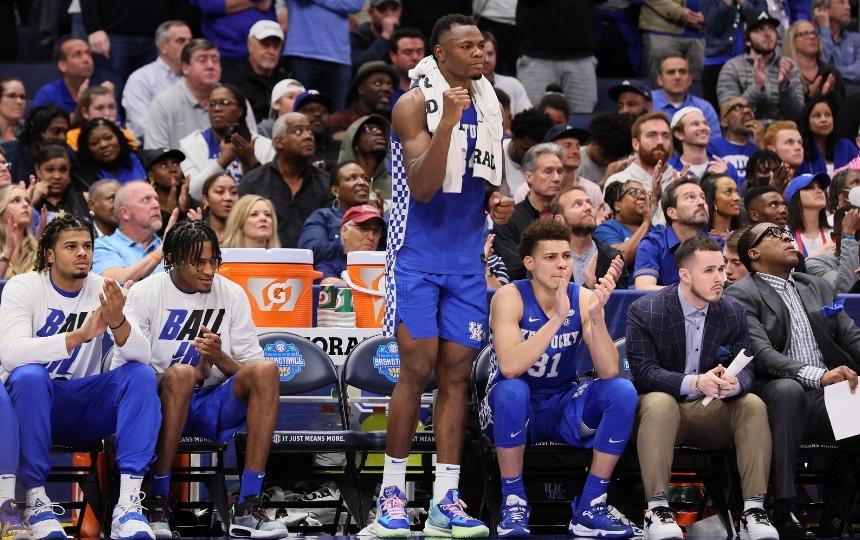 Let's get one thing straight right now, Tshiebwe is not a one-trick pony offensively. The 6-foot-10 forward can hurt opposing defenses in a variety of ways and isn't easy to matchup against. When he runs the floor hard after made or missed baskets and sprints toward the rim, he is normally rewarded by his teammates in the paint. When he's forced to go up against set defenses, he demonstrates why he's viewed as one of the best low-post sealers in the country.
Unlike many big men that you'll see in college basketball, Tshiebwe does his work early and ensures that his defenders have no way of fronting him down low. That requires a unique combination of nimble feet and excellent coordination, which is a combination that Tshiebwe has in his arsenal. After raising his outside hand and making it easier for his teammates to feed him on the left or right block, he likes to catch the ball cleanly and power through defenders' bodies. You'll see him turn to his trusty jump hook when he's unable to play bully ball.
Tshiebwe's not a pick-and-pop threat from three-point land, but he's capable of setting powerful ball screens and drilling 15-foot jumpers with no hesitation. He's also willing to put the ball on the floor and attack the basket when that option isn't available. He never gets fazed after failing to find the bottom of the net, because he prides himself on relentlessly chasing down the ball and cleaning up his misses at the rim.
On the defensive end, he's as intelligent as they come as a shot blocker. Instead of getting fooled by shot fakes near the basket, he stays on the hardwood until he senses that his opponents are ready to explode up. Altering layups in the paint and pulling down defensive rebounds works just fine for Tshiebwe as well. Even more impressively, he's been able to lead the Kentucky Wildcats in steals by picking off lazy passes at the elbows and in the low-post.
Tshiebwe was a McDonald's All-American who had several Power 5 programs chasing after him. He attended Mountain Mission School and Kennedy Catholic High School in addition to running with ITPS Wildcats on the AAU Circuit. After narrowing down his list of schools to Kentucky, Baylor, Illinois and West Virginia, the consensus five-star prospect in the 2019 recruiting class elected to sign with Bob Huggins and the Mountaineers on October 20, 2018. He transferred from the program just 10 games into his sophomore season and joined Kentucky on January 10, 2021.
Oscar Tshiebwe's Journey to the United States
Tshiebwe may have started playing high school basketball in the United States, but he began his life in a completely different country. He grew up in the Democratic Republic of the Congo with his parents, Mbuyi and Kaya Rosalie Tshiebwe.
Soccer was his first love, but he eventually switched to basketball due to his large stature. He quickly caught the eye of Bismack Biyombo and later attended a camp hosted by the Phoenix Suns center. In 2015, Tshiebwe moved to the United States and started playing against better competition, improving his overall abilities as a basketball player.
Oscar Tshiebwe at Kentucky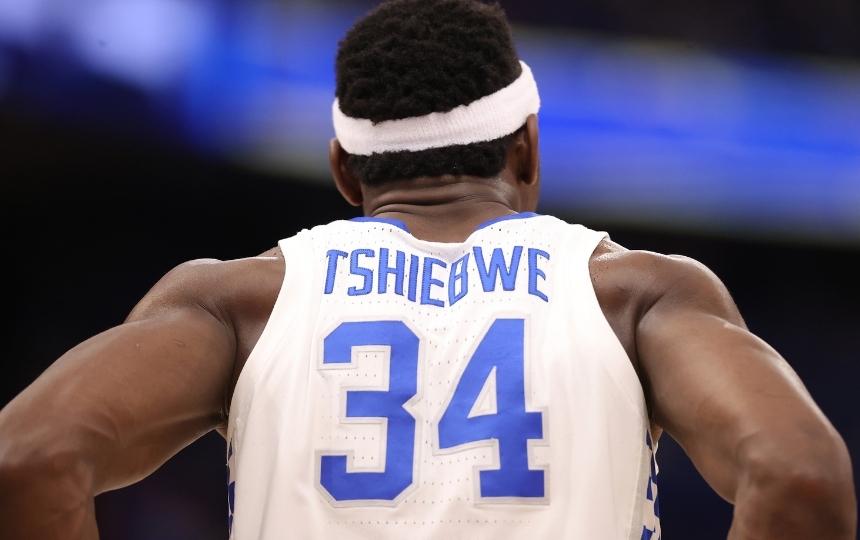 After averaging 9.8 points and 8.5 rebounds in 41 games at West Virginia, Tshiebwe showed up at Kentucky ready to elevate his game to new heights. As a Wildcat, Tshiebwe was averaging 17.4 points and 15.1 rebounds per game while also blocking 1.6 shots a night.
He's recorded over 20 double-doubles this season, which is something that most Division I players can't say that they've accomplished. For reference, his mastery against Florida and Duke in the 2021 season are fantastic references to the dominance he brings to the court for the Wildcats.
You know exactly what you're going to get from Tshiebwe on a nightly basis, which is why consistency shouldn't be an issue for him moving forward. Hopefully, an NBA team takes a chance on him in the NBA Draft the same way he took a chance on himself at Kentucky.