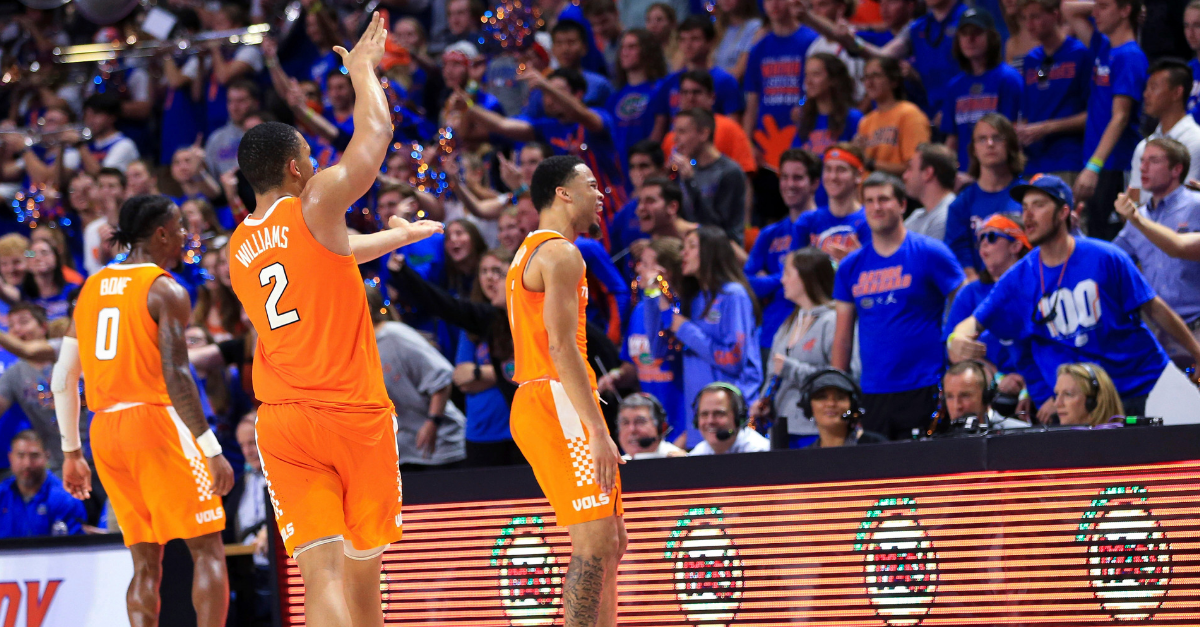 AP Photo/Matt Stamey
Whether you agree with it or not, taunting can turn any game from a snoozefest into must-watch television. Take Baker Mayfield, for example, who has taunted countless opponents in his football career. Florida has done the same to its rivals like FSU and LSU over the years, from holding a severed Seminole head to playing with a skeleton cat.
Of course, the most common form of taunting Florida Gators fans and players experience are gator chomps, in which opposing teams mock UF's signature cheer. The Tennessee Volunteers basketball team became the most recent team to do so on Saturday night after taking down Florida 78-67 on its home court at the O'Connell Center in Gainesville.
It wasn't just one player, though.
Related: Trevor Lawrence Was Almost a Gator, So Let's All Cry Over What Could've Been
Apparently, the Volunteers weren't just engaging in some good-natured, rivalry-driven taunting. They were responding to comments they received from Gator fans all game long.
According to Tennessee's best player, Admiral Schofield, UF's fans had been making "inhumane" comments to he and his teammates from behind the Tennessee bench. So when the game concluded, many UT players — Grant Williams, Jordan Bone, Jordan Bowden, Lamonte Turner and John Fulkerson — joined Schofield in the taunting.
"Their fans were chirping a lot, even behind our bench," Schofield told the Knoxville News Sentinel. "Things that were said from fans that were just older fans. Not even students. Alumni, maybe. Just very disrespectful, inhumane. I won't repeat what was said."
We don't know what Schofield heard, but if the comments made truly were inhumane those fans should feel embarrassed. As far as the taunting move, I have no problem with it regardless of what was said. It's all in good fun and makes these matchups more interesting. It's also not the first time that's happened on UF's court.
In 2013, Ole Miss guard Marshall Henderson did the same during a game and instantly became every Florida fan's most hated person.
As for the Florida-Tennessee game itself, Florida put up a fight against the No. 3-ranked team in the country. After leading 38-35 following the first half, UF faltered offensively in the second half, shooting just 28 percent from the field while sinking three of 10 three-point attempts.
Florida's leading scorer, senior KeVaughn Allen, led the way with 18 points while freshman Noah Locke followed behind with 16. Williams and Schofield led the way for UT with 20 and 14, respectively.
The loss dropped the Gators to 9-6 and 1-2 in SEC play, while the Volunteers improved to 14-1 and 3-0 in conference play.