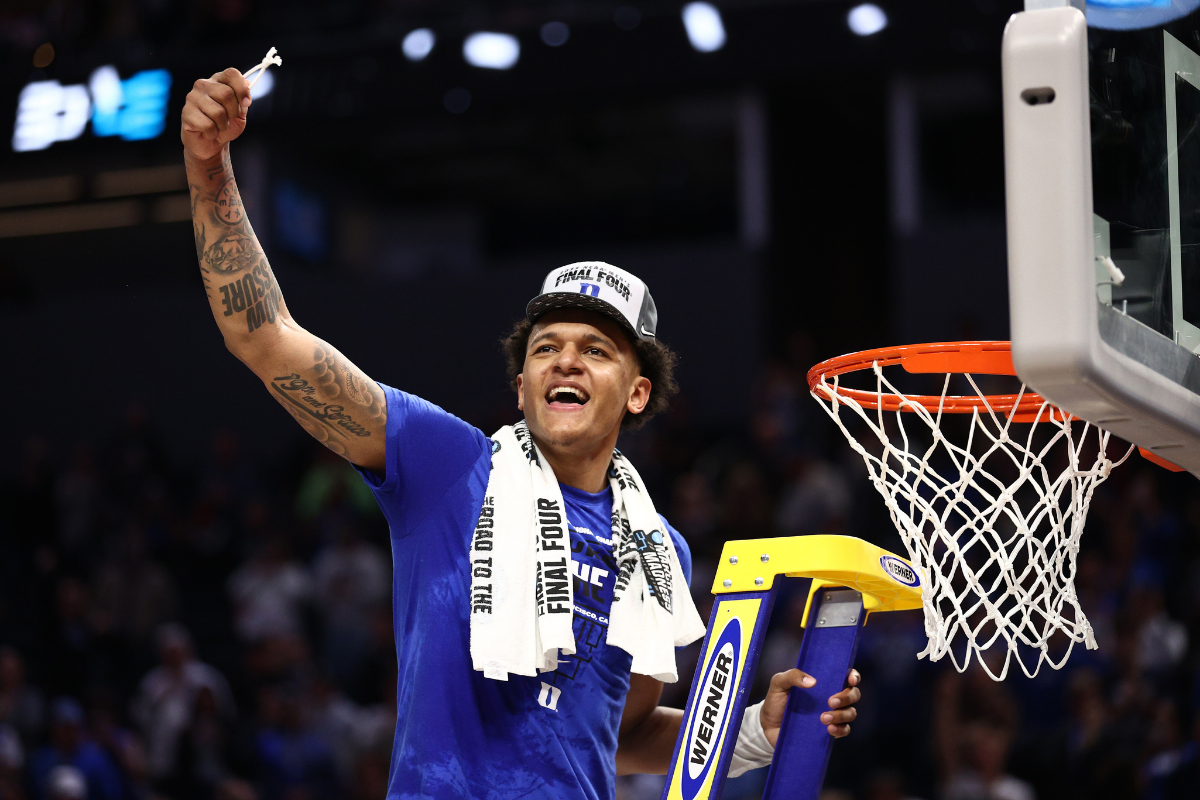 Ezra Shaw via Getty Images
Seattle, Washington is about as far away from Durham, North Carolina as you can get in the continental United States.
Paolo Banchero knew he couldn't pass up the 2,341-mile trek between his hometown and Durham for plenty of reasons. The Duke Blue Devils are one of college basketball's blue bloods, they're led by one of the greatest coaches in sports history in Mike Krzyzewski and have a recent track record of churning out top NBA Draft picks.
However easy the decision may have seemed on paper, Banchero had plenty of counterpoints to stick around the Pacific Northwest. The most prominent being his ties to the University of Washington.
His parents, Mario and Rhonda Banchero, had solid athletic careers for the Huskies in the mid '90s.
Paolo Banchero's Parents Mario and Rhonda
RELATED: Mickie Krzyzewski is the Foundation of Coach K's Legendary Career
Rhonda and Mario Banchero met while attending Seattle's Pac-12 university. Mario, like Paolo, attended Seattle's O'Dea High School and played tight end for the Huskies. The young Banchero may get his physicality from his dad, but his hoop skills come from his mom.
Rhonda Smith (now Rhonda Smith-Banchero) starred for the Washington Huskies women's basketball team. At 6-foot-2, Smith-Banchero was a dominant force down low and left college as the program's all-time leading scorer with 2,948 points. She also finished as the third-leading rebounder with 803. She became the first player in school history to be a WNBA draft pick when she was selected by the Sacramento Monarchs in the third round of the 2000 WNBA Draft.
Smith-Banchero spent several years playing professionally in the WNBA, American Basketball League and overseas before turning to coaching. She started off her bench career at the junior college level, but found the most success leading Holy Names High School to a state championship in 2011. It was at Holy Names where Paolo started to soak in the game by attending his mother's practices.
"When I was coaching," Smith-Banchero said, per the San Francisco Chronicle "I just told him, 'Don't practice bad shots and look at the women when they play because they'll teach you how to screen, back-door cut, bounce pass.' Those things are still key elements to our game. "I think that helped him. You don't plan for something like this, but he sure has worked hard to get here."
You could say the lessons worked out. The 6-foot-10 power forward became a consensus five-star recruit at O'Dea, where he was named a McDonald's All-American and made the Jordan Brand Classic roster, and had every major program in the country vowing for his services. He chose Duke, of course, where his 17.1 points 7.7 rebounds and 3.2 assists per game helped steer the team back to the Final Four. He also earned second-team All-American and First-team All-ACC honors to go along with winning the ACC Rookie of the Year. However, the only thing that matters to him is sending Coach K out with a bang by winning his sixth national championship.
Paolo is of African-American & Italian Descent
In addition to the athletic genes of his parents, the 19-year-old college basketball player shares a special appreciation for his heritage. Banchero's mother Rhonda is African-American and his father Mario is Italian. Paolo obtained Italian citizenship in 2020, making him eligible to play for the Italian national team in the future. He seems more than excited to play for the green, white and red.
"In the past couple of years, I've expanded my knowledge of my Italian heritage, I got more familiar with it, and hopefully I'll be able to get out there soon, sometime this summer and actually experience Italy," Banchero explained.
Banchero's parents have been by his side every step of his basketball journey. They'll surely be in attendance when Duke takes on North Carolina in the Final Four in New Orleans. They'll surely be the first ones he hugs when he's inevitably a top-three NBA Draft pick in June, too.
Related Videos