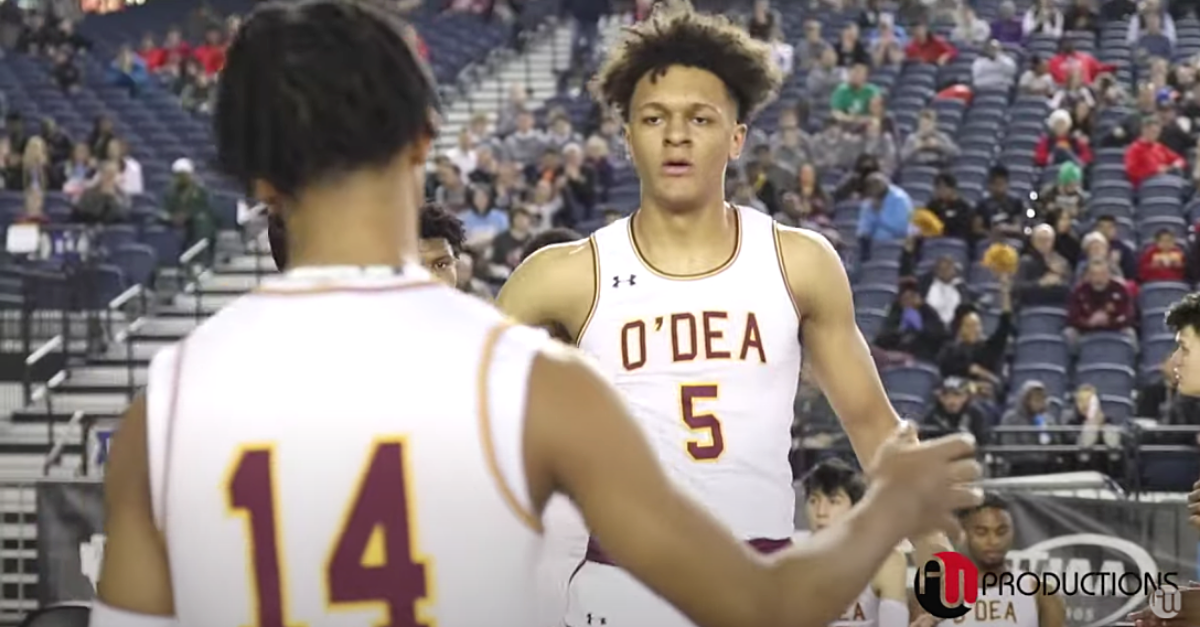 YouTube: Al Ward
Long, lean, and spry forwards who can shoot are the model for modern basketball. This evolution in the game even convinced the Houston Rockets to abandon centers altogether.
Paolo Banchero of O'Dea High School in Seattle, Washington, fits the mold. The Italian basketball player can work in the post or step beyond the arc — Two attributes equipped to succeed in the NBA.
Paolo Banchero's Highlights
The 6-foot-9, 235-pound power forward is too quick for bigs and too big for guards. If a frontcourt defender is on him, he'll blow by them towards the rim where he has consistent finishing ability. He converts with solid touch — possessing the capability to adjust in the air — or more authoritatively with dunks.
Banchero can shoot from the outside off the catch or dribble. His high release makes it hard to contest. If the three-point shot isn't there, the five-star recruit has a nice midrange game. The Seattle-product is patient and takes his time in evaluating the floor. He delivers on-the-money passes to cutting teammates and can lead the fast break. His handles are controlled in space.
The high school standout monitors the glass and pounces on the ball. He's reliable in snatching a board in clutch situations. Defensively, his long wingspan allows him to chase down blocks in transition, and he's athletic enough to guard multiple positions.
His frame reminds me of Jayson Tatum — Broad shoulders supplemented by a defined build. Although, Banchero is more of a post player than Tatum.
Paolo Banchero Recruiting
RELATED: 'Phi Slama Jama' Made Dunking an Art Form
The O'Dea forward is the fourth-ranked player in the 2021 recruiting class per the 247Sports Composite Rankings. He narrowed his choices down to six finalists in late April 2020. Panchero's list includes Kentucky, Washington, Gonzaga, Arizona, Tennessee, and Duke.
He held a virtual visit with the Arizona Wildcats this May. Coach K and the Blue Devils hosted Banchero on an official visit in October 2019, then again virtually in April.
According to 247Sports' Crystal Ball Predictions, Banchero is leaning towards playing college basketball at Washington or Kentucky. UK head coach John Calipari conducted a second virtual visit with Banchero in June. Something to remember: Banchero's parents both were Huskies.
The senior-to-be projects high on 2022 NBA Draft Boards. NBADraftRoom.com ranks Banchero as the fifth-rated prospect behind the likes of Emoni Bates and Chet Holmgren. With number one 2021 recruit Jonathan Kuminga reclassifying to the class of 2020 and gravitating towards the G-League, Banchero has the potential to snag the top spot in the class as the season progresses.