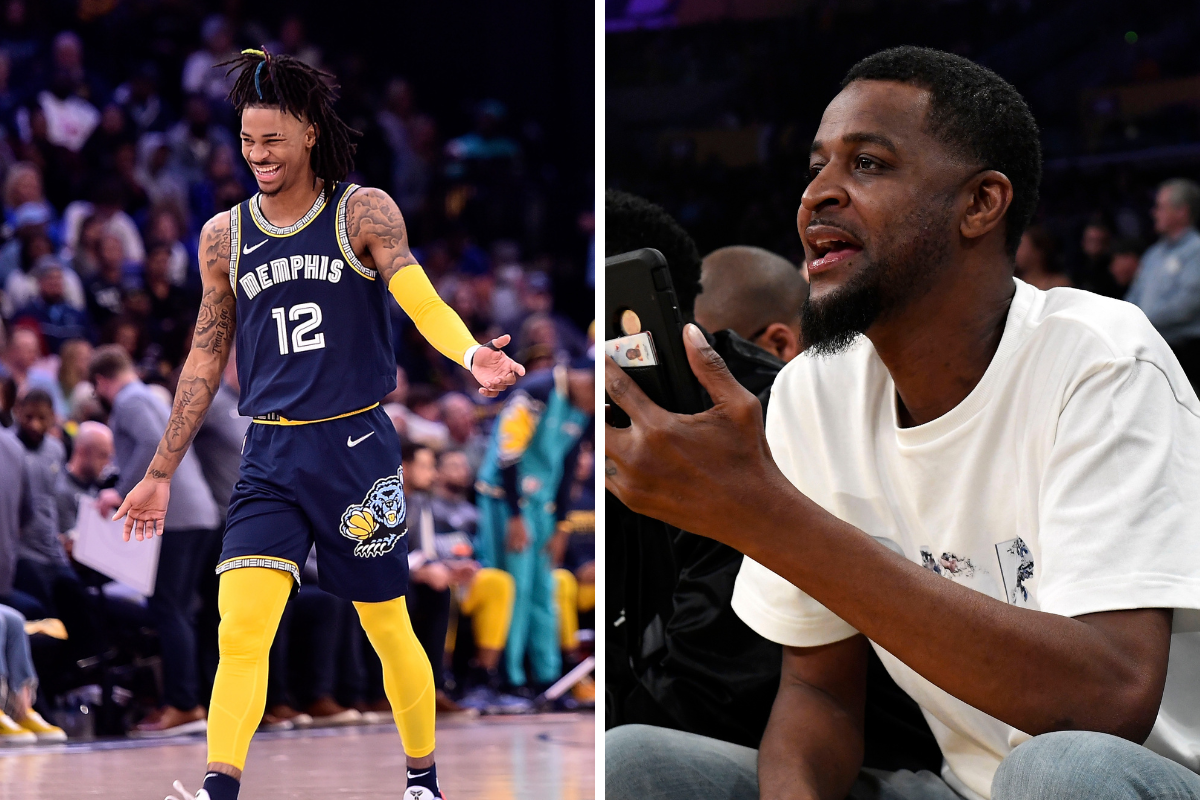 Justin Ford/Getty Images (left), Kevork S. Djansezian via Getty Images (right)
Ja Morant never heard "I'm proud of you, son" growing up.
What the Memphis Grizzlies point guard heard instead was "you're trash", "you're overrated", "you suck." Morant still hears these words of encouragement from his father, Tee Morant, even as he's ascended to one of the most exciting players in the NBA.
Morant has referred to his father as his biggest hater on multiple occasions, but his dad's criticism in jest is what helped him go from 0-star recruit to Murray State phenom to NBA superstar (something Tee would never call him in a million years). It helped keep him humble and focused on improving his game, and the results are hard to argue with.
Morant's father has become a fixture on the sidelines as the Grizzlies make their way through the NBA Playoffs, but who is he other than another fan trash-talking Ja?
Ja Morant's Dad Tee Morant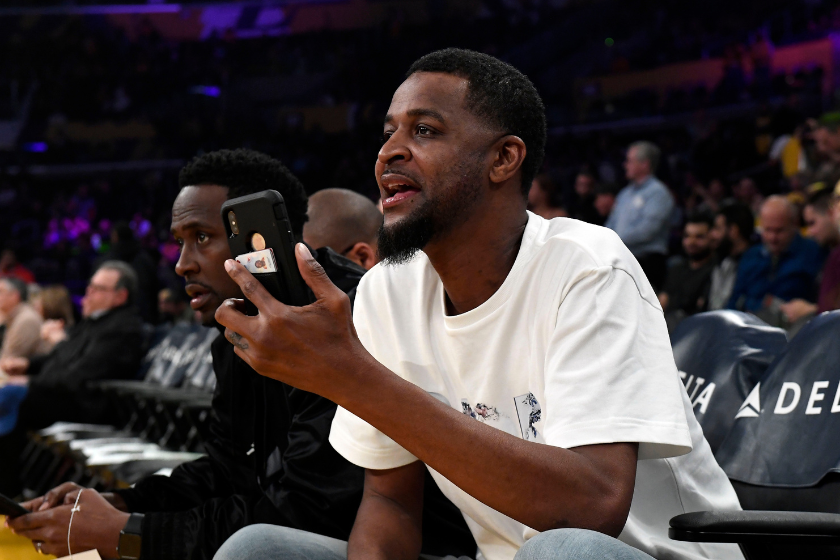 RELATED: Ja Morant Went From 0 Stars to Murray State to NBA Lightning Bolt
Like his NBA All-Star son, Tee Morant played point guard. He attended Hillcrest High School in Dalzell, South Carolina, where he was teammates with Hall of Famer Ray Allen, and went on to play college basketball at Claflin University — a HBCU located in Orangeburg, South Carolina.
Tee was a talented enough basketball player to get some looks at NBA free agency camps and played professionally overseas, but he ended his playing career when his wife, Jamie Morant, had Ja in 1999. He then pivoted to a career as a barber.
But as soon as Ja showed an interest in hoops, Tee was the first one to help him out. He put Ja under the instruction of his high school coach Dwayne Edwards, who coached him at Crestwood High School in Sumter, South Carolina. The 22-year-old Grizzlies star earned a reputation as a gym rat during his prep career. He made it a point to outwork everyone in practice, then, he would go home and work out with Tee.
Tee and Ja would break down his performance after his high school and college games. Naturally, that meant Tee nitpicking his mistakes, but he also shows his son love. Like when he publicly supported his son's case to go first overall ahead of Zion Williamson in the 2019 NBA Draft. For Tee, though, the most important thing is Ja's leadership on the court.
Tee and Ja aren't the only ones in the Morant family who are hoopers, either. Teniya Morant, Ja's younger sister, recently finished her junior season at Houston High School outside of Memphis.
Tee Morant: The Sideline Star of the 2022 NBA Playoffs
Tee Morant has become a figure in his own right during the 2022 NBA postseason. His interactions with Karl Towns Sr., the father of Minnesota Timberwolves center Karl-Anthony Towns, were a mainstay of the first-round playoff series broadcasts. It was all in good fun at first, but then they made things interesting.
If the Grizzlies won, Karl Towns Sr. had to wear a Ja jersey, and if the Wolves won, Morant had to wear a KAT jersey. Tee smiled from ear to ear when Memphis closed out the series 4-2 in Minneapolis, and Towns Sr. had to make good on his bet. During his postgame interview with ESPN's Malika Andrews, Ja gave his jersey to Mr. Towns. We still haven't seen Towns Sr. wear the jersey, but he did hold onto it and congratulated the Morants on the first-round series win.
And right on cue, Tee said Ja played like trash in an impromptu post-game interview of his own.
At this point, you may be asking, "Is Ja Morant's dad actually Usher?" Well, you weren't the only one. The singer attended the Game 5 matchup of the Grizzlies/Wolves series in Memphis, where he sat next to Tee, to debunk the rumors himself.
The two wore nearly identical outfits, too, and the good folks at FedEx Forum gave them a shoutout on the "Look Alike Cam" during a timeout. They should try out a twin situation where Usher goes to a Grizz game as Tee to see if anyone notices. Maybe Tee's a good singer and could take Usher's place at one of his gigs, too.
We'll see plenty more of Tee at NBA Playoff games as the Grizzlies take on the Golden State Warriors in the Western Conference semifinals. He gave Steph Curry and Klay Thompson props after the first game of the second round, which is something he's known to do for his son's opponents. He's done the same for Anthony Edwards, Donovan Mitchell and has been playful with Los Angeles Lakers star LeBron James.
As for his son, who has NBA Rookie of the Year and NBA Most Improved Player awards to his name?
He still sucks.