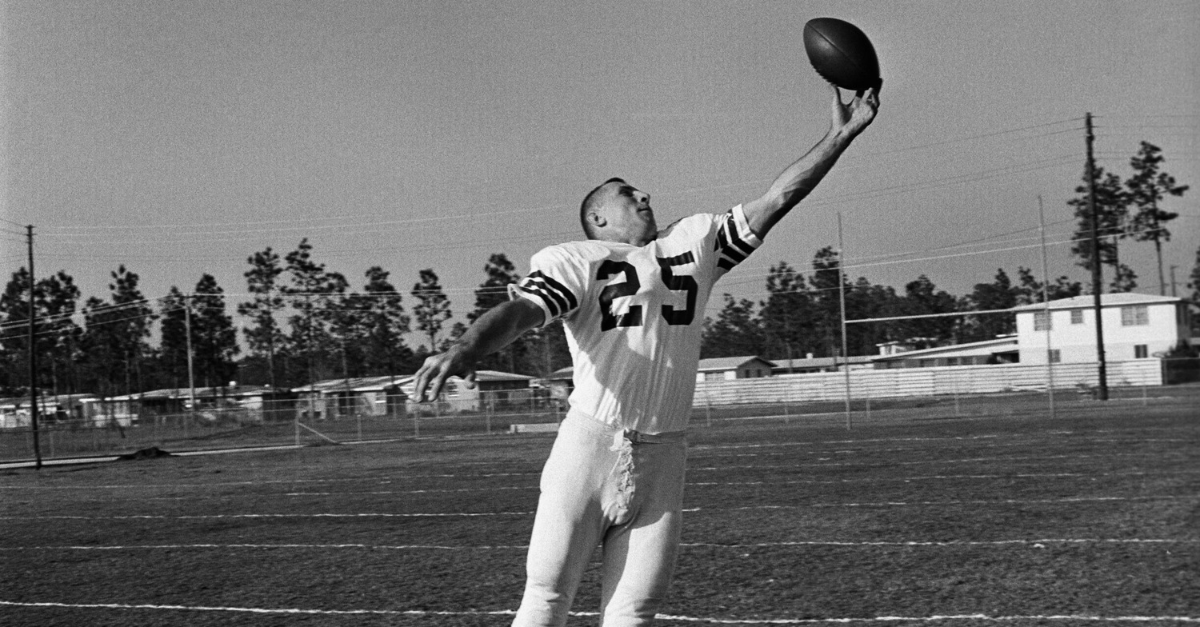 AP Photo/Jim Kerlin
One of the best ways to be recognized for being great at your position is to have an award named after you. Well, Fred Biletnikoff did just that as one of the greatest wide receivers in college football history.
But what made Biletnikoff so damn good at football? How was he able to continuously destroy opposing secondaries at Florida State and then do it in the NFL, too?
You may look at the Florida State Seminoles receiver's stats and not be overly impressed, but for the early 1960s, he was dominant. In three seasons, Biletnikoff had 87 catches for 1,463 yards and 16 touchdowns, which were all school records at the time. Those numbers also don't some of his big bowl game performances.
Fred Biletnikoff Florida State Career
RELATED: The 7 Best Wide Receivers in Florida State History
In 1963, Biletnikoff was the team's leading receiver with 24 catches for 358 yards and four touchdowns. But more impressively, he led the team in interceptions as well with three on the season, including a 99-yard pick-six thrown by George Mira from Miami.
During the 1964 season, his senior year, Biletnikoff became the Seminoles' first-ever Consensus All-American with 57 receptions for 987 receiving yards and 11 touchdowns.
The most memorable game of his career was against the Oklahoma Sooners when he caught 13 passes for 192 yards and four touchdowns in the 1965 Gator Bowl.
Because of his overall greatness in college and at the professional level, the name Frederick S. Biletnikoff is widely connected to wide receivers, which is why the NCAA award for the nation's best wide receiver was named after him in 1994.
But what is it about the receiver from Erie, Pennsylvania that made him so good?
There are two main reasons Biletnikoff was so good and destroyed opposing teams.
Perfect Routes
The star wide receiver did not have blazing speed or a huge frame, two traits everyone looks for in a great pass-catcher these days. What Fred Biletnikoff did have was an ability to get open despite his lack of speed and size. When entering the league, he was considered slow with his 4.7 second 40-yard dash, and small at 6-foot-1.
His ability to find spaces between coverage is what separated Biletnikoff and other wide-outs of his day. There is a reason, during his senior season at Florida State, he caught nearly a half of the passes starting quarterback Steve Tensi completed. That year, Tensi attempted 240 passes and completed 144. Biletnikoff caught 70 of them.
And when the ball got to him, it was nearly a guarantee he was going to bring it in no matter the coverage.
Consistently Great Hands
Although he was controversially covered in Stickum from finger tips to elbows, Biletnikoff could always be counted on to make the catch, from easy to next-to-impossible. There are not many receivers in the history of the NCAA, AFL, or NFL who can claim to have as sure of hands as this Oakland Raiders great.
His use of Stickum can't be held against him much because there were no gloves like there are today. The gloves that receivers wear in the National Football League today might as well have glue on them.
Fred Biletnikoff Professional Career
Once he finished his career in college, Biletnikoff was drafted in the second round of the 1965 AFL Draft by the Oakland Raiders and the third round of the 1965 NFL Draft by the Detroit Lions. He chose to sign with the Raiders, who he spent 14 seasons playing for.
His route-running and sure hands led to 589 receptions for 8,974 yards and 76 touchdowns, a Super Bowl XI win and MVP, four Pro Bowl selections, and an induction into the Pro Football Hall of Fame. He is also one of the best postseason receivers of all time with 70 catches for 1,167 yards and 10 touchdowns in 19 career playoff games.
His best games in the postseason came against the New York Jets (7 catches, 190 yards, touchdown), Kansas City Chiefs (7 catches, 180 yds, 3 touchdowns), New England Patriots (9 catches, 137 yds, touchdown), and Miami Dolphins (8 catches, 122 yds, touchdown).
As one of the best Raiders of all time, whether in Los Angeles or Oakland, just five Raiders Hall-of-Famers were inducted before him and is one of the top players to ever wear the black and silver.
He earned the Super Bowl VI MVP during the 1976 season with four catches for 76 yards and a touchdown. All of those catches set up scores for the Raiders against the Minnesota Vikings. He also played in three AFL title games and five AFC Championship games.