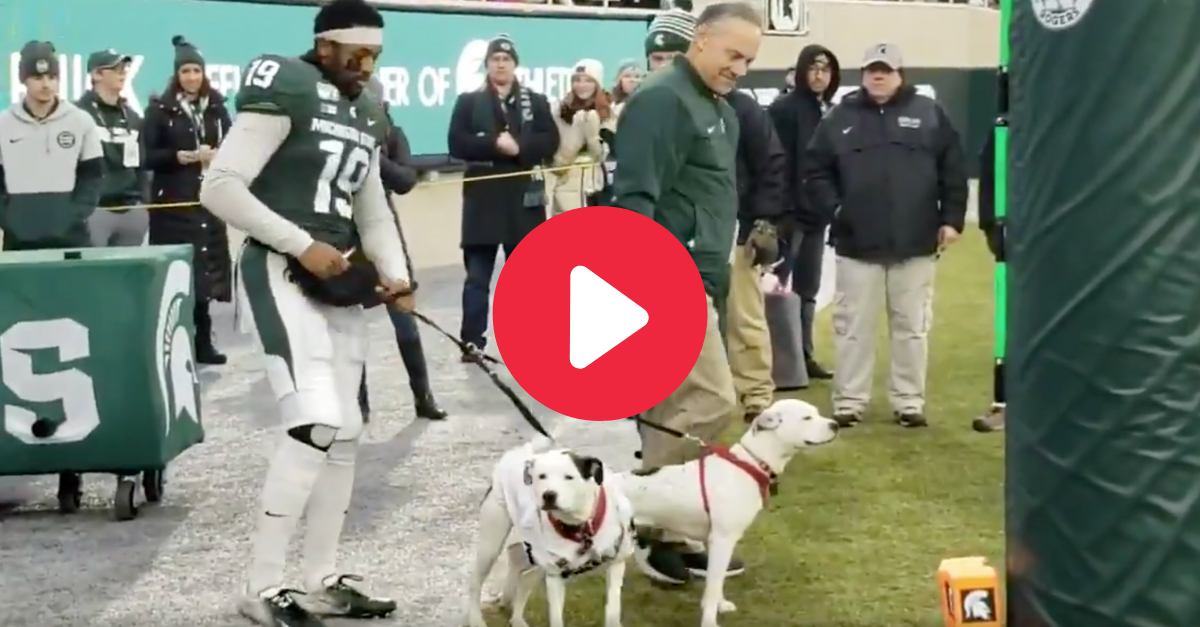 Screenshot from Twitter
For many college football players, Senior Day is an emotional time. It?s the final home game of their careers, marking the end of a long, hard journey, and perhaps the end of their playing days. For Michigan State cornerback Josh Butler, his final game at Spartan Stadium meant so much more.
Ever since Butler stepped foot on the East Lansing campus, it?s been quite the roller coaster. From the Spartans making the College Football Playoff his redshirt freshman season to battling injuries to becoming a key piece to the defense, his college career under head coach Mark Dantonio has been a whirlwind. However, it doesn?t hold a candle to what the senior went through off the field.
In November 2017, Butler?s father, Steven Butler, passed away from either a heart attack or stroke before the Spartans played a game against Penn State. Approximately 18 months later, Butler?s mother, Ladrida Bagley, died of breast cancer, according to the Lansing State Journal.
So when it was time to take the field for one last home game at MSU, Butler decided to take his two dogs, Roxy and Remi, with him after giving Dantonio a big hug, and it was shared everyone on social media.
Josh Butler Brings Dogs to Senior Day
RELATED: Joe Burrow Honors LSU With Special ?Burreaux? Senior Night Jersey
In the game, Michigan State?s Josh Butler did not record any statistics, but the Spartans beat Maryland, 19-16, to become bowl eligible on Saturday night. This was a moment where stats don?t matter, though. Not even for a second.
This was the last time he would play at Spartan Stadium. Butler?s parents weren?t there to join him. It?s incredibly heartbreaking, but he had his two dogs right by his side to fill the void.
?Definitely been a blessed journey since taking the greyhound bus as a kid all the way up to Michigan State, being able to prevail through losing my father in 2017, and seeing my mother pass away in my arms just this year in April from Cancer; it has strengthened me as a person, man of God, and leader. I love everyone who has had a impact on my life! My next big step in earning my Masters this December. Was great to be apart of the Dantonio Era! My Dogs mean the world to me! GO GREEN! ??? I love y?all ? JBTV? out ?? May my angels keep watching over me above. Joshua 1:9?
Josh Butler deserves a standing ovation. Nobody truly knows what he has endured, and it was amazing to see the fifth-year player battle through it all and still be honored on his Senior Night.