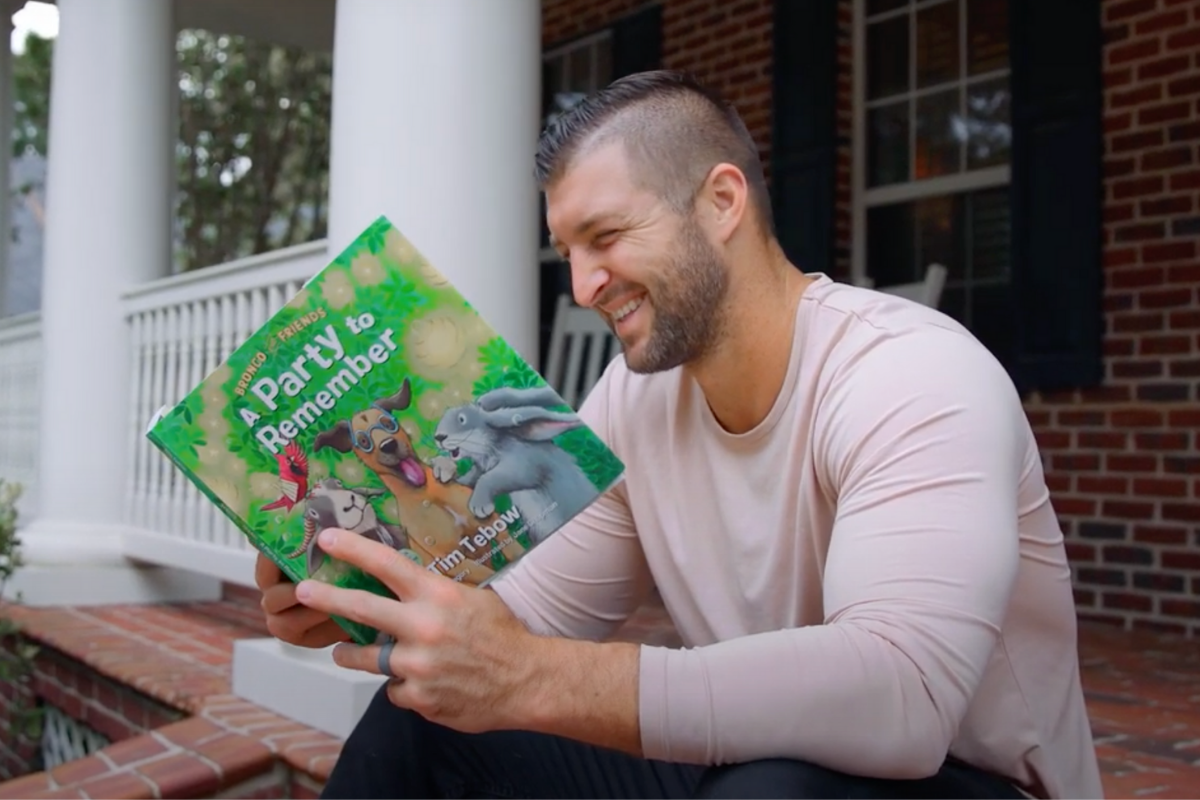 Screenshot from YouTube
Former Florida Gators quarterback Tim Tebow is a warrior. Yes, he?s also romantic and learned a dance for his wedding, but it would be hard to find many tougher than the college football legend. Everyone has a breaking point, however, and he let the world know his.
When he was selected in the first round of the 2010 NFL Draft by the Denver Broncos, the former Heisman Trophy winner received the gift of a Rhodesian Ridgeback puppy. Fittingly, he named him Bronco and the two were side-by-side for a decade.
If you have ever owned a pet, you know how deep the connection and bond truly is. They say a dog is a man?s best friend for a reason. Losing it is one of the worst feelings imaginable.
Unfortunately, the time came for the former NFL quarterback to say goodbye to his friend in November 2019, and he shared one of the final moments with Bronco in an emotional video.
Grab a tissue, everyone. This one might get you.
Tim Tebow's Dog Bronco
RELATED: Tim Tebow?s ?They Said? Commercial Still Gives Us Chills
The Instagram post and heartbreaking video tribute wasn?t all a tear-jerker. It showed some incredible moments between Tebow and Bronco. But understandably, it?s what made the goodbye so damn hard.
?One of the toughest goodbyes. Wanted to make a special tribute to the sweetest boy ever – thank you for all the joy you brought and all the memories. Aunt Patty, thank you for loving him, and thank you to all the other people including Miss Shea and Miss Mindy for sharing so much love with Bronco. If you had the pleasure of meeting Bronco, one of the best dogs ever, I would love to hear your story.

?Also, thank you for taking care of him every time he was sick – SEVO-Med, Blue Pearl Vet and UF Small Animal Vet Hospital (Go Gators).?

? Tim Tebow
After his playing days in Gainesville ended, Tebow played for the Broncos, New York Jets, New England Patriots, and Philadelphia Eagles. He then began a media and broadcasting career before pursuing professional baseball with the New York Mets organization.
One of the only constants in his life has been Bronco. Watching him say goodbye was tough, but the former first round draft pick and baseball player found a way to honor him.
Tim Tebow's First Children's Book
Tim Tebow has accomplished a lot in his life and you can now cross children's book author off the list.
Tebow, along with A.J. Gregory and illustrator Jane Chapman, released a new kids' book called Bronco and Friends: A Party to Remember to honor his late dog Bronco, who passed away in 2019.
Tebow also talked about the new hardcover book on Good Morning America (GMA) on January 5, 2021 during the coronavirus pandemic and COVID-19 outbreak.
Here is the description from Amazon, where it's already the best seller under Children's Christian Friendship Fiction category:
"Heisman Trophy winner, multi-sport athlete, special needs advocate, and positive role model Tim Tebow encourages children to embrace their unique qualities in his first book for children, a winning tale based on his sweet pup, Bronco.

"Bronco received an invitation to a party, but he can't find the puzzle piece everyone is supposed to bring. During his search, he encounters a variety of friends with their own set of worries: a flightless bird, an allergic goat, and a clumsy bunny. The animals team up to find both Bronco's puzzle piece and the party, arriving to discover that the party is in their honor!

"This sweet story of animals with different challenges and abilities is core to Tim Tebow's message to fans and friends of any age who have special needs. Getting invited to the party is exciting–but bringing your own particular gifts makes it more fun for everyone. Tim Tebow wants everyone to know that's how God sees them: special, unique, and essential to the party."
Whether it's winning an NFL playoff game, talking about the likes of Alabama, Clemson, and Ohio State on ESPN, leading the Tim Tebow Foundation, or being a husband, Tim Tebow can really do it all.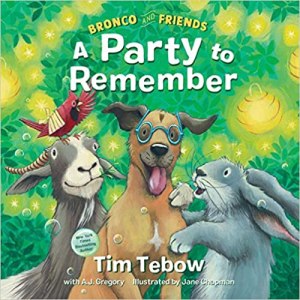 This article was originally published November 21, 2019 and updated after his new children's book.