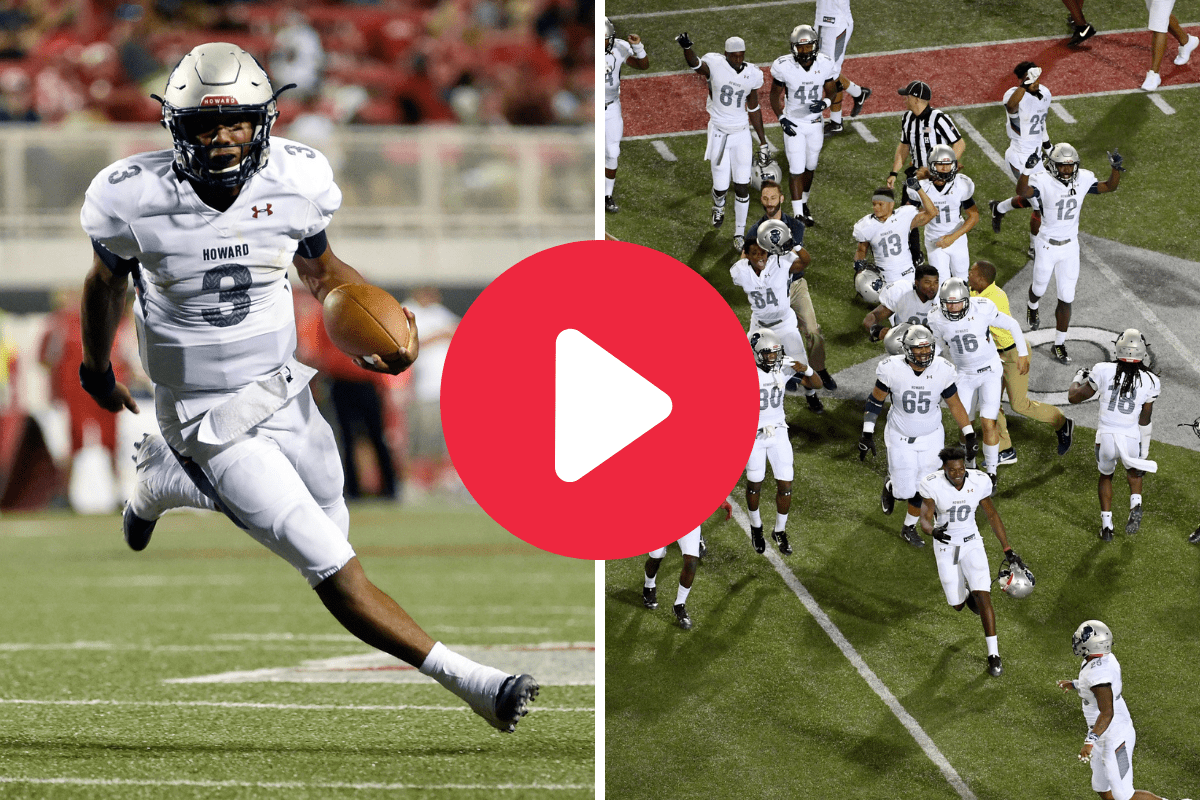 David J. Becker/Getty Images (left), Ethan Miller/Getty Images (right)
Here we are in Las Vegas, Nevada, on an early college football Saturday where cupcakes are the most popular item on the menu. UNLV thought it was getting a big fat one to kickoff the season. Instead, they got a pie in the face.
The Howard Bison, led by quarterback Caylin Newton, the younger brother of NFL QB and Heisman Trophy winner Cam Newton, came into Sin City and pulled off what few can: leaving as winners. His team entered 45-point underdogs and pulled off a victory that stands today as the biggest upset in college football history.
The Biggest College Football Upset
RELATED: App State's Upset Over Michigan Rocked "The Big House" Like Never Before
The UNLV Rebels football team had every reason to feel confident heading into the opening game of the 2017 season. To put its confidence in tangible terms, UNLV had 45 reasons to feel good about its matchup against Howard, an FCS team from the Mid-Eastern Athletic Conference.
The Bison got out to a 21-9 lead after linebacker Devin Rollins returned a fumble 75 yards to the house in the second quarter. UNLV, an FBS team who plays in the Mountain West, responded with 24 unanswered points to go up 33-21 halfway through the third.
Ok, the party is over. Howard had its fun. The big boys were in control.
Howard wasn't ready to call it a night yet. Bison running back Anthony Philyaw scored two touchdowns to reclaim a 34-33 lead. Rebels running back Lexington Thomas answered with a touchdown of his own to go up 40-36. That's when Newton put the cherry on top of an already impressive performance.
The Howard University QB scampered in for a four-yard touchdown to take a 43-40 lead in the fourth quarter. It ended up being the deciding score. Somehow, maybe with a little help from lady luck, the 45-point underdog won the game. Newton finished with 190 yards and two touchdowns on the ground to pair with 140 yards and a another touchdown through the air. He must share some dual-threat abilities with his national championship-winning brother.
10 Biggest Upsets in College Football History
There have been plenty of upsets featuring bigger programs, like Appalachian State shocking Michigan in 2007 or Stanford beating 40.5-point favorite USC the same year or Texas A&M sending the Alabama Crimson Tide home on last-second field goal in 2021. This is the biggest upset by the books in Vegas. Howard was spotted 45 points. They didn't need any of them.
Here's a list of the 10 biggest college football upsets, per ESPN:
Howard Bison (+45.5) over UNLV Rebels, 43-40, Sept. 2, 2017

Stanford Cardinal (+40.5) over USC Trojans, 24-23, Oct. 6, 2007

Syracuse Orange (+37) over Louisville Cardinals, 38-35, Sept. 22, 2007

Temple Owls (+35.5) over Virginia Tech Hokies, 28-24, Oct. 17, 1998

Texas State Bobcats (+35) over Houston Cougars, 30-13, Sept. 1, 2012

Central Michigan Chippewas (+34.5) over Western Michigan Broncos, 21-17, Nov. 11, 2000

Liberty Flames (+34) over Baylor Bears, 48-45, Sept. 2, 2017

James Madison Dukes (+33.5) over Virginia Tech Hokies, 21-16, Sept. 11, 2010

Appalachian State Mountaineers (+33) over Michigan Wolverines, 34-32, Sept. 1, 2007

North Texas Mean Green (+32) over Texas Tech Red Raiders, 30-27, Sept. 20, 1997
A lot of American books didn't offer a moneyline on the Howard upset. Some offshore books did and gave the Bison anywhere from 550-1 to 600-1 odds. Some lucky fellow out there threw $100 on Howard and walked away with about $60,000.
And oh boy, what a tough beat for UNLV. 40-plus-point favorites were 253-0 entering the 2017 football game. UNLV became the lone member of the loss column. Sam Boyd Stadium was a sad place that Saturday night. It wasn't the only major NCAA football upset of the day, either. 33-point underdog Liberty beat Baylor 48-45.
To add insult to injury, this was head coach Mike London's debut on the Howard sideline. Starting your new job by smashing a 45-point spread isn't bad by any means.
We all savor when the Boston Colleges, Marylands, Rutgers and North Carolinas of the world stun the big dogs of their respective conferences like Iowa, Ohio State and Clemson. Even smaller programs like Boise State, Kansas and the Kentucky Wildcats beating schools like Oklahoma, Florida, Georgia, Oregon, Penn State, Florida State, Wisconsin, the LSU Tigers and Texas Longhorns are exhilarating and shake up the rankings.
I don't think any of those programs have ever flabbergasted an opponent as much Howard did to UNLV that day. It certainly didn't hurt having a Newton under center.
Related Videos