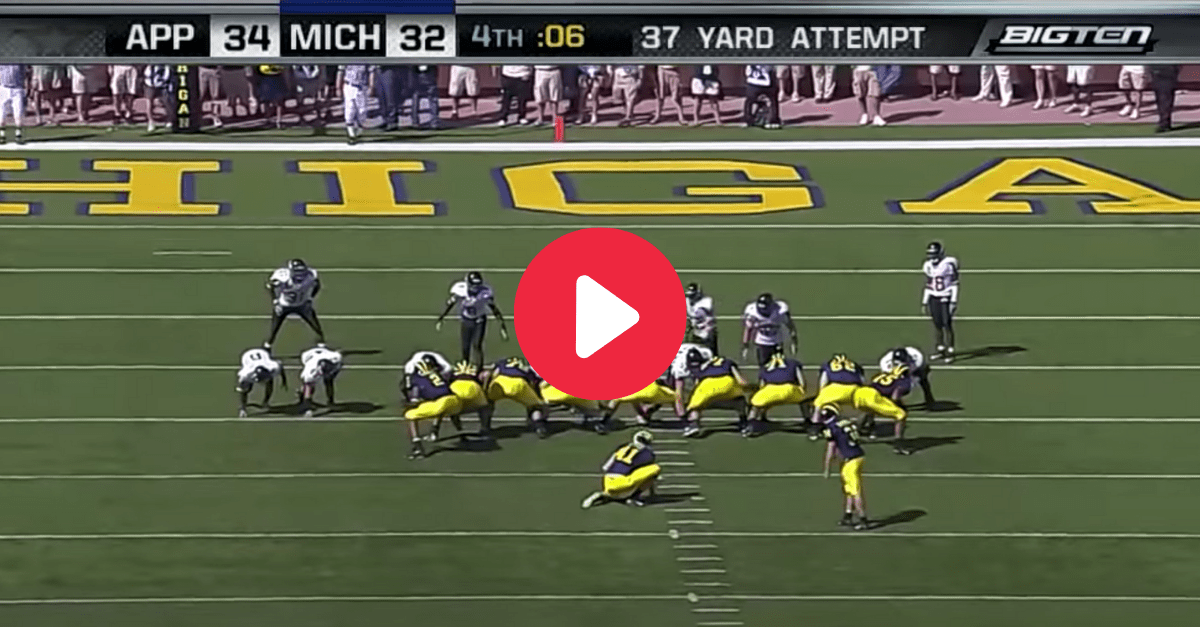 Screenshot from YouTube
Small schools aren't supposed to beat the big boys. Powerhouses and "cupcakes" schedule one another for two reasons ? Playing inferior opponents is an ideal tune-up game, and the cash smaller universities make for going into hostile territory and getting smoked is too hard to pass up. A 40- or 50-point blowout comes standard, and no fans expect the game to be exciting after halftime.
The college football world received its wake-up call when the Appalachian State Mountaineers rolled into The Big House to face the fifth-ranked Michigan Wolverines on September 1, 2007.
I've never been to Boone, North Carolina. Chances are, neither have you. Tucked in the Blue Ridge Mountains with an estimated population around 20,000 people, Boone is home to one of the best small-town football schools in America. And while many fans of major college football had never heard of Appalachian State University before the 2007 season, you can be damn sure everyone at the FCS level (previously known as Division I-AA) sure as hell did.
Heading into that season, Appalachian State was back-to-back, defending national champions under long-time head coach Jerry Moore. The preseason No. 1 team were 26-4 the previous two seasons and navigated the FCS Playoffs led by Southern Conference Offensive Players of the Year Richie Williams (2005) and Kevin Richardson (2006).
In 2007, sophomore quarterback Armanti Edwards, fresh off a national title, paraded his team up to Ann Arbor where the vaunted Michigan Wolverines awaited their season opener.
Appalachian State vs. Michigan
The Wolverines were loaded. Given the second-best preseason odds to win the BCS National Championship behind the USC Trojans, Michigan and head coach Lloyd Carr were 33-point favorites to down the overmatched Mountaineers in short order. Led by an offensive core of senior quarterback Chad Henne, senior running back Mike Hart, junior wide receiver Mario Manningham, and senior left tackle Jake Long, there was NFL-caliber talent all over the place.
Somebody didn't tell those Wolverines that the Mountaineers came to hunt.
App State exploded out of the blocks, scoring on four of its first five possessions to take a 28-17 lead by the end of the second quarter. In championship fashion, Michigan rebounded in the second half and caught their "inferior" opponents when Mike Hart rumbled 54 yards for a fourth-quarter touchdown, giving UM a 32-31 lead with under five minutes to play.
On the Mountaineers' next play, Edwards threw his second interception of the game.
Michigan kicker Jason Gingell had his ensuing 43-yard field goal attempt blocked with 1:37 to go. The Mountaineers drove deep into Michigan territory, where Julian Rauch nailed the go-ahead, 24-yard field goal with less than 30 seconds on the clock and no timeouts left.
The Big Ten powerhouse, clinging to life, struck gold when Henne's 46-yard heave found Manningham down at App State's 20-yard line. With six seconds on the clock, a 37-yard field goal was all that remained for Goliath to survive David and keep the championship dream alive.
David would not be denied that day in Michigan Stadium.
App State Blocks Michigan's Field Goal
?Safety Corey Lynch scooped up his block as time expired, leaving 107,000 Wolverine fans looking like they'd just seen a ghost.
Michigan dropped from the rankings and lost to unranked Oregon the following week. They finished the year 9-4, beating Florida in the Citrus Bowl.
App State went on to beat Delaware, 49-21, in the FCS title game, bookending a 12-2 season and the school's third-straight national championship ? To that point, the last college football team to win three-straight titles was Army from 1944-46.
Quarterback Armanti Edwards, who finished that Michigan upset 17-of-23 for 227 yards and three touchdowns to go along with 62 rushing yards and another score, won the 2008 Walter Payton Award as the Football Championship Subdivision's best player.
He repeated in 2009, just in case there was any doubt.
Impact of App State's Victory
That game was only the second time in NCAA history a ranked FBS team lost to an FCS opponent. While monumental upsets like Boise State's Fiesta Bowl magic happened on a larger stage, none were as shocking as App State knocking off one of the country's most prestigious and powerful programs.
The game was so impactful, Michigan's arch rivals were selling App State gear over on Ohio State's campus, according to ESPN.
App State's historic upset changed that school forever. In the fall of 2008, Appalachian State University's admission applications soared more than 18 percent from the previous fall, and its undergraduate enrollment could eclipse 20,000 students for the first time in 2020. The football program jumped to the FBS level, officially joining the Sun Belt Conference and becoming fully eligible for postseason play in 2015.
The Mountaineers became the first FBS team to win a bowl game in its first year of eligibility. They won four-straight conference titles from 2016-19 and haven't lost a postseason bowl game (5-0) in the five years since re-classifying.
Shawn Clark's team finished the 2019 season at No. 19 in the final Associated Press poll. It was the highest ranking by a Sun Belt team in history.
The Mountaineers reminded everyone that, no matter who you recruit or where you play, the underdog always has a chance. This wasn't a fictional movie with a scripted happy ending. This was real-life struggle. This was validation for all of us that, no matter who we are or what people perceive about you, winning is possible.
This was the greatest upset in college football history.
This article was originally published May 7, 2020.