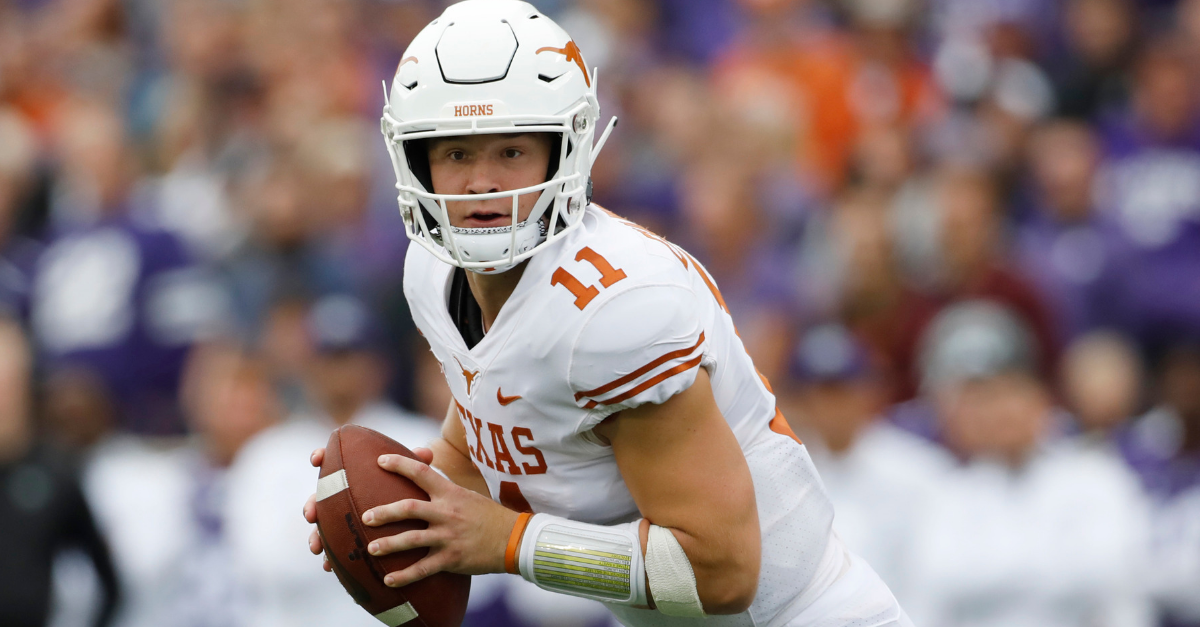 AP Photo/Colin E. Braley, File
AP Photo/Colin E. Braley, File
The college football picture is coming a little bit clearer as we move deeper into the heart of the season. Teams that are contenders are showing off their star talent and some programs that keep throwing up duds are in need of a reboot heading into October. Regardless of what teams win or lose, it's about making a little bit of money on the side, right?
A couple of bad beats (thanks for the triple overtime game, San Jose State) leaves me sitting at 6-7 with my picks so far on the season. They say a professional gambler should be right around 58-percent, so it's time to have a good week and get this show back on track. I'm taking all road teams to go into someone else's house and spoil the fun on Saturday.
Northwestern (+10) at No. 20 Michigan State
Pat Fitzgerald's Wildcats (1-3, 1-1 B1G) have dropped three in a row including last weekend against Michigan, a game they were leading 17-0 early in the first quarter. After 20 unanswered points by the Wolverines, Northwestern will now travel to East Lansing where the No. 20 Spartans (3-1, 1-0 B1G) await.
Losing leading rusher Jeremy Larkin after a shocking diagnosis has left the Wildcats in a hole running the ball on offense trying to find a new identity on the fly. Behind quarterback Clayton Thorson, though, the offense has averaged 274.0 passing yards per game, which bodes well going against a Michigan State run defense that ranks No. 1 in the country (40.3 YPG) but ranks 114th against the pass (288.3).
Pat Fitzgerald has won the last two years against Mark Dantonio's program, and they're itching to get back in the win column. It'll be a rainy afternoon in Michigan, and I expect this one to be a lot closer than 10 points.
Syracuse (-3) at Pittsburgh
Syracuse (4-1, 1-1 ACC) almost knocked off No. 4 Clemson last weekend, and it wasn't just because the Tigers were down to their third-string quarterback. Orange quarterback Eric Dungey nickel-and-dimed his way to a 23-13 lead in the third quarter, taking whatever this offense could from an elite Clemson defense, before losing 27-23 in the end.
Heading into a road game against Pittsburgh (2-3, 1-1 ACC), the Orange should show how strong the program is getting. The Panthers have been about as average as you can be, beating Georgia Tech earlier this year and losing big to Penn State and UCF last week, putting head coach Pat Narduzzi on the hot seat to finally get something out of this program.
Head coach Dino Babers has his team trending in the right direction, and they'll prove it winning on the road in Pittsburgh.
No. 13 Kentucky (+5.5) at Texas A&M
Kentucky is the most under-appreciated team in the country, and for the life of me I don't know why. The Wildcats (5-0, 3-0 SEC) have done everything that's been asked of them so far. This team ranks 12th in the country in total defense (288.8 YGG), and have allowed only 12.6 points per game, which ranks No. 3 in the country.
Texas A&M (3-2, 1-1 SEC) is no slouch themselves, though. The Aggies boast an offense that's averaging 511.8 yards per game and a defense that is sixth-best against the run (85.0 YPG). Their two losses have been against Alabama and Clemson, but they really played down to their competition in a win last week against Arkansas.
The X-Factor in this game will be Kentucky's rush offense against the Texas A&M rush defense. The Wildcats have a Heisman hopeful at running back in Benny Snell, who ranks fourth in the nation in both rushing yards (639) and rushing touchdowns (8).
Put some respect on their name and take Kentucky GETTING points this weekend.
No. 7 Oklahoma (-7.5) at No. 19 Texas
It's the game of the week in college football when Big 12 rivals Oklahoma and Texas travel to Dallas and face each other in the Cotton Bowl. It's 113th meeting of the Red River Rivalry, and Texas leads the all-time series 61-46-5.
Oklahoma quarterback Kyler Murray may only be on loan for the season with a professional baseball career waiting for him, but the junior trails only Alabama's Tua Tagovailoa in passing efficiency (231.6) and ranks third in the country with 17 passing touchdowns. The kid is a gamer, and if this offense gets going, he can throw it up and over any defense.
The most telling stat in this game? Texas' offense is tied for 124th in the country with a 68.8-percent success rate scoring in the red zone. Only Connecticut, Buffalo and Louisiana-Monroe are worse than the Longhorns in that department.
If the Sooners get up big early, Texas' 28.8 points per game on offense, ranked 72nd in the country, might not be able to mount a come back and make this game close.