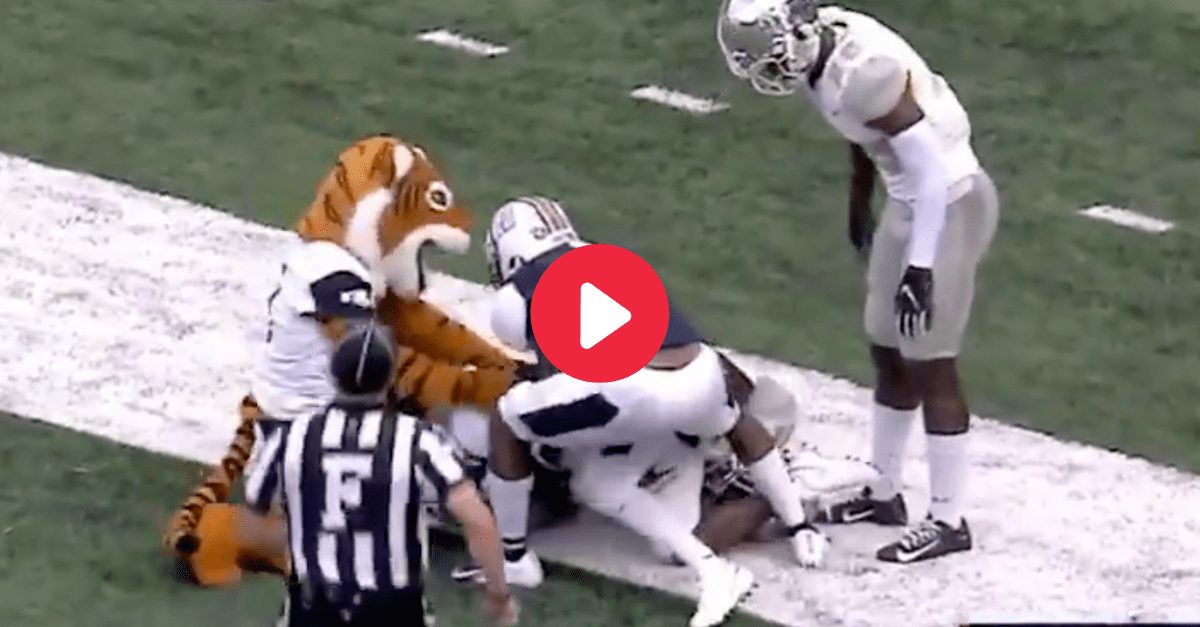 Screenshot from Twitter: ESPN
In sports, especially college football, a mascot is supposed to represent the fan base better than anyone. They are the heartbeat of the college and responsible for getting the crowd jacked up. The Jackson State mascot, Wavee Dave, took it just a little too far.
The Tigers — an FCS school — lost 36-15 to the Bethune Cookman Wildcats at Turner Field. However, Wavee Dave will go down in history as one of the craziest mascots on the planet.
In the third quarter, junior wide receiver Warren Newman made an incredible catch for a touchdown in the back of the end zone. A pileup ensued as the defender tried to take the ball away. That's when the Tigers mascot came to the rescue to break everything up.
This is exactly why we missed college football.
RELATED: Star USC Quarterback J.T. Daniels Out for Season
Look, this is absolutely hilarious, and thanks to ESPN, it can be replayed forever. Jackson State's mascot literally ran in from the sideline to not only celebrate the touchdown pass, but to also break up the tackle.
Of course, Wavee Dave received a 15-yard unsportsmanlike conduct penalty, but it was well worth it.
You never really see this in the NFL or even at the Power 5 level in college. That's what makes this so great. Wavee Dave is a hero for the greatest unsportsmanlike penalty this season.
Honestly, it will be nearly impossible to top a mascot coming onto the field and making sure his guy gets a touchdown.
Jackson State Tigers 2019 Schedule
September 1: Bethune Cookman (L)
September 7: South Alabama
September 14: Tennessee State
September 28: Kentucky State
October 5: Grambling State
October 12: Alabama State
October 19: Mississippi Valley
October 24: Prairie View
November 2: Arkansas-Pine Bluff
November 9: Alabama A&M
November 16: Southern University
November 23: Alcorn State